10 Secrets of spiritual fathering
If you're like most people, you've never had a spiritual father. And because, as Paul says, "you don't have many spiritual fathers," it can seem like a mysterious subject. That's a shame, because we need a spiritual father. They help us sort through our identity issues. They help us see the kingd…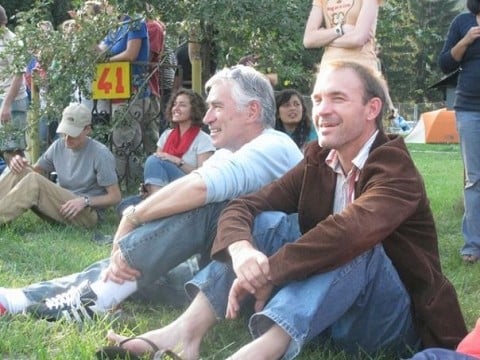 If you're like most people, you've never had a spiritual father. And because, as Paul says, "you don't have many spiritual fathers," it can seem like a mysterious subject. That's a shame, because we need a spiritual father. They help us sort through our identity issues. They help us see the kingdom and where we fit into it.
I personally feel as though the last third of my life is to be primarily about fathering. But I'm not interested in folks who just want a one-off from me. I'm not here to give you an "Aha!" moment and then move on. I want to know that you'll ask questions, listen, apply what we've talked about and press into whatever I may have to help you. Only about 2-3% of people ever seem to do that. The rest just keep on moving on down the pike and out of my life. Not that I don't have some great spiritual sons and daughters (
a blog on the guys here
).
Some things I've learned over the years about spiritual fathering:
1. A spiritual father will see you for who you are and will be a champion of your heart.
2. Fathers give their sons and daughters an inheritance. An inheritance has to do with a tribe, a ministry, and spiritual DNA. Read more about it
here
.
3. Fathers are generous with their time with their sons and daughters. They are there for them in life's storms.
4. Fathers teach their sons and daughters how to live life. They help wake them up to the kingdom.
5. Fathers don't give themselves the designation of "father," sons or daughters do. Men who talk about themselves as fathers a lot probably do so out of their own need for affirmation. Be careful of them.
6. A son or daughter should be slow to call anyone their spiritual father. They may want to do so prematurely because of the hole in their heart, but a father must prove his faithfulness over time.
7. Fathers are consistent. Too many of you have suffered under inconsistent father figures. Their inconsistency can be a form of abuse.
8. Don't confuse authority figures, especially your pastor, with your spiritual father. Pastors may qualify as a spiritual father if they show up in your life over time in a deeply invested and personal way.
9. Some of you are fortunate to have dads who have loved you well and become a spiritual father to you. Recognize that your dad is part of a rare breed of man and you are privileged. You may have other spiritual fathers, but be sure to never let that fact diminish the role of your dad in your life. Honoring your natural father for who he is and what he's invested in you is the fifth commandment God gave his people.
10. To get the most from a spiritual father, you have to press into them. Don't expect them to do all the work. Make it easy for them to invest.
If you'd like to learn more on this subject, Jack Frost does a great job of demystifying spiritual fathering in his book
Spiritual Slavery to Spiritual Sonship
. He uses his own struggle to find a father to illustrate the principles he discovered. I highly recommend reading his book.
Comments (34)
I love this. Thanks, Seth.

The book looks great, too. Going to amazon next to order a copy. Thanks!

Thanks, Seth. Those are good insights. Most fathers I know who did not have one want to be great ones. Sometimes you have to allow God to help you be "good enough". A few spiritual fathers in my life (both now dead) were helping me learn that practical lesson. And there is joy in knowing each new day is a fresh chance to love our children and try to reflect Jesus to them.

Dear Daddy Seth,
Greetings!
I love this and love you too much because you are my spiritual father.I daily pray for you,your family,your mission,your country and all your schedules.May God bless you and give you live long for His glory.
Yours son in Pakistan.
Emmanuel Seth

Yeah…

great blog…

It's where I'm livin' these days.

Spiritual fathering has an interesting by-product for those who are doing the fathering…

it makes you so fantastically wealthy.

I often tell my daughters & sons that even if they were the only "child" I had, I would STILL be the wealthiest man on the face of the earth.

Good job quantifying spiritual fathering – you talk like you're doing it

😉

Thanks Seth, I just bought this book, can't wait to read it!

Seth,

great blog, I agree here.

My dad is a righteous Godly man, I love him and honor him. I really believe what Richard Rohr says, that no matter how great a man is, we sons need many fathers. One man can't pass to his son all that that son needs. It is not fair for a son to expect that one father to be God to him.

So, I thank you for your time and energy. I look forward to really pressing in more.

Jake rodriguez bought me that book. Really good. Now mArC is reading it.

Love how things get passed on….Someone bought a book for Scott, he passed it to Marc, Marc did a small group talk on it, has peaked my interest in the book, and now this blog makes me want to go buy it. So I guess I know where I'm headed after work today.

And I echo Scott's sentiments, I too have a great father and mother, but not even they can impart everything to me I need, so the pursuit of other spiritual mothers/fathers is on.

**mArC** The Schifano Tribe

Man, with guys like Scott and Seth messing up my life with all sorts of great challenges and insight, what else can one do but spread the love. Love you seth.

Seth–my heart is with you on this. thx for the book recommendation.

Seth Christ – all a wonderful privilege ! Nice pic ! x A.

Joy: can I borrow after you're done?

And since you commented here, Andrew – I have to say, when you told Krystle a few months ago that Beauty4Ashes needed to have A FATHER'S HEART – we were all "ok, we sort of get that – but how does that really fit with a women's ministry" … well, the journey we've each been on and the last 2 weeks we spent at RTF has so solidified this in our hearts and minds! We watched as the Father came and healed soul/spirit hurts in such unique and powerful ways, (sometimes healing wounds unintentionally inflicted by our earthly fathers) – we SAW His heart manifested … toward us … and toward the people in our healing sessions. It was SO awesome. Thanks for your spiritual fathering of many …

And above all, praise God for HIS heart for each of us…

I really love this. Thank you!

great blog dad and i really love that picture of you and papa shearman.

That book has been extremely insightful. Especially in submitting to authorities I may have placed myself under – being all about their mission rather than my own, regardless of differing opinions and methods. Thank you for giving it to me! I'm having Trevor read it.

Dear Sir,
I read this And have been blessed by it.I myself in such a struggle since I have just get an Idea of what is a spiritual father is have realy benn blessed and want to knoe more.I am new in this site .

that was a very wonderful secret on how to know a genuine father.Every body can be father but there are some gifted to groom others.so many father are extorting their sons in the name of fatherhood.We pray God will deliver those that are under the snare false fatherhood.

I go to a church where the pastor talks about himself as father in the Lord always. He knows the Bible too much and often use it to bash people. Unfortunately my husband is hooked to this man and most of our arguments ripples back to father in the Lord. He wants me to see him as my father in the Lord, even after series of revelations I have seen (negatives) concerning this man. My marriage is going through a lot of up primarily for this reason. I am getting to a breaking point and I wanted to leave the church but I'm trying to save my marriage too. My husband once told me I either pick him and father in the Lord or nothing. I was raised in Christian home, but my husband just found Christ and just swallow every heresies thought line and sinker by father in the Lord. What can I do??? One thing I fought to tell you, he often threatens people will die of cancer and accident if the leave his church.

What is the name of the church? You need to find people whom you can safely share your struggle with.

1) Do you think spiritual fathers should be 'natural fathers' first? It seems to me that they would be ministering from a place of barrenness if they'd never had kids before…

2) How do you feel about single men being 'spiritual fathers' to single women; with or without another woman helping in the process? Thanks for your help.

1. It helps, but it's not essential. Paul in the Bible is an example.

2. It's not a good idea. But in rare cases it can work.

This is good stuff wish every beliver can have a hold on this.

Hallelujah! Being a father, I feel blessed to meet such an article which will make me who I am supposed to be for my children and others around me.

Wow… Even though my dad passed on… Your 10 points put a smile on my face and warmth in my heart.. Thank you seth and thank you daddy for having been and still is my inspiration..

You're welcome, Lynn. It's great when our father's great example can bring a smile to our lips.

From what I have read here, I discover his serious you are with the issue if Fathering in ministry. This is my passion, had as it is to raise sons, so is it to find a Caring and concerned Father in ministry.

I wish to connect with you so we can see where the Lord can take us together. I need a father.

Shalom.

Best thing to do is to read other blogs I have written on fathering. Where are you located?

I Thank God for your gift to help your generation through special teachings through which the church of God is edified. God bless you.

Cyril Kibali.

It has help us in our bible school, in Kenya

Thank you for responding to my comment. I will definitely read through your blog and I believe they will help. I am located in Zambia, Southern Africa. I am leading a ministry and also involved in bible school training. Being one that believe in mentoring and raising sons, I believe I also need to be mentored and fathered.

Thank you.

Thank you for helping me to understand this , otherwise this has been a very difficult subject. I grew up without a physical father mum brought us up alone seeking a father in life is not easy, we have a number of pastor who are calling them selves father but the happenings don't agree, my question is is the spiritual father only there to receive from sons and daughters are they not suppose also to help there children in both needs physical and spiritual?

Buchi,

We have to listen to the Holy Spirit and do what he says.

For those of us looking for spiritual fathers, we need to look for relationship without expectation. Those we seek relationship with don't owe us anything. Whatever they give us is a gift.

Where are you, Buchi? I will pray that the Lord gives you someone.

pwede po bang I translate nyu sa tagalog

Thanks for all the comments.
Let's understand that the Bible says, to be precisely Paul in 1 Corinthians 4.15,… Though you may have countless teachers ( mentors) but you only need one father,so let's not confuse ourselves with kind hearted persons toward us to be considered as spiritual father's no let's follow biblical teaching.

Why do you need to know where Buchi is geographically to pray for her?

Is anyone getting this stuff?
Subscribe to Radical Living:
Receive updates on the latest posts as Seth Barnes covers many topics like spiritual formation, what if means to be a christian, how to pray, and more. Radical Living blog is all about a call to excellence in ministry, church, and leadership -as the hands and feet of Jesus.