5 life lessons from Gary Black
Gary Black and his family have been on a fascinating journey these past three years. At some point, I hope that he'll be able to share it with you. He's learned some great lessons (helped along the way by Richard Rohr) along the way that have cost a lot. We all get to learn these, or get bl…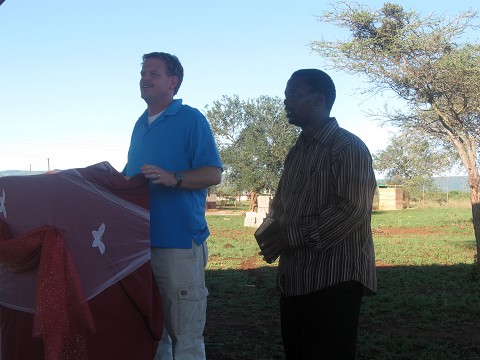 Gary Black and his family have been on a fascinating journey these past three years. At some point, I hope that he'll be able to share it with you. He's learned some great lessons (helped along the way by Richard Rohr) along the way that have cost a lot. We all get to learn these, or get bloodied and bruised because we couldn't learn them.
1. Life is hard
Being a Christian is not supposed to be easy all the time. We are going to suffer, get hurt, fall down. All great spirituality is about what we do with our pain. Embracing pain and learning from it will make you conscious, awake, and alert. God comes in and wounds our wounds and then starts to heal them…and we should embrace it, not turn and run the other direction when things are hard.
2. You're not that important
Either we are made by another or self-made, but all of us are transformed by people that are already transformed, and we can't do something until we see other people do it. Though our souls need meaning as much as our bodies need food, we can't give meaning.
3. It's not about you
Life is not about you but you are about life. You are about a universal and eternal pattern, and you don't have to figure it all out. We should be satisfied with being a part and only a part of the bigger picture.
4. You are not in control
You just get to BE, even if you can't wrap head around it. Everybody tells you to take control of your life and it sounds so godly and spiritual, but our bodies, souls, and especially our failures teach us that we are not in control. All God wants is the "yes" in our spirit – allow ourselves to be used despite the evidence against us. When we realize we're not in control we begin to care about other stuff, and become part of the huge mystery that helps change the world.
5. You are going to die
The most courageous thing you'll ever do is accept that you're just yourself, but we must die to self-image and small egos in order to become our real selves.
If these themes seem to hit you where it counts and you'd like to dive deeper in exploring them, I recommend reading Max Lucado's
It's Not About Me
.
Comments (11)
we love the blacks!!! thank you for sharing your lives with us!!!!

Those are great life lessons! I have been reading a lot of Richard Rohr lately too – just love the wisdom and humility. Here was today's little nugget from Rohr, closely related to all of Gary's points:

"Some have cleverly said that ego is an acronym for "Edging God Out." There has got to be such emptiness, or we cannot point beyond ourselves to Jesus, as John did. Such emptiness doesn't just fall into our laps; such humility does not just happen. It is surely the end product of a thousand lettings-go and a thousand acts of devotion, which for John the Baptist gradually edged God IN."

It was interesting to read in Isaiah 28 too about how God "threshes his crops" in us by different means… "grinding wheat under the wheels of a cart (heavy pressure) but not pulverizing it", etc. … Life's lessons are hard, but surrender and embrace of the process is the only way to reap fruitful crops of 30, 60 and 100-fold!

I love these lessons. Good (difficult) stuff to learn. But also liberating.

Another spot on topic! I love the truth revealed here. I'm ordering Lucado's book. Thanks!

Thanks for sharing these principles Seth. I know Gary and Lisa are living them.

We live.

We learn.

We love.

We listen.

We linger.

We leave.

Life is a puff of air.

And me are measured by how we love, forgive and lead people into the real Kingdom of God.

All the rest is stuff.

Shalom.

Awesome blog!! GREAT lessons!!

Right. Reality check for sure. Keeps us humble. "All is vanity," saith the Teacher.

man, i love you guys. what a bunch of world changing apostles.

I really appreciate this posting. These are great life lessons.
Subscribe to Radical Living:
Receive updates on the latest posts as Seth Barnes covers many topics like spiritual formation, what if means to be a christian, how to pray, and more. Radical Living blog is all about a call to excellence in ministry, church, and leadership -as the hands and feet of Jesus.