A call to close the Son of God Orphanage in Haiti
This press release just went live. Feel free to share it with your networks and/or post it on your own blog: Haitian orphanage accused of abuse & trafficking children After continued visits to the Son of God Orphanage in Carrefour, Haiti, six charitable organizations (Adventures in Mission…
This press release just went live. Feel free to share it with your networks and/or post it on your own blog:
Haitian orphanage accused of abuse & trafficking children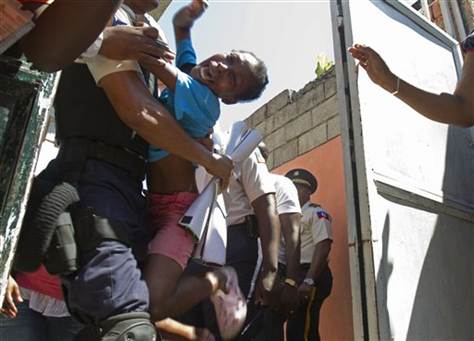 After continued visits to the Son of God Orphanage in Carrefour, Haiti, six charitable organizations (Adventures in Missions, Bridgeway Church, Timberline Church, Children's HopeChest, Journey Community Church, and Respire Haiti) have challenged the global community to force the hands of international leaders in the closure and investigation of the facility.
According to eye-witness accounts, the children at SOG are alleged to have suffered severe human rights abuses at the hands of the director of the orphanage, Maccene (Max) Hyppolite and his family. Despite consistent delivery of relief for each child, including food, clothes, and medicine, the children have continued to suffer from malnourishment, curable diseases and parasites, as well as complete neglect of acute medical conditions. A recent account included a one-year old baby who was severely burned and not treated until almost two weeks later.
Police conducted a successful sting operation after numerous individuals had been solicited by Hyppolite to purchase children. In July of 2011, Max Hyppolite was arrested while attempting to sell one of the orphans and he is currently in prison for child trafficking in Port au Prince.
Despite the arrest, continued accounts from as recent as October 13th, 2011 indicate that the situation has only become worse, and to date there are 53 children who have disappeared and are unaccounted for. The orphanage is currently being run by Hyppolite's wife, who not only continues to say she does not know the whereabouts of the children, but has allegedly threatened the lives of the relief workers who have sought assistance in from the Haitian government organization, IBESR (Institut du Bien Etre et de Recherches). Given the sharing of information from IBESR to the Hyppolite family, cause for speculation has arisen regarding the government's involvement in the trafficking of the children.
The six organizations have worked together with change.org <http://change.org> to bring this issue to light. They have asked the global community to give these children the voice that has been stolen from them in hopes of world leaders recognizing the human rights violations occurring and the immediate call for the closure and investigation of the Son of God Orphanage in Haiti.
Ways to get involved:

Comments (5)
Seth,

your blog has been forwarded to a friend we have at Fox News, NY and Philadelphia. They may be contacting you for details, etc.

My daughter is on the current Y Squad in Rwanda.

All our prayers…

Jeff Miller

I'm passing this along on my blog, Twitter, and Facebook.

Thanks for posting this, I am going to do my part (however small to raise awareness).

i totally trust the christian person that made a way for me to see this. my wife and i have already raised two children to adulthood. we took them because the parents were addicted to drugs and alcohol. this is much worse. my love is for god, family and children. though i am older now, i will still do what i can to reverse this account of what ive seen in pictures. god is going to be the judge of all. i want him to find my record spotless. whoever is responsible for this type of treatment in any country is going to go before that judge.right now u have people who are willing to help. at that time, you will stand alone.