A generation like birds over a lake toward a volcano
At precisely 5:45, as the first glint of dawn light illuminated the Nicaraguan landscape, thousands of swallows came rushing down the sand dunes, past my ankles, skimming like miniature stealth fighter jets over the lake toward an island dominated by a volcano in the distance, all for no appa…
At precisely 5:45, as the first glint of dawn light
illuminated the Nicaraguan landscape, thousands of swallows came rushing down
the sand dunes, past my ankles, skimming like miniature stealth fighter jets
over the lake toward an island dominated by a volcano in the distance, all for
no apparent reason.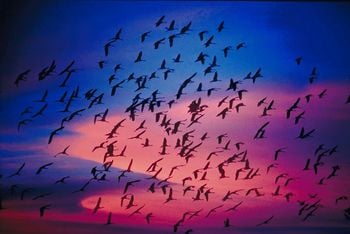 There could have been a million of them rushing into
ferocious headwinds on a stretch of beach perhaps a mile long and they kept
coming for about ten minutes. It was a
great spectacle of nature repeated each morning during my stay on the beach. The birds never did reach the island. Perhaps there was a swarm of insects way out
on the lake. Perhaps it was an avian
version of morning calisthenics.
Whatever the explanation, the swallows were a great
illustration of a dream to which I've given my life – a dream of a generation abandoning
their comfortable lives and flying in great numbers out into the world. They seem reckless to those committed to a
life of causality and self-interest. They
seem impetuous and foolhardy to those who measure out their commitment to
follow Jesus according to careful risk/reward formulas.
When it happens, it will be an inexplicable, supernatural
phenomenon that amazes all beach-standing onlookers. It will cause them to hearken back to a
generation who, 2000 years ago, after the death and resurrection of their Lord,
recklessly abandoned their home in Jerusalem
and flew out into a world that would never be the same.
Comments (4)
So here I am, at the edge of this life. Wanting to move to the part of this city where no one else will go – prostitutes, drugs, shootings – and who will go with me for I cannot do it alone.
How do we find people with a vision for something more?
I keep praying.
Thanks for this image Seth – I pray it urges people towards the edge of their cliffs.
k