A hero in a dark place
Some of you know the relationship I've had with Emmanuel Sadiq, a follower of Christ in Pakistan. Recently Emmanuel wrote me to tell me the sad news that his father, Sadiq Sarfraz, had died. You have probably never heard of Sadiq or visited the schools he built in Pakistan, a co…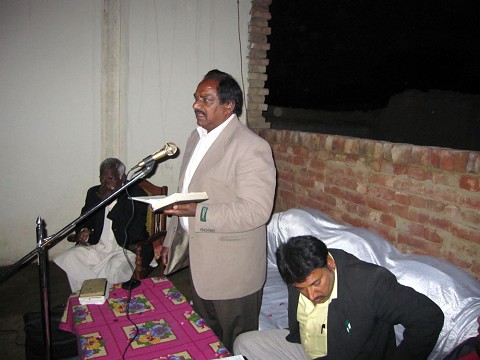 Some of you know the relationship I've had with Emmanuel Sadiq, a follower of Christ in Pakistan. Recently Emmanuel wrote me to tell me the sad news that his father, Sadiq Sarfraz, had died.
You have probably never heard of Sadiq or visited the schools he built in Pakistan, a country where a profession of Christian faith often invites persecution, violence, and state-sanctioned discrimination.
As a younger man, Sadiq worked as a manual laborer for seven years to support his bride before completing his secondary education. Later he found work in a school.
Sadiq met failure and disappointment. Soon, he was offered a foreman position in Iraq and moved. A few months later, war began between Iraq & Iran. Sadiq returned to the relative safety of Pakistan with his family and without a job.
He continued his studies and Christian education, and before graduating, launched the first of two schools.
With a vision to establish a church and a God who loves dreamers, Pastor Sadiq and his son built a church for his Pakistani Christian community of 500. He preached and shared his hope with scores of his countrymen.
He conducted outreaches, trained pastors, and planted churches around Pakistan. His life boldly reflected light in a country dark with violence towards Christians.
Pastor Sadiq Sarfraz leaves behind the wife and son who loved him. He also leaves an ever-expanding family of faith that continues to demonstrate that God's love pierces darkness.
We salute this hero of the faith who did not allow the darkness to overcome him. We thank God for his faithfulness.
Comments (8)
What an amazing Man of God….very inspiring.

Stories like Sadiz's should be told more often. Thanks for sharing his story.

Beautiful! I'm so glad I read this today. Thanks for bringing his life to light through your writing.

Thank God for the exemplary life of this Christ's Ambassador. He's finished his race and I want to believe he finished strong. May we all finish strong as well. Amen.

Dear Emmanuel, be comforted that you belong to a global family of Christ. You are not alone. Do extend our love and Warmth to your beloved Mum and the body of Christ at your Stead.

Blessings.

Thanks for sharing this story.

In the Mighty name of the Lord God the son, God the son and God the holy

spirit i salute you all the way from Kenya.I hope and believe that you are

enjoying a good and a blessed moment.

Thanks and thanks a lot for the wonderful, pleasing and touching teachings

that i have listened to on you tube and read in your website over the

internet.I real agree with you and i have appreciated you in a special

manner. The way i have been blessed with your truthful,hardcore preaching

that i have read, it is quite hard for me to express to you how i have been

touched with your teachings.If one tenth of the churches and pastors preached

like you do, this world would have turn around overnight.

When i read it by referring to the bible, i real appreciate you as

anointed preacher ever heard before.Keep it up by liberating the lost sheep

and never give up.Now the reason as to why i e-mail you is to let you know

that this was a call that you have responded to His request since that you

have been chosen by God to become a blessing to the people of this weak and

dark world. ISAIAH 60:1-6, PSALMS143:1-4, 149:1-3 and 156:6.

Sir, before i end i would like to take this opportunity and request you

to pray for me, my family, my small fellowship church and the people of Kenya

as well Two, i honestly request you to expand your church to Kenya and if

possible, you plant your new ministry in Kenya so that you can show the

Kenyans the light of the Lord.. Meanwhile waiting to hear from you, stay

wonderfully blessed and have a nice moment.

Thanks in advance

I know of Emmanuel and if he reads this, I want him to know that myself and so many others are sorry for his loss and will be praying for him during this difficult time. We thank God for the testimony his father leaves behind- and Emmanuel's continued commitment to carrying that torch so that the Light of Jesus would be seen even in dark places.
Subscribe to Radical Living:
Receive updates on the latest posts as Seth Barnes covers many topics like spiritual formation, what if means to be a christian, how to pray, and more. Radical Living blog is all about a call to excellence in ministry, church, and leadership -as the hands and feet of Jesus.