All good things lie upstream
Many of you reading this are coping with some private pain. Life is hard. Just when you think it's safe to relax, it whacks you on the backside. Pain is inevitable, whether it's the dull throb of regret or the sharp, searing pain of death. My parents' generation knew this all too well. B…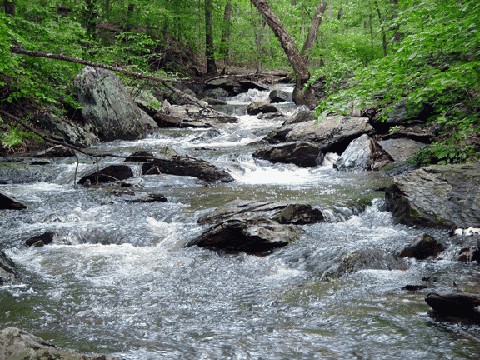 Many of you reading this are coping with some private pain. Life is hard. Just when you think it's safe to relax, it whacks you on the backside. Pain is inevitable, whether it's the dull throb of regret or the sharp, searing pain of death.
My parents' generation knew this all too well. Born in the wake of a depression and a war that engulfed the world, they expected pain and grew adept at sacrifice. But fast forward to today and a generation is growing up that expects not pain, but entertainment. Everything is optional; so when the going gets tough, they tend to opt out.
It's no way to live. When pain is optional, you have a hard time knowing what things are worth. We learn to prize certain things, that is to place a value on them, by going through pain. As a child, it was the toys I had to work for or wait for that I loved the most. Things need to have a cost attached to them to have value. You don't float down river and accomplish anything. All good things lie upstream.
Job promotions don't just fall in your lap, you've got to burn the midnight oil to distinguish yourself to your boss. Creating anything of excellence usually requires repeated effort. It requires failure. Mozart may have been gifted enough to create masterpieces as a child, but the rest of us have to sweat through years of hard work. We have to swim against the current to get there.
My parents taught me discipline by exposing me to pain. They encouraged me to be a wrestler in high school, knowing that the discipline would be good for me. Every practice, the coaches would push us to the point of exhaustion. We strained and sweated and became well-acquainted with pain. Winning required that we work harder than our competition.
Most healing lies upstream. To move from brokenness to health necessitates patience and realignment, whether it be a broken bone or a broken spirit. The only way to deal with the pain is to go through it.
There's a generation that may never get to healing because of the pain involved. As long as it's optional, the path of least resistance is more attractive. But pain is inevitable for all of us. Downstream we'll find the pain of regret. We'll replay the tapes of missed opportunities. We'll kick ourselves for not sucking it up and moving upstream when we had the chance.
Maybe it's time to turn over a new leaf. Why not choose to face reality while you have the choice? Don't be a victim – choose to move upstream where you'll find your destiny waiting for you.
Comments (15)
good stuff… makes me wish I was teaching our Sunday school class…

Hope lies upstream wouldn't you say?!?

great blog papa. love you.

what a great blog. am going through pain right now brother. please pray for me. i have been unemployed for 5 months now. God has been more than enough during this time of trial and need without Him i dont know what or where i would be now.

This may be the germ of a new book.

James 1 comes to mind.

Great read & something to think on!

This is really good stuff Seth. That's what the entire Bible is made up of…great warriors of pain who became heros. It's all because God allowed them to experienced some sort of challenge, heart ache, pain or adversity. They cried out and plead with God. They choose to embraced the pain and God swims with them UP stream, against the current and THROUGH their pain.

That's why they are a heroes and their story made it in the good book: Job, Moses, Jesus, Paul…well you know, it's a very long list. All their stories of pain are worth telling over and over and made them the heroes God wanted them to be. Embracing our pain becomes our testimony.

Oops…forgot to say with that link that I posted this post at my blog today. Thanks! 🙂

Very refreshing and encouraging!

And when you swim upstream don't expect the masses to stop and applaud. They won't. The decision to move must come from a deep conviction it's the right thing to do, otherwise the current of criticism, doubts, and snickering from family and friends no less will sway those who lack a deep conviction in their decision back downstream.

I truly enjoyed this. Thank you, Seth!

Thanks Seth for this piece.Let God be PRAISED. Champions are made out of overcoming challenges, Winners are out overcoming battles, Prize out of paid price of sacrifices. So is no pain no gain.
It is time to take responsibilities to go through the pains required to make our LIVES count on earth.
Subscribe to Radical Living:
Receive updates on the latest posts as Seth Barnes covers many topics like spiritual formation, what if means to be a christian, how to pray, and more. Radical Living blog is all about a call to excellence in ministry, church, and leadership -as the hands and feet of Jesus.