An epic, epoch evening
I've got to admit, there were a lot of doubters. So many that I was tempted to doubt too. "You're going to do what? Put on tuxes to honor missions organizations? What's wrong with this picture?" But we believed that there is a much bigger price that we pay than the cost of pu…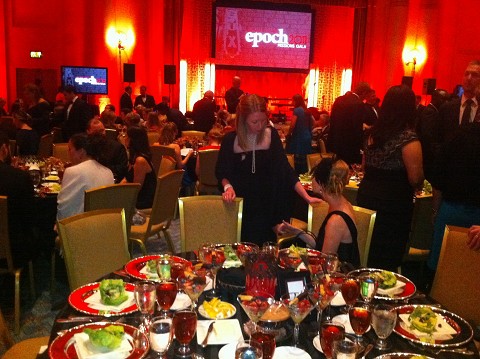 I've got to admit, there were a lot of doubters. So many that I was tempted to doubt too.
"You're going to do what? Put on tuxes to honor missions organizations? What's wrong with this picture?"
But we believed that there is a much bigger price that we pay than the cost of putting on EPOCH. It's the price of tired, stodgy status quo thinking.
So, we forged ahead, ignoring the critiques and our own doubts. And on the other side, we're thrilled. This summary of the evening by
Daniel White
was typical:
I had the honor of attending the first annual

Epoch Awards

this week on behalf of the organization I serve,

Food for the Hungry

, at the historic

Fox Theatre

in

Atlanta, GA

. This event was extremely well put together and hosted by

Jon Acuff

&

Naomi Zacharias

. This event was masterminded by an amazing short term missions organization

Adventures in Missions (AIM)

,

with the goal to serve and honor their peers in full time ministry and

missions without putting any attention to themselves. Not only were the

nominees honored amongst their peers for their humanitarian and kingdom

work, some were also presented various grants to assist them in their

ministry endeavors.

I was able to learn about over 18 different
organizations that are making a huge impact all over the world, as
opposed to just ONE. Some by raising serious money through technology
efforts, serving individuals and communities through several aspect of
athletics, as well as putting a major dent in alleviating the death toll
caused by HIV AIDS in Africa, along with so many more. I stood humbled
and inspired while in the midst of so many selfless and giving
individuals in this room. I wish you all could have been there to
experience the stories that I heard about various individuals as well as
the energy in the room to serve the kingdom of God by serving and
speaking on behalf of those around them in need and that those that
can't speak up for themselves.
Honorees:
PEOPLE'S CHOICE
Justin Miller | CARE FOR AIDS, INC
Kim Pace | BLUESKY CAMP
Charles Kaye | THEBRIDGE
INNOVATIVE START-UP
Carl & Laura Ralston | REMEMBER NHU
Timothy O'Mara |BELTLINE BIKE SHOP
Nicole Marett |RADIANT COSTMETICS
CREATIVITY
Tom & Cindy Bauer | SURFING THE NATIONS
Bryan Kaiser | GOD'S EYES
Brett Durbin | TRASH MOUNTAIN
COLLABORATIVE
Shaun King | TWITCHANGE
Bishop Truman L. Martin, DDS | MARANATHA COMM. CHURCH
June Blanshan | IGNITE SOUTH AFRICA, INC
LIVES OF INDIVIDUALS
ANDREA BAKER | word made flesh
MARY FRANCES BOWLEY | wellsprings living
JOHN SOWERS | the mentoring project
RESTORING PLACES
Penny Compton | OPEN DOOR MINISTRIES
Rev. Dr. Edward Glover | URBAN IMPACT
Hugues Bastien | CHILDREN IN NEED
Comments (5)
This was a brilliant idea…Blessings to all.

Thanks for the re-post Seth. Great to know you!

Loved Daniel's words — he nailed it with "servants honoring servants". That sums up Epoch so perfectly. Well done, Seth & team!

It was such a great and God-honoring night. Thanks Seth.

Sorry I missed it, I was out of country….sounds like it was a wonderful event! Blessings.
Subscribe to Radical Living:
Receive updates on the latest posts as Seth Barnes covers many topics like spiritual formation, what if means to be a christian, how to pray, and more. Radical Living blog is all about a call to excellence in ministry, church, and leadership -as the hands and feet of Jesus.