Awesome story & pic from Haiti
Out of the utter horror of Haiti, comes a picture of incredible joy. Meet Kiki, Boy Wonder, alive and well after 8 days under the rubble of earthquake-blitzed Port au Prince. Can you see the joy in the eight-year-old's eyes … he never gave up hope that he would be freed. The …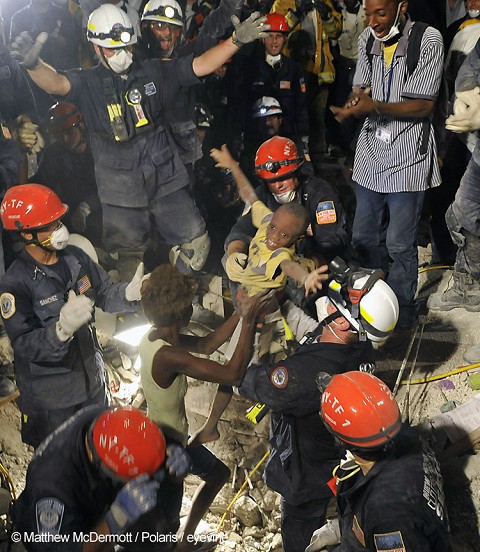 Out of the utter horror of Haiti, comes a picture of incredible joy.
Meet Kiki, Boy Wonder, alive and well after 8 days under the rubble of earthquake-blitzed Port au Prince.
Can you see the joy in the eight-year-old's eyes … he never gave up hope that he would be freed.
The
rescue – and a picture that will bring tears to the eyes – defied the
myth that people only survive being trapped for a couple of days or so.
Kiki was saved after an incredible operation, in the Nazan district of the Haitan capital, mounted by US earthquake experts.
The
heroes and heroines were members of urban rescue squads from New York
and Virginia, some of whom had been involved in the 9/11 horrors of New
York in 2001.Kiki Joachin
smiled with delight with his arms outstretched as he was pulled out of
the wreckage of crumbled buildings in Port-au-Prince.
Kiki told the broadcaster he felt "happy" to be rescued and said he cried when he was reunited with his parents.
Asked how he managed to survive without food and water, he said: "God helped me."
Comments (10)
I love this photo! What a mighty testimony this little one has–to know "God helped [him]" at his age. I pray God uses his life.

Thanks for sharing.

Anna Coffey *WR Alumni (Jan '09)*

This shot and the story behind it captured what we pray for. Lord, give us another shocking testimony today, yes Lord, today!

I wish that kid will grow up that photo in his pocket everyday. AWESOME!!

This shot and the story behind it captured what we pray for. Lord, give us another shocking testimony today, yes Lord, today!

I wish that kid will grow up with that photo in his pocket everyday. AWESOME!!

Wonderful, thank you for sharing this story! LOVE the look on his face… and truly, what a metaphor for how God pulls us all out of the wreckage we make in our lives… shouldn't all Christians be walking around with joy like that????

When God pulls us from the rubble and carnage of life let's never forget to offer the same testimony.– "God helped me".

Thanks for sharing Seth.

This is awesome. Such a perfect answer and total truth. I love the smile and pure joy on his face.

My heart has been so heavy for them and this makes it a little lighter!!

Truly awesome! Thanks so much for sharing this with us. I just shared this with my two 8 year olds and their question was "how did he survive under there; how did he breathe?" How beautiful that the answer is "God helped" him!"