Be willing to laugh at yourself
While going through college I worked a series of odd jobs. The oddest job had to be dressing up as the mascot for a submarine sandwich restaurant chain. I wore flippers, a huge plastic submarine sandwich and a periscope thing over my head. Plus, they painted my face red. They…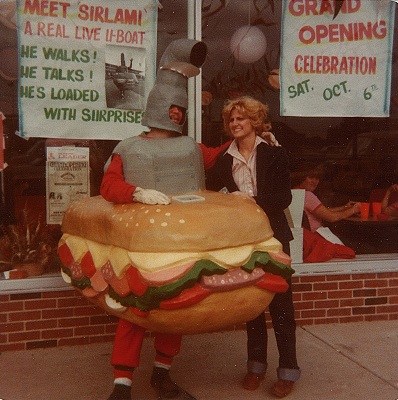 While going through college I worked a series of odd jobs. The oddest job had to be dressing up as the mascot for a submarine sandwich restaurant chain. I wore flippers, a huge plastic submarine sandwich and a periscope thing over my head. Plus, they painted my face red.
They called my character "Sir Lami" (get it – like salami). I got to walk in parades and go to store openings and hang out with Chicago Bear cheerleaders (that's Karen in the pic – better than a cheerleader any day).
The irony is that the fantasy of every college junior guy the world over is to hang out with Chicago Bear cheerleaders, just not dressed up like a submarine sandwich. I wanted to look impressive, but instead I looked utterly ridiculous.
The appropriate thing to do in a situation like that is to laugh at yourself. I had nothing to gain and nothing to defend. Too many people travel through life pre-loaded to defend territory that's not worth defending. The ghost of past insecurities continues to haunt them, leaving them incapable of seeing the absurdity of a situation that everyone around them plainly sees.
Life is too serious and we could use a good chuckle. If you are prone to defensiveness, you're missing out on the fun. When you defend yourself, you usurp God's job. He's your shepherd. Much better to probe the origins of your feelings and deal with whatever ghosts still threaten you.
When was the last time you had a choice to either defend yourself or join the laughter? It's not too late for a re-do – share it with us and see if you don't get grace in response. You're safer than you realize.
Comments (10)
Seth, good words to live by. Life is too short to not laugh at yourself…

There is nothing like a good dose (multiple doses) of self deprecating humor to maintain a walk of humility and freedom.

Funny I was thinking a lot about this yesterday. Thanks!

I would love to see a picture of you in your suit!!

"He laughs at himself will never cease to be amused."

Can't remember who said that but very true!

OK, Neil, I'll post it for you, if only to prove I don't mind laughing at myself!

**mArC** The Schifano Tribe

Thats the best picture I have ever seen. I am glad you are a seeded roll. lol

dad, where did you find that picture?

had it laying around in my closet next to all the journals and my dirty clothes. I've got another one with the Chicago Bear cheerleaders somewhere.

Couldn't have said it better myself, Kathy! Amen!
PS: I frequently partake…;o]