Best devotional writer of modern times
Say what you want about "My Utmost For His Highest" or anything by C.S. Lewis. For my money, the best devotional writer of modern times (still alive and living in Vermont) is Frederick Buechner. He is consistently profound and incisive. His insight repeatedly bowls me over. Like Lewis, he wrote …
Say what you want about "My Utmost For His Highest" or anything by C.S. Lewis. For my money, the best devotional writer of modern times (still alive and living in Vermont) is Frederick Buechner. He is consistently profound and incisive. His insight repeatedly bowls me over. Like Lewis, he wrote both fiction and nonfiction.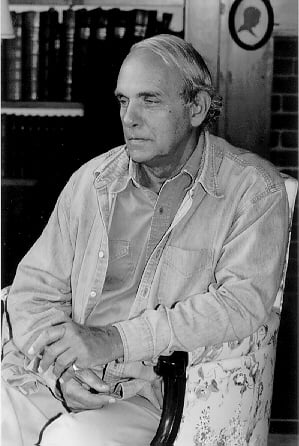 A good Buechner primer is Listening to Your Life. Here's an example of classic Buechner on the subject of prayer:
"What's prayer? It's
shooting shafts into the dark. What mark
they strike, if any, who's to say? It's
reaching for a hand you cannot touch.
The silence is so fathomless that prayers like plummets vanish in the
sea. You beg. You whimper.
You load God down with empty praise.
You tell him sins that he already knows full well. You seek to change his changeless will."
Or here he is talking about making Jesus your Lord:
"If the world is sane, then Jesus is mad as a hatter and the
Last Supper is the Mad Tea Party.
The
world says, Mind your own business, and Jesus says, There is no such thing as
your own business.
The world says,
Follow the wisest course and be a success, and Jesus says, Follow me and be
crucified.
The world says, Drive
carefully—the life you save may be your own—and Jesus says, Whoever would
save his life will lose it, and whoever loses his life for my sake will find
it.
The world says, Law and order, and
Jesus says, Love.
The world says, Get,
and Jesus says, Give.
In terms of the
world's sanity, Jesus is crazy as a coot, and anybody who thinks he can follow
him without being a little crazy too is laboring less under a cross than under
a delusion."
I'll share more from Buechner this week.
Comments (4)
here's to the crazy coots I have the privilege to rub shoulders with, thanks

Great words! Thanks for introducing us to other thinkers/writers/disciples :-).

Isn't that just the way it is? The more you walk in the way of Christ, the more the world wants the same eventuality for you… nail you at the stake for not being as they are… we must be willing to accept as he did to not be a part of this world. Aliens is all we can be… for the moment.

I'm not following on this prayer quote? Why do you like it? It just sounds depressing to me…. If there's a good reason you like it, or if I'm missing the point, please do elaborate.

I think I'd write the opposite:
What's prayer? It's a direct line to the light that illumines the darkness. It's being held tightly while you bawl your eyes out, everything is wrong, and no one else notices your alive.

The silence is beautiful. It comes right before He speaks (and just after you've finally finished saying your piece). You needn't beg or whimper. He longs to lavish His love on His children. If you're begging for something that He won't give, then maybe you should reexamine what you're begging for. There's a difference between begging for things that aren't God's best and patiently trusting for things that are but have not yet come.

If you offer empty praise, then why praise? That's not what delights Him, and it's no fun for you either.

And what joy to confess sins that He already knows. Then He won't be surprised by the terrible things we do.

And finally, why seek to change His changeless will? Perhaps prayer gives Him the opportunity to change yours…