Brokenness: One woman's journey
This is the third blog about the vicarious pain that my son, Seth, and his team are going thru in the Philippines. We all need to get to brokenness if we're going to grow as Christ-followers. Megan Dunegan, writes the following this morning about what happened after she prayed for brokenness.Mo…
This is the third blog about the vicarious pain that my son, Seth, and his team are going thru in the Philippines. We all need to get to brokenness if we're going to grow as Christ-followers.

Megan Dunegan, writes the following this morning about what happened after she prayed for brokenness.
Monday: My team and I went to visit Marvin in the hospital to pray over him and his family. If you read my blog titled Two children-one God
there are more details about our day there.
He was in very critical
condition when we saw him. He was having seizures and his mother was
holding a wooden stick in his mouth to keep him from biting his tongue.
We prayed over his little body and over his family.
This was the point
at which I felt true brokenness for the first time in my life. It's
more than being sad or feeling bad for people. The only way I can
describe it is I felt as though I was completely helpless, and the only
thing I could do was wholly set myself aside, and allow God to step in
front of me. There was absolutely nothing I could do-except breath out Jesus to them.
Tuesday:
We got word that he was transfered to a different hospital to receive
better care for his worsening condition. We were unable to go and visit
him this day. God continued to break me as the day went on. This
helpless feeling was welling up inside me, and I allowed God to step in
front of me moment after moment.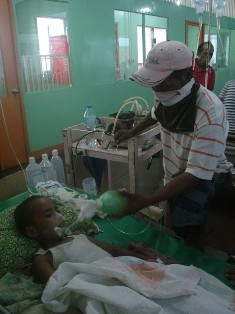 Wednesday:
His mother and father came to the ICM base where my team and I are
staying. They told us that Marvin needed medication for his seizures,
and also antibiotics to help treat his meningitis.
Krystle
(my teammate) spent all day going back and forth from pharmacy to
pharmacy finding all the things Marvin needed to survive.
The rest of
us had to go onto our scheduled ministry for the day. At the end of the
day Krystle reported back to us that Marvin's condition was worsening
with every passing minute. We continued to pray for him and his family.
God continued to break me.
Thursday: Me, Traci and Krystle went to visit Marvin in the hospital at around 9:30am. On our way there we had to pick up more medications for him.
When we arrived at the hospital he was in a room that read "isolation"
above the door. We went in, and his cousin was sitting next to him
pumping oxygen into his frail body.
Each of his family members had to
take turns over the past two days pumping life into his body, as he was
completely unable to breath on his own. We stayed for about an hour and
a half, and before we left we prayed one last time over Marvin. Within
a few hours we received news that Marvin had passed away in the
hospital. My heart collapsed, and all I could do was allow Christ to
enter in and hold me. I knew that He was doing the same for Marvin's
grieving family.
Friday:
His family is making the funeral arrangements – his casket will be made
out of plywood. Our team has covered all the medical and funeral costs
as much as we can. This week is a week that I will never forget.
One, because I have never experienced this kind of helplessness, and two,
because this is when, for the first time, I have experienced true
brokenness from the Lord.
I have felt and seen what it is like to
really lose myself and feel only the hand of the Lord hovering over me
and around me.
For this i am thankful. For Marvin and his family, I am thankful. For God, I am thankful that He always steps in front of me – I just have to be willing to let go and see it.
Subscribe to Radical Living:
Receive updates on the latest posts as Seth Barnes covers many topics like spiritual formation, what if means to be a christian, how to pray, and more. Radical Living blog is all about a call to excellence in ministry, church, and leadership -as the hands and feet of Jesus.