Buddhist monks asking about women & love
What do you think of when you see a picture of a monk in a saffron-colored robe? Whatever our thoughts, we probably have more in common with them than we realize. Human beings are remarkably similar all over the world. Sean Smith has spent the last month on the World Race teaching a group of mo…
What do you think of when you see a picture of a monk in a saffron-colored robe? Whatever our thoughts, we probably have more in common with them than we realize. Human beings are remarkably similar all over the world. Sean Smith has spent the last month on the World Race teaching a group of monks in Cambodia. He's found them to be engaging and fun – just like any other young men you might meet. He recounts the experience: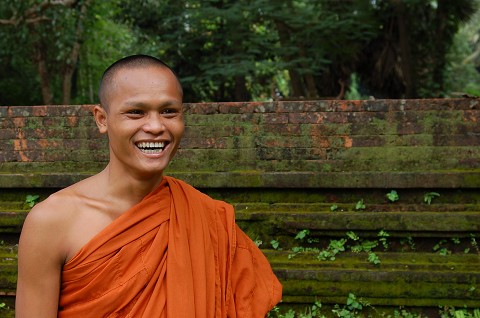 Cambodia has only been at peace for the past 10 years. It just feels so different here, very raw.
Upon
arriving to Cambodia I found out that my team was going to Siam Reap
and that I was going to teach English to Buddhist monks for the month. I love teaching the them; I have been received with such love and kindness.
From day
one I was greeted with, "hello Teacher, how are you today?" Conversing with them freely isn't difficult.
They know that I'm only posing as a teacher and that I'm a Christian wanting to share my love for God with them. My first discussion with the monks was about women and love. Can you believe that? They were so curious about if I had been in love and if I was married. And what it means to love a women. They loved talking about women and many shared freely how they hope to get married one day. They asked, "What do women look for? Are they all after money?"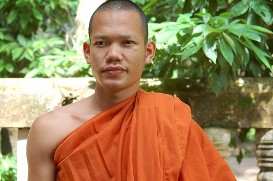 I met another monk named Kayla at the English center where my team teaches. He asked if I could teach English to him and some of his fellow monks at his monastery.
Of course, I said yes. So,
I'm currently teaching two classes at two different monasteries to
Buddhist monks in addition to three evening classes at the center where
the rest of my team teaches.
I truly enjoy my classes with the monks. We have so much fun and laugh during most of class. But my heart is breaking. I truly love these guys. We spend at least half of the day talking about our faith. They have so many questions and are so curious. I don't have to prompt them, they just want to know.
Comments (3)
I wish most Americans would show that kind of eagerness to hear the Gospel…

That's great stuff. I wonder what kind of reasons they would have given for joining the monastery?

The revelation is that we ALL are created in the image of God. Of course they want to know! FEED THEM!!!