Building a nest in heaven's front door
Yesterday I posted a picture of a nest in a wreath. The ironic thing is that we are now experiencing an empty nest at the Barnes house. Our 4th kiddo – Emily – has headed off to college this fall. Here's the rest of the story. We have a wreath hanging on our front door. A couple of days ago when…
Yesterday I posted a picture of a nest in a wreath. The ironic thing is that we are now experiencing an empty nest at the Barnes house. Our 4th kiddo – Emily – has headed off to college this fall. Here's the rest of the story.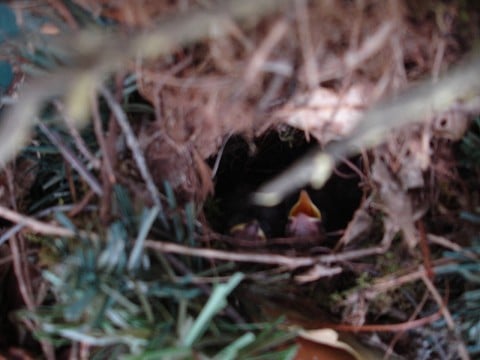 We have a wreath hanging on our front door. A couple of days ago when I opened the door, a bird went flying by my head. Surprised, I looked more closely at the door and the wreath in it.
Sure enough, there was a new nest built into the wreath. And there in the nest were a couple of small eggs! Crazy place to build a nest in my opinion and the builders should suffer the consequences. But immediately the nurturers in the family took over and posted a note prohibiting further use of the front door.
I have a confession to make. For most of my life, I have been like that bird. The Kingdom of God can be compared to our house and the front door to our salvation experience. Most Christians are like I've been – content to build a nest in the front door, never dreaming of the glories, the many-rooomed mansion, the banquet tables and parties that lie beyond.
As I grew older, I heard enough noise from "inside the mansion" that I realized I was missing out on the fun. I asked God for more. I asked him for that life of abundance – for a life of adventure and miracles, and over time, he's given me more and more. I've seen young people come into their destinies. I've seen the people who had incurable diseases healed and my friend Caspar McCloud die and be brought back to life. I've seen the Kingdom of God on the move around the world. God has taught me about discipleship, about the process of growing in intimacy with him and with others.
And now, as I've been able to go beyond the "elementary things of God," I'm realizing how much more lies ahead. There is far more than we dream if we'll just seek first his kingdom and his righteousness. I've learned that once inside, you can't go back.
Subscribe to Radical Living:
Receive updates on the latest posts as Seth Barnes covers many topics like spiritual formation, what if means to be a christian, how to pray, and more. Radical Living blog is all about a call to excellence in ministry, church, and leadership -as the hands and feet of Jesus.