Buying a child's freedom
Sharjeel's parents had a hard life. They were brick makers in Pakistan and indebted to their employer. To make ends meet, they had Sharjeel work alongside them. Then a terrible tragedy struck. Sharjeel's parents were in an auto accident and died. At seven years ol…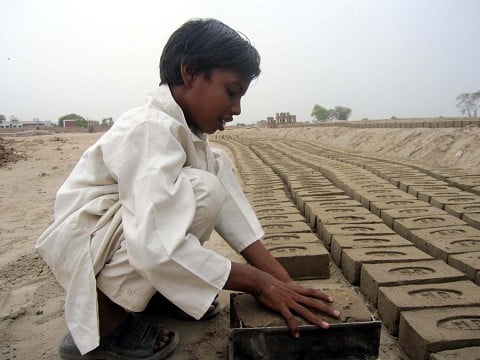 Sharjeel's parents had a hard life. They were brick makers in Pakistan and indebted to their employer.
To make ends meet, they had Sharjeel work alongside them.
Then a terrible tragedy struck. Sharjeel's parents were in an auto accident and died.
At seven years old, Sharjeel found himself saddled with his parent's $1500 debt to their employer.
Not only was he orphaned, but every day he had to work in the hot sun making bricks. He was left without hope.
But the story has a happy ending. Emmanuel Sadiq learned of Sharjeel's situation and let us know about it. And that's where Tara Tankersley comes in. She is one of many unsung heroes we have at
Adventures
. She may look like an ordinary professional to some people, having worked in our accounting department for years. But when she learned of Sharjeel's situation, she decided to make a difference. She knew that we trust Emmanuel, having seen the difference that he has helped make in hundreds of lives.
After confirming the details, she sent Emmanuel the money to buy Sharjeel's freedom. And for an additional $250, she covered his school clothes, shoes, school enrollment free and a food package. Today Sharjeel is living with his aunt. No longer is he a slave.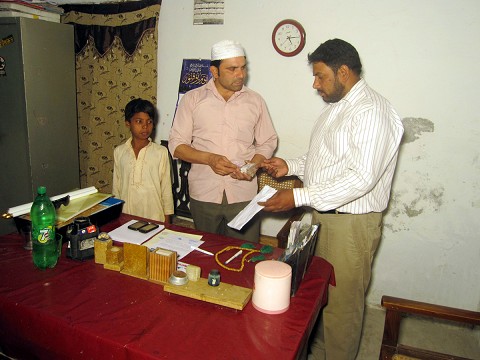 Emmanuel buying Sharjeel's freedom
Emmanuel tells us that there are other children in a situation like Sharjeel's, sold into slavery. If you'd like to help buy a child's freedom, please contact me and I'll put you in touch with Tara.
Comments (6)
Thanks Seth. This is the Gospel @ work.

Dear Daddy Seth,
Greetings.
This is all through your kind help and love now sharjeel is going to school.We always prayer for your mission work and all your co-workers.May God bless them.
Emmanuel Sadiq

Yes please, Seth! This story speaks deeply and directly to my heart.
If its that easy (and I'm there's trickier situations) to buy freedom, I have ideas that can saves lots of these young lives! I'd love to talk to this Tara… and I am sensing a conversation with you will be valuable in the near future. Thanks for your continued blogs, Seth!

Yes, I would love to help, Seth. and I too love the fact that I might could do something like that without having to fly somewhere AND KNOW it actually made that big of a difference! thx

Yea Tara!!!!!!!! Heading to Haiti today to minister to some of our orphans 'rescued' out of bondage and trafficking. But I LOVE the fact that Tara did something without having to even get on a plane. You go, girl, you go! And may you lead thousands and thousands to follow your example.
Subscribe to Radical Living:
Receive updates on the latest posts as Seth Barnes covers many topics like spiritual formation, what if means to be a christian, how to pray, and more. Radical Living blog is all about a call to excellence in ministry, church, and leadership -as the hands and feet of Jesus.