Coping with risk as a Christian
If you follow Jesus, your attitude toward risk is different than those around you. Jesus said "let the dead bury the dead." Braveheart paraphrased it, "All men live, but how many truly live?" As citizens of the kingdom of God, we look at things from another vantage point. Because our value …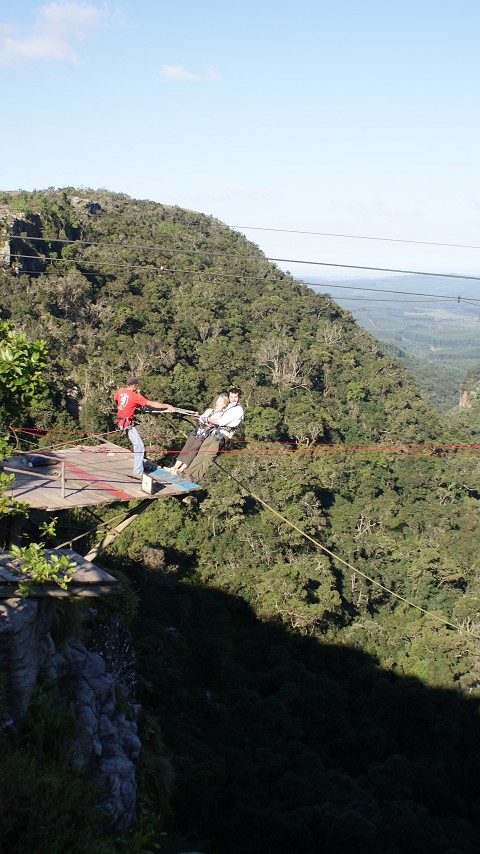 If you follow Jesus, your attitude toward risk is different than those around you. Jesus said "let the dead bury the dead." Braveheart paraphrased it, "All men live, but how many truly live?" As citizens of the kingdom of God, we look at things from another vantage point. Because our value system is different, we can say "for me, to live is Christ, and to die is gain."
Peggy Buller showed the AIM staff what that looks like yesterday. After losing her daughter Sarah on the mission field last month, she and her husband Dwight are sending their daughter Rachel out this summer. They have got the right attitude. It's a privilege to bring good news to those drowning in bad news and there's bound to be some risk along the way.
If we struggle with risk, perhaps it's because we are hanging on to temporal stuff too much. One litmus test is to ask, "Will this burn up in the big fire?" That is to say, "Will it have any eternal value?"
Marisa Banas
describes her attitude toward risk in light of a robbery last year in South Africa.
Various racers were held at gunpoint in different areas of the hostel as several men demanded all of their belongings. In one of the areas, a female racer was forced to stand up as a man held a gun to her head as he yelled at her. "If you don't have a cell phone, I will kill you."

After a pause she looked at him and courageously said something to the effect of "I don't have one, so go ahead and kill me." She realized, "I'm already dead."

Her statement would have confused the heck out of me a few years ago. What does she mean, "I'm already dead." But now I understand more than ever. To live a life like Christ, I have to be dead to myself. Practically, that means this…

In order to get into Ukrainian orphanages all foreigners need to go through an extensive and intense physical that is disturbing to most and horrifying to others. But beyond that physical is a 3-year old child who sits in a metal crib all day, with only one diaper for the day and no one to hold him.

It means that when someone's face is falling off of them because of leprosy, you throw your arms around them and look them straight in the eye. It means sitting on the floor and putting some elbow grease into an African woman's pedicure-despite the fact that you can see worms squirming under her skin.
We need to recognize that some of the best things in life require incurring great risk. Getting to know someone at a deep level requires being vulnerable with that person. A whitewater rafting experience is thrilling because to an extent, one's life is placed at risk. Crossing a busy intersection involves the small risk of being run over.
You've heard it said that "faith" is spelled R-I-S-K. And Hebrews 11:6 tells us that without faith, it is impossible to please God. I submit that some of us who follow Jesus need to be more concerned with pleasing him than we are with staying safe.
Comments (5)
I'm happy to see Sarah's family responding that way. It's a sure-fire smack to the devil's face!

It still blows my mind the things we racers are privileged to be a part of. God never ceases to amaze me through the lives and stories of others.

Slam Dunk Seth!
I was wondering if Sarah's family responded in this way because they were motivated in some way or another by the love and care shown by many… within and without. Lives lived with assurance and hope can face great danger because they are strongly persuaded that the end is not The End. May their sacrifice yield beyond their wildest dreams and prayers, in Jesus Name!! Amen!!

I am Sarah's cousin and am not suprised by this reaction at all! For those of you that knew Sarah and her devotion to the Lord also know her family carries the same devotion. They are strong people-not that this hasnt't torn them down…but strong! (S is for Sarah!) Rachel has Sarah's same determination and devotion and will continue on with what Sarah was able to take a short part of. We will be praying for your organization as you continue to change the world one kid at a time!!

Jessica

Brings to mind a line from Narnia when the kids are inquiring about Aslan. "Is he safe?" they ask. The response: "No, but he is good."
To follow Jesus is always a risk, but a risk that I am unwilling NOT to take…
Subscribe to Radical Living:
Receive updates on the latest posts as Seth Barnes covers many topics like spiritual formation, what if means to be a christian, how to pray, and more. Radical Living blog is all about a call to excellence in ministry, church, and leadership -as the hands and feet of Jesus.