Covenant brotherhood
In yesterday's blog, I raised the subject of tribes. Your tribe should be composed of friends. I've been blessed with a lot of friends, some of whom I'm in covenant with. Let me tell you about three in particular. Bill Britton marched with Martin Luther King, went to Woodstock, and became a succ…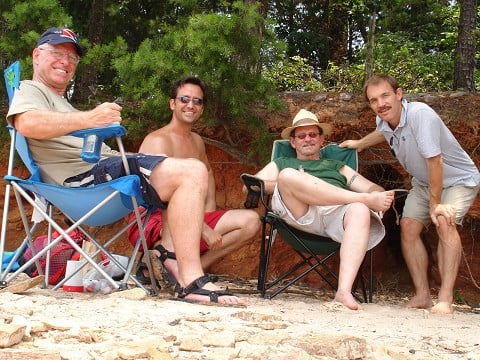 In yesterday's blog, I raised the subject of tribes. Your tribe should be composed of friends. I've been blessed with a lot of friends, some of whom I'm in covenant with. Let me tell you about three in particular.
Bill Britton marched with Martin Luther King, went to Woodstock, and became a successful banker. Joe Rogers fought in Viet
Nam, worked as a cowboy, and ran the Jackson Hole Chamber of Commerce. Clint Bokelman was a youth pastor from Omaha who, after a trip to Mexico, exchanged his impotent God for a God of miracles.
The four of us have been walking together for the better part of a decade. We're all hopeless, idiosyncratic activists. Hanging around us is like walking onto a Seinfeld set. Bill, seeing that the need in New Orleans is overwhelming, and being a passionate advocate for underdogs everywhere, is moving there this week. Joe has a similar passion to disciple American Indians. And Clint is legendary at AIM – ask anyone for a Clint story.
Being counter-cultural can be hard work. But if you really look at Jesus and purpose to follow him, you're going to look strange to the world. The apostle Peter even told us to live this way. One aspect of the evangelical culture that corrodes the male soul is the feminization of our faith. Here's a reason why 75% of much missions work is done by women.
So, for years now, the four of us (plus several others and our families) have been spurring one another on, not only to love and good deeds, not only to purity and high ideals, but to a distinctively masculine working out of our faith. We schedule "Man Night" about once a month where we do things like watch "Braveheart" in the garage. Some women put a tight leash on their husbands. Our wives know that the male soul is perpetually under attack and needs to periodically find its center of gravity.
Subscribe to Radical Living:
Receive updates on the latest posts as Seth Barnes covers many topics like spiritual formation, what if means to be a christian, how to pray, and more. Radical Living blog is all about a call to excellence in ministry, church, and leadership -as the hands and feet of Jesus.