Document your healing
Last month I shared a series of posts about divine healing. Many healings occurred during our training camps in the last several months and I documented these five, all of which overwhelming for those healed: Jacob McLafferty – Deafness healed Samson Tharakan – Shoulder injury healed B…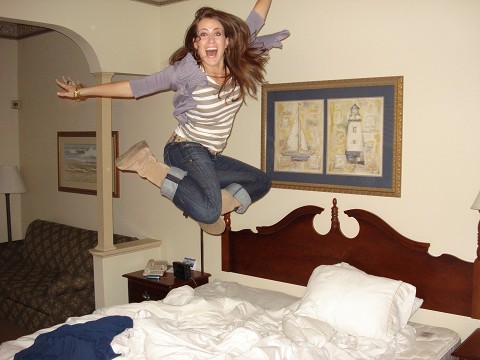 Last month I shared a series of posts about divine healing. Many healings occurred during our training camps in the last several months and I documented these five, all of which overwhelming for those healed:
Jacob McLafferty – Deafness healed
Samson Tharakan – Shoulder injury healed
Bekah Spurgeon – Broken foot healed
Alex Burdett – Back injury healed
Lynette Alegria – Scoliosis healed
Today Bekah shared what it felt like for her. Like Jacob's healing, it was dramatic insofar as the entire training camp (close to 400 people) prayed for her. She tells the story here:
Once we got to camp, I began to see just how hard the week would be. The ground was often wet and there were many large grassy hills to climb. There were no wheelchairs available and no ramps to make the stairs easier for "Gimpy." (my new endearing nickname.)
We were slower than EVERYONE and probably looked hopeless to ever make it 11 months in 11 countries with just a backpack. God was breaking every self-sufficient and independent bone in my body.
During three different times of worship and prayer God straight up healed my ankle.
I felt a warm ball of fire refining the ligaments and making them new again. There was also a gentle vibration/buzzing around my ankle bone and it was completely healed as well.
On the last night of worship at training camp I danced passionately with my Lord. It felt difficult to keep my eyes open as I painted the air space with my limbs. His presence was thick and His love, Mighty.
With each spirit-led movement I felt my body carving through a thick blanket of Glory. I will treasure this moment with Him and will worship Him forever.
Since training camp He is making more and more of me new.
He whispered to me that He will use my dancing throughout the world this year for His glory and I need not fear the surrender of my gifts to their maker.
I am flat out overwhelmed by the unconditional love of my Saviour.
We live in a society that denies the power of a God who heals. This kind of story helps us not get swept away by the tide of cultural unbelief. If you feel like Thomas, doubting Jesus' power to heal, I invite your to talk to Bekah, or Jacob or Samson or Alex or Lynette.
They will all tell you emphatically, "Yes God does heal. He healed me!"
Comments (2)
Thanks Seth. God never went out of the healing business. I can attest to that these days.
Comments are closed.
Subscribe to Radical Living:
Receive updates on the latest posts as Seth Barnes covers many topics like spiritual formation, what if means to be a christian, how to pray, and more. Radical Living blog is all about a call to excellence in ministry, church, and leadership -as the hands and feet of Jesus.