Dreams while Beethoven slept
The rain began to fall soon after we arrived at Marassa, a tent city on the outskirts of Port-au-Prince. We were talking to the community leaders we first met in February. In those days the thousand or so families of Marassa had neither food nor water. They were treating the sick and wou…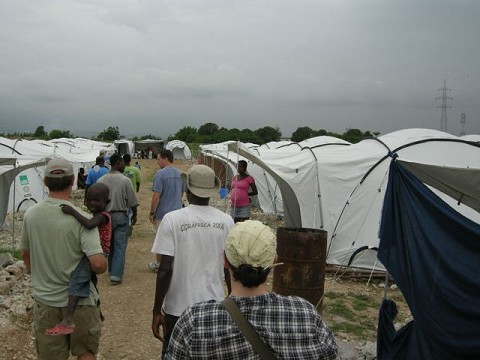 The rain began to fall soon after we arrived at Marassa, a tent city on the outskirts of Port-au-Prince. We were talking to the community leaders we first met in February.
In those days the thousand or so families of Marassa had neither food nor water. They were treating the sick and wounded at a makeshift clinic.
As the storm clouds drew nearer, someone pointed to a shelter – a good place to get out of the rain.
And as we walked there, a small boy in a raggedy red shirt ran up and grabbed my hand. I hoisted him up to my hip and began to carry him along.
"His name is Beethoven," said Geftay, translating for me. "He is five years-old."
We arrived at the shelter as the storm beat down on the tin roof. Someone got chairs for us. Before long Beethoven was asleep on my lap.
"How are you?" We asked the ten or so leaders who'd gathered.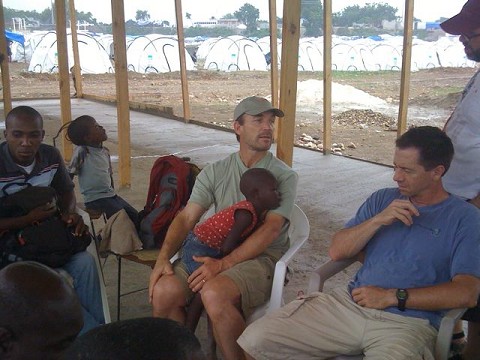 "We don't have jobs, but many of us have tents now. We have some common toilets. Often we are hungry, but we are alive."
"How did you decide who would get the tents?"
"We gave them to those who were neediest – mothers of small children and the sick."
The conversation turned to jobs. There aren't many left in Haiti. So many businesses have been destroyed along with much of the nation's infrastructure. One lady had a warehouse that had collapsed. Another used to have an export-import business, but none of her customers have money.
So we brainstormed and dreampt for a while. Construction work is minimal because so many buildings have collapsed into rubble. What if you were to form not a construction business, but a destruction business? Offer to tear down and remove the rubble from buildings in exchange for a 10% share of the title of the underlying property. You could match up an economic need with a ready labor pool. My idea was hard to understand, so we moved on to something simpler.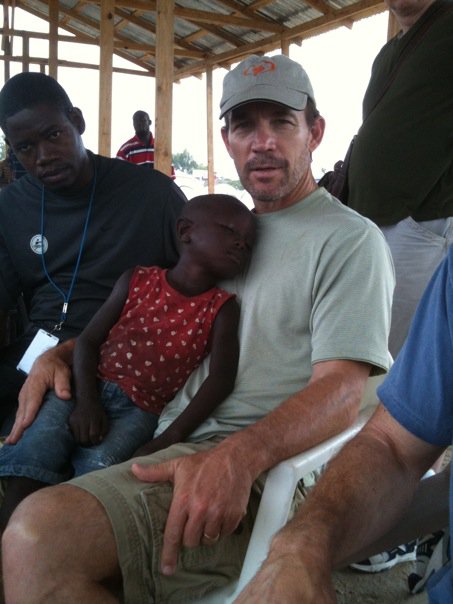 We talked about the chicken and pig raising businesses I'd run in Thailand in 1980. What if we were to loan them enough money to start a small poultry farm?
We moved on to their spiritual needs: what about a church, would they like one? And would they like for us to pray for them?
They answered yes and we prayed for their businesses, for their children, for their dreams.
After three hours, the rain let up enough. We gave them the sandwiches we were going to eat for lunch. Beethoven woke up to eat one, but never left my lap.
Leaving for the base, we wound our way through the garbage, ruins, and teaming crowds of the commercial center. We crawled along in the crazy traffic for two hours before coming home to a warm meal, still processing what we'd do if we lived in Marassa. And for all our brainstorming, I'm not sure any of us know.
Comments (7)
Some great ideas there, Seth… Poultry, destruction with payoff, community creation stuff :-). Praying that what is supposed to bear fruit and grow does!

Wow. Incredible vision, practical, Holy Spirit driven and so energizing to read.

And love and grace in action. You changed Beethoven's life. May we learn from your ability to live in the moment as a servant of God.

I know at some point I will be able to travel to Haiti. The time is not yet, but what I do know, is it will come. In the meantime, the lesson is here for all of us to respond in our own spheres of influence with those in our lives the way you have.

Peace. And God's blessing and grace to you and your team.

Just loving the pictures. They speak a thousand words. You're very pragmatic and that's what's needed here clearly. Keep going hon.

Seth, seeing Beethoven in your lap reminds me of how helpless we are in the arms of Jesus. He probably got the best sleep in a while in the safety of your arms. Did you ever think all those push-ups were strengthening your arms for this task?

Bakery idea is great! As a matter of fact, we checked out a bakery today that has doubled in size since the earthquake (everybody is eating bread now since they can't afford anything else). You can hear about it on the radio tomorrow here: http://www.dougpagittradio.com/
Subscribe to Radical Living:
Receive updates on the latest posts as Seth Barnes covers many topics like spiritual formation, what if means to be a christian, how to pray, and more. Radical Living blog is all about a call to excellence in ministry, church, and leadership -as the hands and feet of Jesus.