Emily is blessed by a blind man who can see
When my daughter Emily was 13, we visited Elmer, a retired blind man in the hollers of coal mining country in West Virginia. Here's how Emily related the story: "We talked about how Elmer could dial any number on the phone, (he even had a contest with us to see if we could dial a ph…
When my daughter Emily was 13, we visited Elmer, a retired blind man in the hollers of coal mining country in West Virginia. Here's how Emily related the story: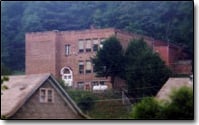 "We talked about how Elmer could dial any number on the phone, (he even had a contest with us to see if we could dial a phone number with our eyes closed – he won, of course). He did all of the cooking, all of the cleaning, and even built a few things (I think he built the ramp going up to his porch for Ruthie).
"He also told us about how he had a contest with another boy to see who could hammer in a nail with their eyes closed, (of course he didn't have to close his eyes) and he said that the first thing the boy hit was his thumb. Elmer started laughing about the hitting-of-the-thumb – he wasn't ashamed of his blindness. He didn't want anyone to pity him.
"After we had learned all about what happened to Ruthie, we prayed for her. Unfortunately, Ruthie was not healed, as I had hoped she would be in some way. Then Elmer insisted on praying for us. We went up to him one by one. Right when we got up to him he said, "What's your problem?" and then prayed a powerful prayer. It was very, very touching to us all.
"At the end I said, 'I would like to pray for you.' Elmer was a little surprised at this, but simply said, "All right, thank you," and bowed his head.
"I started praying. 'O, thank you, Lord, for such a mighty man of God Elmer is. I thank you, Lord, for his amazing passion for praying for people. Thank you, Lord, for giving him such awesome faith. And Lord, I thank you so much for letting him touch so many lives,' and here my sister and I started crying.
'Lord, I envy his love for you and his amazing faith in you, Lord. And I just thank you for such a wonderful, wonderful man that Elmer is. And Lord, I just pray that you would heal Elmer. Please let Elmer be able to see the light of day again, Lord. Help him to be able to see his beautiful wife's face again, Lord. And, Lord, I just pray that you would bless him and keep blessing him for all that he has been through, yet he never gave up on his faith in you. And, Lord, I just thank you for such a great man that Elmer is.'
"Here I ended. And I wanted to ask him to open his eyes to see if he could see since his eyes were still closed. After a long silence Elmer opened his eyes and said words that I will never forget for the rest of my life, 'Emily, God is going to use you in a mighty way. When I'm gone, it will be like you are taking my place and you will heal many people. Even though I have not been healed, it doesn't mean that God doesn't care, it doesn't mean that I will never be healed. It just means that it is not God's timing yet. You must wait for God's timing. Thank you."
Comment
Amen, very nice, very inspiring. Hmmm, Calibration!
-Kelly
Subscribe to Radical Living:
Receive updates on the latest posts as Seth Barnes covers many topics like spiritual formation, what if means to be a christian, how to pray, and more. Radical Living blog is all about a call to excellence in ministry, church, and leadership -as the hands and feet of Jesus.