Joe loves Talia and knew he would before he ever really talked to her. How did that happen? I don't really understand it, but the net result these six months later is that they're getting married (this weekend). It came so easy for me. It was like the Manfred Mann song: "There she was just …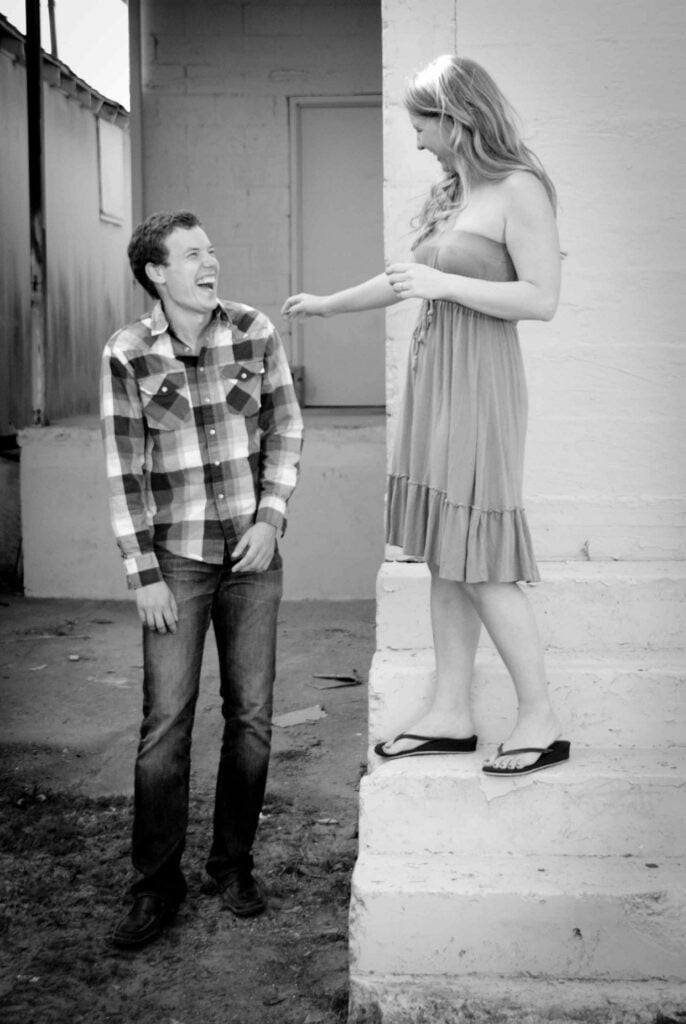 Joe loves Talia and knew he would before he ever really talked to her. How did that happen? I don't really understand it, but the net result these six months later is that they're getting married (this weekend).
It came so easy for me. It was like the
Manfred Mann song
: "There she was just walking down the street. She look good! She look fine!"
When I saw Karen in the dorm lounge, something clicked inside that said, "Game on!" All that was left for me was the thrill of the chase. And what a chase it was (I tell the story
here
).
Yes, there was me the analyst saying to my parents, "I made a list of the 30 qualities I want in a wife and she has 29 of them." But there was nothing analytical about it. At the end of the day, it was a feeling in my heart, a knowing in my spirit. This was it.
Of course it didn't happen quite that way for her and, as near as I can tell, it doesn't happen that way for most people. The one characteristic out of the 30 that Karen was missing was availability – she was in the process of getting engaged at the time!
Since then, I've thought about what it is in a person that falls in love. Why that pretty face? What was the difference? As near as I can tell, it's a spiritual thing. Kind of like when John the Baptist leaped in his mother's womb when he heard Mary's voice.* Our spirit-man recognizes things that are being transacted in the spiritual realm. There are certain people you will be covenanted with – friends for life. Your spirit knows it before your mind does.
On a number of occasions, I've known that someone was going to get married before they even met their spouse. Don't ask me how exactly that works. Falling in love is that way. You can try to dissect it like you would a starfish arm in your Biology 101 lab, but it defies analysis.
And it's because of the magic, magic that you can feel viscerally just by being around a couple falling in love, that we love romantic comedies. You can sponge off someone else's high, especially if you're inclined that way. To me it's kind of a proof for God – it defies explanation.
Have you felt this spiritual thing we call romantic love before? I'm out of my league trying to explain it. Perhaps a few of you can help me out…
Comments (18)
So happy for them! And Seth, you and Karen's story inspire me!

Her look, her smell, her eyes, her voice, the hair, the heart, her spirit… who cares, she is mine!! Right?

"To me it's kind of a proof for God – it defies explanation."

So true, the Lord led me to my wife, no doubt about it.

Seth,

You will no doubt have more revelations about God, love and marriage in this next week than your blog can hold. Savor this precious time and just revel in it. Your blessings are abundant and catching up with you.

Love you, bro!

Love this daddy! I'm so glad I was raised by romantics 🙂 I can't wait for my turn! 🙂

Dad… By this time next week, my excitement will be off the charts… Sola'll be two days away from my embrace… by which time, Joe and Talia will be lost in the moon… you and Karen'll be catching your breath… counting your blessings:)

dear brother seth, & all my household of faith: i'm happy that many of you have married well, or are enjoying a lovely christian courtship…(or whatever your case may be). please forgive me & others like me, who have not done well in those areas. i never hope to be in a relationship again. i feel so blessed to have escaped my marriage & former life, that the mere thought of blending into another human being again is horrifying. i'm not at all sad, nor mad–just removed entirely from that idea of "the two becoming one flesh" ever again–for me.
(i'm only able to perform that act of trust one time, in this life.)
and now i'm content to enjoy my Jesus, minister to my brethren, & heal the sick.
i hope i'm not a disappointment to the romantic in you, but my experience is shared so that whoever needs it, will find it, & by God's Grace be delivered… from condemnation they may be suffering (for real or imagined failures.)
i think christians who don't "fit the mold", often pretend all is well, for shame or fear of rejection. i'm an awesome failure man! i like to tell about it to let christians know that it's not going to affect God's Love for you one bit! (–now that's a good word, if i do say so myself!) blessings to you, & onward through Christ, marilyn in new york.

a closet crusty romantic marshmallow

Talia's right, "Hooray for Love!"

Marilyn,

It must have been painful. I understand why you feel as you do and wish you happiness. Thanks for sharing your story. I think there are a great many in that same place. It's great to be at peace and not feel needy. I'd like to make a campfire at my place for them to come around and share their stories.

I remember with clarity the moment Heidi walked into the room, summer of 1993. She was wearing a white shirt, brown shorts, and Birkenstock sandals. She had a bronze tan that accentuated the white in her eyes. She was gorgeous! And 18 years later she gets more beautiful by the day. Yep, I can remember the first time I noticed her. Why she ever fell in love with me will remain a mystery. God HAD to be in it!

At the age of 34 and never married, I was done with MEN! Done trying to please them or caring what they thought, DONE! This guy kept calling wanting to go out, so I finally said yes, but under my terms. Racquetball. I was good. I won. (He says otherwise). I made him dinner, asked him 50 questions (sort of an interrogation) and turned him out the door with a 'thanks, but no thanks'. Walked him to his car and surprisingly he kissed me.

My knees buckled, bells rang in my head and six months later I was Mrs. Doug Bureman. My heart knew way before my head. It is funny how that works.

His kisses still make my knees buckle.

Lizzy's flying out tomorrow for the festivities, she's excited and I'm excited for the Barnes and Bunting families! Blessings on all.

I love that story, Diane. I can imagine how easy it must be for many to give up hope. And against that backdrop, love really is magical.

How Great is the Love of God!
SO exciting!!!
Love is patient.Love never fails.*1Cor.13:4&8
Awesome!

I Love the Story…
How awesome is the God of love who puts two hearts together and made it one!
So be it done unto me for HIS glory.

… and the greatest of all is LOVE!!!

Love this story! Can't wait for my adventure!!