Finding hope when life is a shambles
For 22 years we have prayed for the healing of a family member. And at this point, praying is a grind. Other folks pray for us more than I probably do. Please don't judge me, but mostly we just cope. When pain is chronic, I think that's what most people do. And yet we serve t…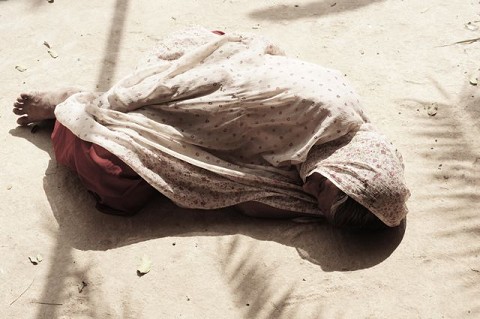 For 22 years we have prayed for the healing of a family member. And at this point, praying is a grind. Other folks pray for us more than I probably do. Please don't judge me, but mostly we just cope.
When pain is chronic, I think that's what most people do.
And yet we serve this God who insists on arousing hope in our spirits. The paradox of it all can be maddening. "Curse God and die," say the cynics. And we read crazy stories of people being radically healed through our teams around the world. Last week
30 or so were healed
in a place where people go to die in India.
Last week I shared with the
Adventures
staff my story about going to Swaziland for the first time in 2004.
I knew it would be grim. The AIDS epidemic was in full swing.
Karen, Seth Jr., Emily, Leah and I all went on this huge project. 900 participants ministering in
192 separate schools over two months.
As I prepared to go and began praying
about the reality of the plague stalking that small country, I felt my
spirit beginning to grieve with them. God took me to
Lamentations 3
and I heard him say, "This is the story of the Swazi people."
It begins, "I am the man who has seen affliction" and for 20 verses, all you read is heart-wrenching hopelessness. You read words like:
broken bones

imprisoned

a laughingstock

broken t e e t h

deprived of peace
And then on the heels of this misery Jeremiah makes an astounding statement in verse 21. He says, "I have hope."
What? What a crazy thing to say in the midst of all that misery. He goes on to say, "Because of the LORD's great love we are not consumed, for his compassions never fail. They are new every morning; great is your faithfulness."
I don't know how Jeremiah can say that. Clearly it seemed as though God's compassions were failing in verses 1-20. So he was either nuts or there must have been something more to the picture. Somehow Jeremiah knew that God would come through for him.
As I read these verses and meditated, I found it strangely comforting to know that a man of God could see his homeland and people decimated and still find hope.
And so, I flew to Swaziland, knowing I'd find death, but also the possibility of hope.
The weeks passed and our teams carried a message of hope that changed the atmosphere of the country. Thousands committed their lives to Christ. Many more learned about AIDS and how to avoid contracting the HIV virus. Our time culminated in a celebration in the national stadium. People cheered and danced.
What is our reason for hope? It's the power of the Gospel. We're not deluded, we see it in actual changes in people.
It's a privilege to serve in places where hope keeps washing up on the shores of hopelessness.
What hopeless place have you lived in? Can you dare to pray a hopeful prayer? If you struggle to do so, know that there are many others of us that live that way too.
Comments (14)
I have been praying along with your family too my friend. Bless you.

Hope is so beautiful and will never run out. Thanks for sharing Seth! This really blessed me tonight.

this is encouraging!!….God bless you for updating me everyday.u uplift my faith in a big way….appreciations

Thank you Set. I will be leaving on Monday to Swaziland to train 25 people the Choose to Wait program in Siteki. Furthermore we have a meeting near Manzini to make practical plans to start a mission station. We look forward to see what the Lord is going to do. Stay Blessed man.

The power of the gospel! Give Leah hugs from me!

This one touched me deeply, Seth. And I will pray always with hope for your precious one. And for Swaziland. And…and…and… How wonderful is hope! "Never, never, never, never give up!"

Thankyou for this. Especially for Lamentations 3, so beautiful!!

"He who has health, has hope. And he who has hope, has everything." – Arabic Proverb

Beautiful. Going to read that chapter now.

WOW!!!!!!!!! I received the same scripture just the other day,and all was in HOPE,we have to trust our Lord on this,Believe me.love you guys
mary lou
Hang in there.

Really good word. A lot of people are in that place of not wanting to hope and just cope, but God's hand isn't too short.

When pain overtakes you. Hope.
When patience runs thin. Hope.
When waiting seems senseless. Hope.
When tears run dry. Hope.
When emotions run high. Hope.
When love is scattered. Hope.
When childhood is lost. Hope.
When death is roaming. Hope.
For the Unbelievers this is as good as Life gets.
For the BELIEVERS this is as bad as it will ever be.
Thank you Lord for the Hope we have in YOU.
Thank you God that someone preached the Gospel to ME.
Thank you Seth for answering HIS call…
Subscribe to Radical Living:
Receive updates on the latest posts as Seth Barnes covers many topics like spiritual formation, what if means to be a christian, how to pray, and more. Radical Living blog is all about a call to excellence in ministry, church, and leadership -as the hands and feet of Jesus.