Get in a van and just go
Some of you need to do what Tracy Chapman sang about in Fast Car: You got a fast car I want a ticket to anywhere Maybe we make a deal Maybe together we can get somewhere You gotta make a decision You leave tonight or live and die this way Yes, sometimes life stinks an…
Some of you need to do what Tracy Chapman sang about in
Fast Car
:
You got a fast car

I want a ticket to anywhere

Maybe we make a deal

Maybe together we can get somewhere

You gotta make a decision

You leave tonight or live and die this way
Yes, sometimes life stinks and you have to stick out a bad season. But sometimes the most irresponsible thing to do when you're stuck in a dead-end situation is to "live and die this way."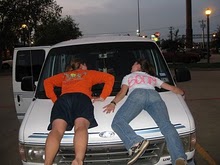 When you're young, you owe it to yourself to hit the open road at some point and go on a journey where you can discover what God intended when he first thought you up and created you. There are many reasons that Jesus sent his disciples out in Luke 9 and 10, but opening their minds up to new God-designed possibilities had to be one.
Take
Stacie and Jenna
, for example. They met in college and always wondered how they could serve God after graduating. When they read Luke 9 and 10, Jesus had their rapt attention. They saw how he sent his disciples out two by two with no resources but all authority. Stacie and Jenna decided that they wanted to see if that could still work in this day and age. After praying about it, they felt led to try to apply Luke 10 out on the roads of America. They left with almost no money in the bank, but a determination to see if God would provide.
One of their first steps was to start a ministry called VanGo. Next they traded in their cars for a 1994 conversion van that they live in as they travel the country. For six months they traveled the southeast section of the US, having adventures and
blogging
about them. They intend to spend the rest of the year journeying through the midwest and into the northwest.
And guess what? They've been amazed to see that Jesus still provides for his disciples in 2011, just as he did originally. Over and over again, they've been blessed as they've encountered what Jesus called "the man of peace" – people who have sped them on their journey. And everywhere they pray for people and minister hope.
Our AIM staff team spent two weeks with Stacie and Jenna in May and came away thrilled to see that Luke 10 still works. Maybe some of you who have never seen that need to join them for the rest of their trip. If you're interested, I can connect you.
Comments (7)
these girls are amazing!!

Amazing women of God; angels on earth! Thanks for sharing their story; I'll pray for them and their work. This gave me something really meaningful today. Thank you.

Amen, Go and Do likewise.

Thanks Seth for the inspiring story. It is never too late to bungee jump into God's adventures…

I know this particular trip is over, but I'm feeling as though I should start this journey myself. THANK YOU for the Hope this brought.
Subscribe to Radical Living:
Receive updates on the latest posts as Seth Barnes covers many topics like spiritual formation, what if means to be a christian, how to pray, and more. Radical Living blog is all about a call to excellence in ministry, church, and leadership -as the hands and feet of Jesus.