Global U 2019 Annual Report: How Did We Do?
Two years ago, Josh Owen and I were talking about what prepared us to become entrepreneurs. He's 26 and I'm 62, but our experience in classrooms was the same. It didn't help. What prepared us was the actual experience of starting a company. "There must be a better way to educate our young peopl…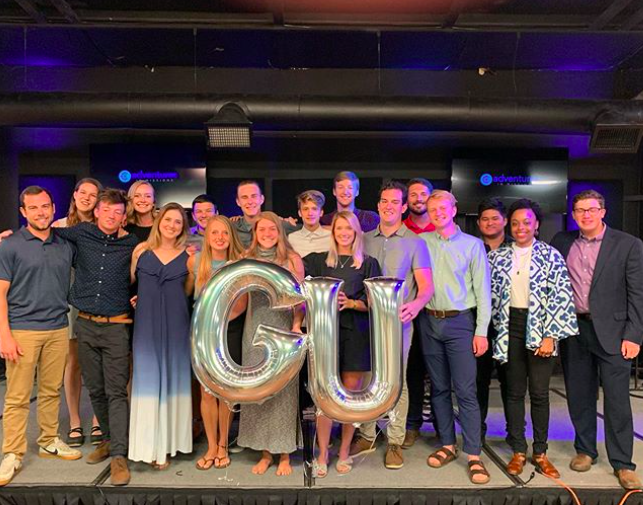 Two years ago, Josh Owen and I were talking about what prepared us to become entrepreneurs. He's 26 and I'm 62, but our experience in classrooms was the same. It didn't help. What prepared us was the actual experience of starting a company. "There must be a better way to educate our young people interested in entrepreneurship after they graduate high school," we concluded.
The dream
We shared a dream of creating a school for young pioneers who felt called to build the Kingdom of God. Where students could learn how to start their own companies. Learning would be driven by passion and experience rather than lecture.
Once we committed to the dream, we decided to locate the school overseas using startup life as a platform for self-directed learning. We launched our Alpha Class by hiking the Camino de Santiago, spending three months each in Spain and Thailand, then finishing the year in Nicaragua and Georgia.
Students
Recruiting a class of 19 talented students felt like a big accomplishment. Most of them came from existing relationships. They loved God, wanted to change the world and were ready to give it their best shot.
As the year progressed, they got sick, struggled, and often felt inadequate, but they learned so much. We encouraged and pushed them knowing that pain is the best teacher.
Our staff poured their hearts out for the students, loving and training them well. We couldn't be prouder of the work they've done. All year long, we struggled with our high aspirations for the program and the commitment that was required. We struggled to balance the workload with our personal lives.
Ministry
In Thailand, the ministry opportunities showed up in day-to-day life. The students had the opportunity to bless local shopkeepers by developing websites and setting up social media for those who had no way to market their shops. You can read about Hailey Hite's experience here.
Nicaragua ministry was a highlight for all as we partnered with Reap Granada. Students were impacted by the poverty and need of the nation through hospital visits, prayer walks, visits to the local dump. Students developed relationships with the many locals who visited the base. Read about Jacob Hoekert experience here.
Of course, the whole world shifted when we had to come home early in response to the Covid-19 outbreak. We had just two days to wrap up our work and get on a plane. 
Fortunately, AIM had space at its Gainesville base for the 26 of us to stay and finish Global U well. Realizing that the world needed ministry more than ever, our first outreach was to offer "free prayer" to passersby. Read about Kyla Calderon's experience here. 
Passion Projects
Knowing that students learn best by getting their hands dirty, we developed the passion project process. Each student started a passion project with 1-2 other students.
In our first month in Mijas, Spain, they self-selected into six cohorts to work on solving real world problems (here are a couple of examples: Klink Fundraising and Sol&Co ethical clothing). In November, when a group of mentors arrived and formed a shark tank, the students presented their kingdom businesses and ministries.
The mentors listened to their presentations and asked the students tough questions. On balance mentors felt that students were a lot better than they thought they'd be.
As the year progressed, we began working on improvements to the passion project process. As with much of the program, we continue to work on the changes we'll make for the class of 2020.
The Future
We have pivoted in some important ways. We now offer a 3-month experience and we have expanded our criteria to include those who are up to 30 years-old. We've also expanded our network of mentors and have beefed up our passion project process to provide more help to students.
Recruiting students during Covid was challenging. We like the students who have signed up – they seem sharp and focused. But we had hoped to have two classes and in March students stopped calling. Only recently have we begun to see an uptick as potential students are evaluating their options in a world turned upside down.
It's precisely because the world is changing so rapidly that young entrepreneurs need what Global U offers. We show them how to evaluate opportunity, create models, learn and pivot – just as we have done in starting Global U this past year.
It's been a great start, but we believe that the best is yet to come!
Comments (11)
Thanks for the experience, Seth. The GU dream has and will change everyone it contacts.

Such an incredible experience. I would recommend it to anyone!

Well put Seth! Thanks for taking the dream and putting it into action!

This is only the beginning. As more people find out about global u it will become an ever increasing attractive option for young adults looking to make their way in the world

Thanks for the encouragement, Caleb. And thanks for helping us get it going!

AWESOME!!!!!!!!

Congratulations to you 'Dad" , and all GU Faculty, Teams and Students. The manifestations of the Sons of God that the World has been groaning for has begun. I'm super duper excited.

Thank you, Sola. You are one of my best cheerleaders!

Seth I can agree what awesome work you do. I have sent the crosses and your people have taken them into the field and shared them to spread the Love of Jesus. I have awesome reports how the have blessed others. Thank you. Keeping you in Prayer

Thanks, Peggy. Perhaps we can take the crosses to a revival underway in California.

Email when and we will be happy to send. God Bless Peggy

GU is more than a program and has left its mark on my life and will continue to do so who do it. Thank you for this unforgettable experience Seth.
Comments are closed.
Subscribe to Radical Living:
Receive updates on the latest posts as Seth Barnes covers many topics like spiritual formation, what if means to be a christian, how to pray, and more. Radical Living blog is all about a call to excellence in ministry, church, and leadership -as the hands and feet of Jesus.