God on the move in India & in young people
I have great news to report today. God is on the move around the world and many young people are being radicalized as they see his power. As they are joining the Lord, he astounds them by answering their prayers. Here in America we can get trapped in a negative news cycle and lose tr…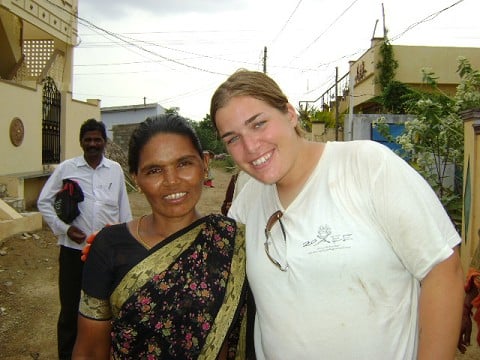 I have great news to report today. God is on the move around the
world and many young people are being radicalized as they see his power.
As they are joining the Lord, he astounds them by answering their
prayers.
Here in America we can get trapped in a negative news cycle and
lose track of that, but my team is witnessing the reality of a God who
loves to meet the felt needs of his children.
Bruce and Taryn helped me to see that afresh this morning.
I met Bruce Neurohr several weeks ago. He told me about his
daughter, Taryn, who was starting off on the World Race. So I decided to
follow her. And as I read
Taryn's blog
just now, I couldn't help smiling and even laughing out loud.
The contrast with my blog post yesterday was great. Yesterday's post described how young people in America are not only losing faith, but the basic underpinnings of morality. The good news, however, is that's not the whole story.
Take them out of their American comfort zone and expose them to what God is doing, and God will turn someone like Taryn's life upside down. Taryn is over in India and has never seen anything like it. Here was her
first report
this week:
Not only have we been preaching the Gospel, but we have been laying hands on people and seeing the sick healed! Monday
night was a night where the Holy Spirit came and filled up a whole
village. We had already been in one village where we saw several healed
of pains in there bodies. Instant healings all in the name of Jesus.
However, God kept coming and when my team was at one house later that
evening, the people just kept coming and asking for more prayer. We were
all tired at this point, but after seeing the Spirit heal 3 people in a row,
we knew that He wanted to keep healing. We prayed over every person
possible. Old men and women. Children and babies. Everyone came. And
every person got touched. There must have been 30 or more people healed instantly in that hour alone! Praise the LORD!

When we finally got a little bit of a break to go eat dinner, we went to another house. Our translator, Abraham, told us that more people were coming to receive prayer from us. Apparently, it was being spread like wildfire that these Christians from America were praying for people and being delivered from sickness, pain, and disease.
Taryn's discovering what many of us have seen: The miracles that Jesus did in his day, he's continuing to do today. When he said, "You'll do greater things than these," (
John 14:12
), he meant it! Outside America's borders, things aren't getting worse, they're getting better.
Then today,
she reports
her surprise at what it was like to cast out a demon for the first time. When it was done she said, "this is the only life I could see myself living. I may be among the poorest and darkest places in the world, but
I feel as though I am more alive than ever before
."
Comments (2)
Thank you Jesus!
Thank you Taryn!
I love this!
She's got it and I tell you,
it's intoxicating. LOL

Yesterday it was good to be informed like we were and today it is good to be informed like we were. Thank you for pointing out a problem that it's important we know about so a remedy can be pursued and thank you for pointing out someone who is living a positive answer.
Subscribe to Radical Living:
Receive updates on the latest posts as Seth Barnes covers many topics like spiritual formation, what if means to be a christian, how to pray, and more. Radical Living blog is all about a call to excellence in ministry, church, and leadership -as the hands and feet of Jesus.