Haitian government closes Son of God Orphanage
Today, the Associated Press, ABC News, Washington Post, and other news organizations released an article announcing the closure of the Son of God Orphanage in Carrefour, Haiti. The children were removed by UNICEF and taken to new homes. All of this happened, because you raised your voi…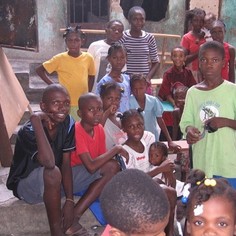 Today, the Associated Press, ABC News, Washington Post, and other news organizations released an article announcing the closure of the Son of God Orphanage in Carrefour, Haiti. The children were removed by UNICEF and taken to new homes.
All of this happened, because you raised your voices.
This kind of action is a rare occurrence in the developing world, and the timing of it is nothing short of miraculous. In recent years, only one other orphanage has been shut down by the Haitian government.
The director of the orphanage was arrested in June on charges of trafficking after he was caught trying to sell a child to an aid worker. His wife has been running the orphanage ever since. She denies charges of neglect, while malnourished children wander the premises. Along with several other organizations, we began investigating this case a year ago when first suspecting foul play. And today we have people in Haiti helping ensure that the orphans continued to be cared for.
And today, justice is served. Thank you for your prayers, blogs, petitions, and all the other ways you got the word out.
Everyone we talk to says this shouldn't have happened. Not in a week. Not even in month. Five days and twelve thousand signatures later, the lives of 46 innocent children are saved. I am in awe of our God.
Comments (17)
this gives me chills!! i am in awe of the work that God is doing!!!!!

PRAISE GOD!!!!

I Stand in Awe of this HOLY God to WHOM all PRAISE IS DUE.

Thank you Seth, for being available to be used of HIM. Salute all the Gangs that worked tirelessly to beam light on this dark part of Son of God Orphanage.

Blessings.

Thanks for loving these children enough to go to the lengths you did to help them. May God raise up more passionate people like you.

Our God is an awesome God! Thank you Jesus!
And thank you, Seth, for hearing His voice and doing what He is doing!

AWESOME! Our God is Awesome!

This is great news.God is good God .

Loving this news – thanks for all your efforts.

I am thrilled to tears to get this report and know the
kids are safe. My daughter Abigail, there with AIM July of 2010, continues to agonize about the fates of Betina and Winsey,precious children she spent dedicated hours with there. Thanks Seth for giving us the opportunity to petition Heaven and the media. Glory to God!

Awesome job Seth. Very proud to call you boss and friend…

Our Abba Daddy is INCREDIBLE!

Yes! Praise God! But there are still some children missing! My friends are there, searching for the children they intended to adopt. Please continue to pray! God IS GREAT!

God please watch over these children. They are your blessings and need your protection. Please continue to watch over all of them, keep them safe, let them know you are there to protect and keep them in your arms.

Yeah, with 25 years of work with orphanages in developing countries under my belt, you'd be right that this is nothing short of a miracle for this to have happened at all, let alone so quickly. Certainly God heard the prayers of all involved and He is the one getting my praise.

Now, may these kids get the healing and restoration they are in need of. Keep praying for these orphans. They are in a better place, but they have been abused and traumatized. We saw God answer all our concerted prayers, so let's be faithful to pray this through to completion for the sake of these children.

This is amazing news! He loves His kids so much and thanks to aim for getting involved…There is no one else I would rather partner with to see justice brought to those who have no voice
Subscribe to Radical Living:
Receive updates on the latest posts as Seth Barnes covers many topics like spiritual formation, what if means to be a christian, how to pray, and more. Radical Living blog is all about a call to excellence in ministry, church, and leadership -as the hands and feet of Jesus.