Have more babies
When God first starts talking to mankind, he tells us to "be fruitful and multiply." I think he did this because he intends to bless us when we have children. It's certainly been the case for us. As many of you know, Karen and I have five children. We had them beginning when we were 25 year…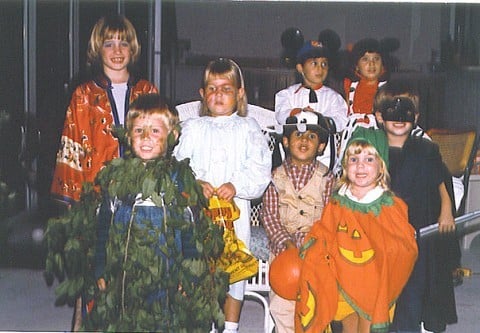 When God first starts talking to mankind, he tells us to "be fruitful and multiply." I think he did this because he intends to bless us when we have children. It's certainly been the case for us.
As many of you know, Karen and I have five children. We had them beginning when we were 25 years old, and they arrived all in the space of seven years.
They've almost always been a wonderful blessing, but now that they are all in their 20's, it's like having a new set of best friends. Wednesday evenings are family night – everyone arrives on our porch for a delicious meal followed by games and conversation. Someone walking up the driveway would probably hear our laughter before anything else – we all love to laugh.
Karen and I are appalled at the prevailing wisdom that says you should have a small family and you should wait until you're financially stable to get pregnant. We look at some of the "common sense" advice that's handed out to young couples and we shake our heads. Economics shouldn't be a factor in either deciding when to have kids or how many you'll have. The fact is, you're going to make it. Life may not be easy for a while, but having lots of children will be the best thing you ever did.
For some reason, the "experts" are afraid of children and have built all kinds of scary scenarios to discourage you from having them. I was in high school when I first read about the "experts" forecast that the world population would explode to 9 billion by 2000. They looked at the growth rate of about 2% and said that the earth couldn't possibly sustain us all. What in fact happened confounded the experts. This month the world population will hit 7 billion, and growth continues to slow.
Forecasts have changed as birth rates have plummeted. The best guess now is that the world's population will peak at around 9 billion in 2050.
Countries like Ukraine lead the pack, losing 1% of it's population every year. Most European countries have seen a steep decline in birth rates. China's one baby per couple policy looked smart when their population was exploding, but look down the road and it's disastrous. After 2050, Philip Longman, author of "The Empty Cradle", says each generation will be about 25% smaller than the one before it.
The book "Fewer" reports that Europe is now losing 700,000 people each year, and will lose 3 million or more each year by 2050.
In light of these trends, it's clear that as a society, what we need is more babies, not less. And in view of the biblical command and my own experience, I'd suggest that you have lots of them. Five was a good number for us, but why stop there?
Comments (18)
Don't forget to tell them to read this blog! LOL

Great blog, we have NINE grandchildren and how cool is that! Have a great time a Catalyst this week and say Hi to my son, Frank and Bekah his wife, Frank III

You're a blessed man in many ways, Frank. But having nine grandchildren must be one of life's greatest rewards.

Will look for Frank and Bekah.

Seth,
I couldn't agree more! My two daughters have blessed me beyond what I ever imagined. I am now a member of the 'grandparent club" a beautiful and healthy granddaughter and looking forward to many more!
Nothing more rewarding as far as I'm concerned. And that I'm sure is not 'politically correct' either.
Thanks for speaking from your heart.
Cindy

So glad you put this needed message out there!

…speaking as someone with five siblings, I say amen to this post!

I love this post! We just had our first and I would love a bunch more! Thanks for the encouragement and good words 🙂

I'm not completely certain why this post made me so uncomfortable. I appreciate that you and the Duggars have the financial, spiritual and emotional resources to care for a large family. But do you really believe that we need more people on the planet? Perhaps the use of a singular scripture to justify behavior bothers me (eye for an eye, anyone?). Perhaps it is my experience with the 18 neighborhood kids (they seriously forgot 2 of them once when they left for vacation). Or perhaps the fact that I am an adoptee….. Just not certain I support the "make more babies for Jesus" thought line….

Thousands of children daily simply never make it into this world because we abort them. And you're right about the command to be fruitful and multiply. God gave that command to Adam AND then Noah, and He has never rescinded that word. Children ARE God's blessing…not God's curse. As God's people, His desire for marriage was godly offspring. Let's do both. Heaven isn't full yet.

is this just a marketing push to get grandbabies sooner?

Ha! I'll need to write another blog for that one.

This is absolutely my FAVORITE blog post you have ever written!

We're hoping 5 is the case with us – since we've had a micro preemie the first time, doctors suggest I won't be able to carry more. But we're praying and asking God for what He put on our hearts a long time ago!

YES AND AMEN SETH!

6 children later and we are so fulfilled with the joy they bring to our family.

i heard my friend quote andy byrd on having children = "creating eternal beings". when it's put that way, i'm less afraid of parenthood.
not much afraid to begin with, being single and all. but still sobering living in a house where there are 4 kids 10 years old and younger…

OR adopt some of the most incredible amazing kids on the planet that are so desperate and longing to be loved and to belong. It has changed our lives in every way and we certainly can see the picture of our own redemption so much clearer…

Amen!
Hallelujah!

And, Praise the Lord for a man who is not afraid to be politically incorrect!!!

You rock, Seth!

Judith

We absolutely agree! We had 6 in 6 years and we not only survived, we thrived! We now have 10 grandchildren with 1 on the way. God is so very good! Thank you for speaking out so strongly.
Subscribe to Radical Living:
Receive updates on the latest posts as Seth Barnes covers many topics like spiritual formation, what if means to be a christian, how to pray, and more. Radical Living blog is all about a call to excellence in ministry, church, and leadership -as the hands and feet of Jesus.