Healing on a mountain in Kijabe, Kenya
This May we'll be sending a team of six missionaries to minister full-time in Kijabe, Kenya. Our involvement there began with my parents who have been serving as medical missionaries in Kijabe for years (and are there now). 12 years ago we visited them, and after that, began sending teams, es…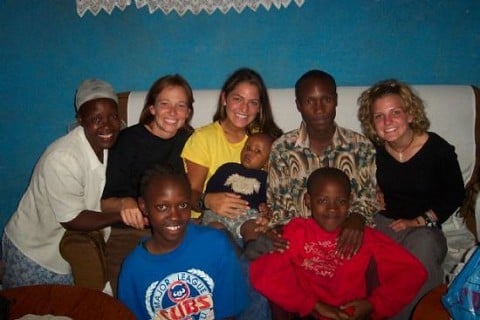 This May we'll be sending
a team of six
missionaries to minister full-time in Kijabe, Kenya. Our involvement there began with my parents who have been serving as medical missionaries in Kijabe for years (and are there now). 12 years ago we visited them, and after that, began sending teams, established an
orphanage and a schoo
l. Here's a story from our visit.
The Kijabe mission compound is big. We went halfway down to the Rift valley on a winding road to get to it. On Thursday, my parents had planned a hike to the top of a nearby mountain. "Last time we hiked up there, we met a man named Francis Maigwa. We told him we'd be back no later than today," they said.
So, off we went. As we walked on the jungle path leading out of the missions compound, monkeys scampered around in the overhanging trees. We slowed our pace to a kind of death march shuffle as we got further and further up the mountain. Up ahead was Francis's house. A bunch of kids spilled out into the yard to greet us. They were all young, and some of them who couldn't have been older than three or four themselves had babies on their hips. They smiled at us and led us to their home, a two room mud brick affair.
Francis greeted us with a complicated handshake and a huge smile, "Jambo! I have been praying that you would come today!" He announced. "Come inside my house, we will eat together!"
We thought about ignoring this invitation (having just eaten lunch and hoping to be on our way to the top of the mountain shortly), but said nothing. The inside of Francis's house had been prepared as though for a state dinner. Everything was spotless. Blankets covered the decaying furniture.
Once seated, Francis began telling us about his life. "I have six children, all girls. Not too long ago, my sister-in-law died, so I have given my 14-year-old daughter to help my brother. His children eat here. Also, my sister is psychotic, so we take care of her children. Also, we take care of my 24-year-old niece who is a dwarf. Altogether we are feeding 13 of us here."
At this point, Francis got out some photos and began passing them around. "These are pictures of my father's funeral. You see, he lived a long time and then died."
Francis had a lot to tell us: "Two days ago we thought you might come visit us, so we got ready. Then yesterday we thought might be the day. Finally, I prayed to the Lord that you would arrive today and here you are! My wife Esther will get our lunch now."
As we passed around pictures of the funeral, I felt myself getting very sleepy, like I do sometimes when I'm translating for an evangelism team in Mexico (once I fell asleep as I was leading a lady in a prayer of salvation). My eyes kept shutting during the conversation and I began making remarks which, though they kept the conversation going and satisfied Francis, didn't make much sense. My mother found this humorous. The whole experience was taking on a surreal quality. Then Francis's wife Esther began bringing out the food she had cooked: chicken, rice, boiled cabbage, soup, and a flat tortilla-like bread. There was far more food than we could possibly eat, even if we had been hungry.
Two hours later, it was obvious we were not going to make it to the top of the mountain. Francis had bought gifts for my parents: a purse for Mom and a mirror and hairbrush for my bald father. This elicited great laughter from everyone who had gathered around to watch us eat.
Before leaving, Francis asked me to pray for his sister, who had been diagnosed as manic-depressive. We all gathered and I prayed a simple prayer. All the children lined up to wave to us as we left. We couldn't help shaking our heads at their amazing hospitality – they had sacrificed so that we who were already full could eat more.
After returning home, my parents received the following letter from Francis:
>
>DEAR BROTHER AND JEAN
> WORDS CANNOT EXPRESS OUR HEART FELT GRTITUDE FOR YOUR MOST
>REMARKABLE LETTER DATED 11TH FEB 1999.
> GOD IS WONDERFULL.
> WE READ YOUR LETTER SEVERL TIMES IT LOOKS LIKE A MIRACLE PERFORMED
>TO REVEAL HIS WONDERS TO US AND HOW GREAT DEEDS ARE ACCOMPLISHED BY
>THOSE WHO LOVE AND LIVE FOR THE LIVING SAVOUR JESUS CHRIST.
> THE PRAYERS WHICH BROTHER SETH PRAYED FOR MY SISTER, SHE WAS HEALED
>AND DELIVERED FROM MENTAL DISEASE. WE GIVE THE GLORY TO GOD. WE ARE
>PRAYING FOR YOU, FAMILY, AND FRIENDS, GOD TO OPEN A DOOR AND TO TOUCH
>YOUR FRIENDS TO GIVE WILLINGLY TO HELP US AND MIRIAM.
> WE ARE VERY MUCH LOOKING FORWARD TO SEE YOU IN DECEMBER.
> PASS OUR GREETINGS TO YOUR FAMILY AND FRIENDS.
> MAY THE ALMIGHTY GOD BLESS YOU
> YOURS SINCERELY
> FRANCIS GACIRI MAIGWA
> PLSAM 146:5
The Bible tells us that when we give, we receive. Francis gave out of his poverty and received God's riches. We can only guess at the treasures laid up for him in heaven.
Comments (3)
Our God is Jehovah Jireh mostly at the altar of sacrifice… AWESOME story Dad.

This sounds like God's economy.

I remember being in India with a team who seemed more interested in eating after mini-crusade type events than praying with the people. They 'endured' praying for lines of people, but they were not extremely faith-filled prayers. More like impatient stomach-grumbling prayers. But guess what? God didn't care. He saw the hearts of the people lined up for prayer and He satisfied them.

Later, when I was debriefing the team and they were amazed at all the healings God had done, I pointed out that in this case, it was clear that God received all the glory. They knew it wasn't because of the passion or eloquence or even faith in their prayers- because there was little of that.

God deserves ALL the glory all the time but sometimes we like to take a little credit for ourselves. In this case, I loved how it was obvious that God indeed deserved all the credit for those healings.
Subscribe to Radical Living:
Receive updates on the latest posts as Seth Barnes covers many topics like spiritual formation, what if means to be a christian, how to pray, and more. Radical Living blog is all about a call to excellence in ministry, church, and leadership -as the hands and feet of Jesus.