How to Grow in Intimacy with God (free eBook)
If you're like me, you have your daily "Christian checklist." You whip through your scheduled chapter of the Bible. You pray through your list of prayer requests. On Sunday, you check off the church box. During the week, you might even check off the Bible study or volunteering b…
If you're like me, you have your daily "Christian checklist." You whip through your scheduled chapter of the Bible. You pray through your list of prayer requests. On Sunday, you check off the church box. During the week, you might even check off the Bible study or volunteering box. You even have a checkbox for tithing.
But have you ever felt like something's missing?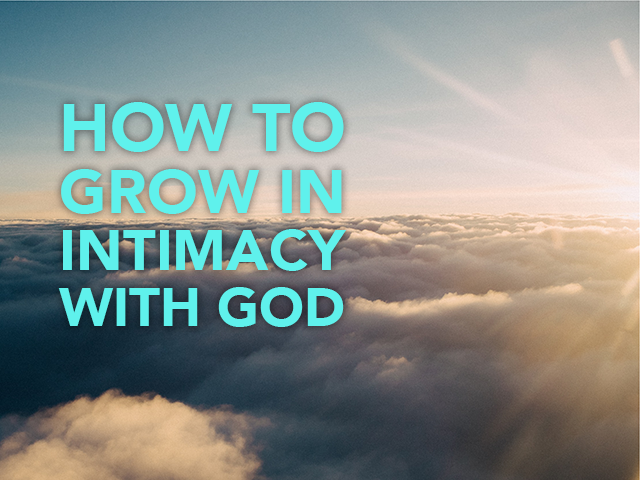 Have you ever wondered where God was in the midst of it all? No matter how many Bible studies you attend, community groups you join or hours you spend memorizing scripture, you're just not feeling filled up.
After living this way for years, I began to realize what the missing piece was: intimacy with our Creator.
But how do you grow in intimacy with God? Intimacy is birthed from a relationship, from trust, honesty, vulnerability, and one thing many people miss, one thing I often miss: listening.
3 Keys to Listening Prayer
Deep inside all of us is a desperate longing to hear God's voice, to hear from God just as we would from our friends and family.
But how do you hear God's voice? Excuse me if this sounds obvious, but you first have to listen.
With that in mind, here are the three foundations of Listening Prayer. For more details and to read more about this, get the full version below.
1. Ask God Questions
In normal personal relationships, dialogue is initiated by asking questions. Questions prompt responses.
Scripture is full of examples of people asking God questions.
Isaiah 8:19 says, "Should not a people inquire of their God?"
Jeremiah 10:21 describes, "The shepherds are senseless and do not inquire of the Lord; so they do not prosper."
Matthew 7:7 simply states, "Ask and it will be given to you."
God wants to answer your questions. He expects us to initiate dialogue, just as we would in any personal relationship.
2. Listen for God's Answers
For many of us, listening is one of our greatest weaknesses. Living in the age of technology and distraction we have lost the art of listening, especially when it comes to the voice of God.
The fact is, God does speak to us, and he uses a variety of means to do so, if we're open to hearing it.
Throughout the Bible, we see God speak through bushes, donkeys, and prophets.
The way God speaks to us today is not limited to sermons and spiritual mentors. While God does speak to us through those, he is not limited to them. Listen for God through scripture, dreams, visions, circumstances, audibly, and inwardly. This is just the beginning. In the last ten years of practicing listening prayer, I have heard God speak through close friends and visions of rubber ducks.
3. Interpret and Apply God's Voice
One of the questions I get most often about listening prayer is, "How do I avoid mistaking my own thoughts for God's?"
Obviously, our first check is to see if what we've heard lines up with Scripture. Scripture is our ultimate authority. God does not contradict himself. Proverbs 30:5-6 says, "Every word of God proves true; he is a shield to those who take refuge in him. Do not add to his words, lest he rebuke you and you be found a liar."
Does what you've heard exalt Christ? Look at 2 Corinthians 10:5 "We demolish arguments and every pretension that sets itself up against the knowledge of God, and we take every thought captive to make it obedient to Christ."
Do other Christians confirm what you've heard? Proverbs 15:22 explains the importance seeking of wise counsel:
Plans fail for lack of counsel, but with many advisers they succeed.
Interpreting our prayers can seem like a daunting task, but we also need to remember the heart and vastness of God. Just as we often misunderstand one another, so we can misunderstand God. What if God said something and we didn't hear him correctly, or we misinterpreted what he said, or even misapplied it.
The reality is God can handle it! It's okay if we don't get it perfectly!
The more we practice listening and interpreting God's voice, the faster we are able to identify it and the easier it becomes.
Are You Ready For the Next Step?
Do you want to make listening prayer a priority in your life?
Do you crave a deeper relationship with God? I have the perfect challenge for you.
Download the devotional below and dedicate just three days to listening for the voice of God.
These three days will be just the beginning of something new. Something deeper.
God is speaking to you now, this is what you've been looking for.
Then, listen!
If you hear God speak, leave a comment below to let me know!
Comments (3)
Thanks Seth. I'm thankful for your heart, perspectives and passions.

Glad you are getting this out to a wider audience. It is needed and key.
Subscribe to Radical Living:
Receive updates on the latest posts as Seth Barnes covers many topics like spiritual formation, what if means to be a christian, how to pray, and more. Radical Living blog is all about a call to excellence in ministry, church, and leadership -as the hands and feet of Jesus.