It's Father's Day. The fifth commandment is to honor your father and mother. Most people don't struggle to honor their mothers. That was the one woman on the planet who loved you no matter what you did. But for many people, honoring their dads is more complicated. How exactly do you do that? T…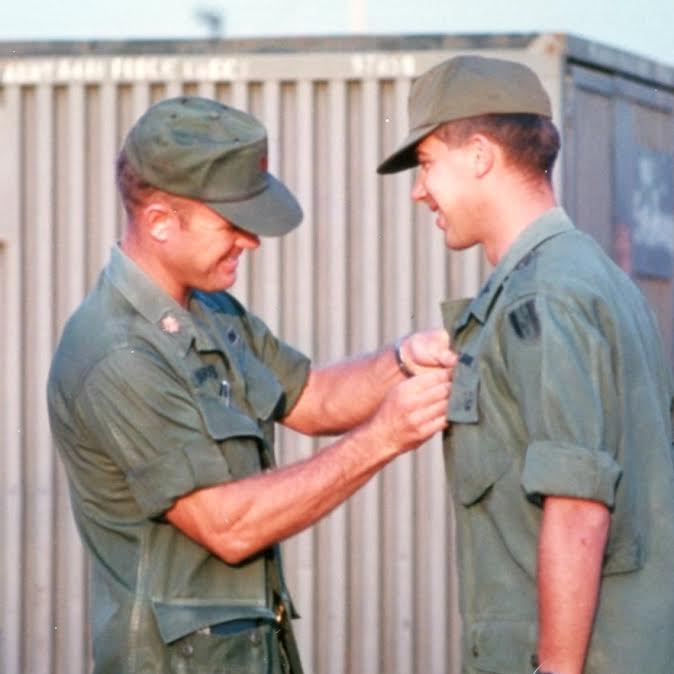 It's Father's Day. The fifth commandment is to honor your father and mother. Most people don't struggle to honor their mothers. That was the one woman on the planet who loved you no matter what you did. But for many people, honoring their dads is more complicated. How exactly do you do that?
To honor someone, you speak well of them. You have to find something legitimately good that they did and highlight it. For example, I found out something I'd never known about my father. I've waited till today to share it with you so that I could honor him publicly.
Zack Carden was a friend of my father's. He found me on the web and emailed to say,
"Your dad was my C.O. in 'Nam. In the picture above he is pinning my Amy Commendation Medal at Long Binh. Your dad is a good man and largely responsible for my walk with Christ that began in 1971 in Memphis. He sowed the seeds with his faithful devotion and his attendance at the Sunday services.
In my three years of military service, your dad was my favorite of all the officers I served under. We were friends and I am so delighted to make contact again. My son is Zack Carden – he is the Director of Family Ministries at the Church of the Apostles in Atlanta."
Isn't the internet amazing? I loved getting that surprise email from Zack. I've always been proud of my dad, but this makes me proud all over again.
God promises that if you honor your father, "it may go well with you and you may be long-lived." Deut. 5:16
That's easy for me to do. Others who know my dad like Zack does already honor him. I've been blessed with a father who aspired to do the honorable thing. He was descended from a line of honorable men. He worked hard all his life. In his work as a doctor, he regularly saved lives. He provided for his family and loved us. He was faithful to my mom. He was a leader in his church, and along with my mom, he focused on missions. We kids were fortunate to have him as our dad. We are thankful for him.
But what do you do when, as a child, your father was not an honorable man? So many kids don't even have a father in the home. Or if they do, he makes life miserable for his family. How do you honor a dishonorable man?
I begin by looking at the men whose stories fill the Bible. There were a lot of dishonorable men. Saul was such a man. He lied and cheated and killed. Yet David understood that he was God's anointed. He understood that God's promises of a long life, a blessed life for those who honor those in authority, especially their fathers, was to be trusted.
Looked at through our human eyes, the fathers who have hurt their children deserve something other than honor. They deserve justice. You would think that honoring such men would be disingenuous, or at least dishonest.
Yet there is God's promise to us in Deuteronomy. Do you want to live long? Do you want life to go well? If so, begin by honoring your father.
I think it comes down to grace. Maybe we don't come from a family of grace. But does that DNA have to define us?
Is it possible for us to break the cycle of "ungrace" and forge a different DNA for our own families? If so, we must find the grace to first forgive and then honor those who have hurt us the most – maybe our father.
On this Father's Day, why not begin with that man who gave you life? Yes the wounding is hard to forgive – maybe your father was weak and flawed, but what were his good points? What would his friends say about him?
Maybe he loved you but just didn't know how to share it. Why not honor him anyway? Why not honor him with the gift of grace? And then take it public – what can you find out about your father that you can share with others? What are the ways you can you still honor him?
Sometimes the questions that are most difficult to answer are the ones most worth asking.
Comments (9)
Hard for so many… great blog!

Thanks, Seth. A good reminder. You know my story, journey and path. I wouldn't be "Butch" without the broken places. I forgave my dad long ago. He did the best he could. You are a good dad and friend. Love you.

You're a good friend too, Butch – yes, your dad had his demons. But your forgiveness was so important in setting a new course.

Thank you for post this, Seth! I remember this moment well. He also pinned my Captain bars on at an earlier event. We played tennis together and we also played golf. We played the Saigon Country Club—once before the fly boys bombed and once after. It was like playing Gary Patterson farcical golf course holes. He never got me to jog, however. There's also a sidebar to the medal ceremony. I will tell you about it and a few other stories I need to write. And BTW, I can assure you I know how to spell army. Blessings.

Seth- As one who is blessed with a legacy of honorable men, (my father and grandfathers) I've decided the best and absolute honor I can do for them, is to "pay it forward" and "spread it around" to future generations. Powerful stuff when your earthly father reflects the heavenly Father's love, justice, and mercy. I'm forever grateful for the impact of these men on my life and journey. We need to make this honor common, NOT rare.

Amen, Andy. It is a stewardship we all share.

Thanks for making my dad's Father's Day, Zack. What a wonderful story!

Seth, this came at a great time for me. I'm a young adult and wonder how to honor my father and mother while they are separated. My father was unfaithful, and is a work-a-holic at our family business in our small town, as well as a heavy drinker. He hasn't attended church with us in years and treats my mom poorly even though she has remained faithful to her vows and our family. My younger siblings notice these things, and he doesn't attempt to see them very often. I am hoping you could email me advice on how to honor him, and my mother, during this difficult time. I've noticed recently that my dad only listens to me, and although I know that he needs a Christian male mentor I feel like I have an opportunity with him. Thanks for posting!

Elizabeth, you are carrying a lot. I sense the Lord's great compassion for you. He knows how heavy it feels to you. He is there with you and I believe he wants you to sense that he will help you shoulder the burden. The Lord will give you wisdom to navigate this season with grace and discernment.