How to minister: Mourning with those who mourn (cont.)
Part Four in a series on "How to minister." Continued from How to minister: Mourning with those who mourn In 1995 I preached at a small church in the town of Bauta, Cuba. The Lord gave me Romans 12 as my last-second theme. I read a verse and then I told the congregation that they were going …
Part Four in a series on "How to minister." Continued from How to minister: Mourning with those who mourn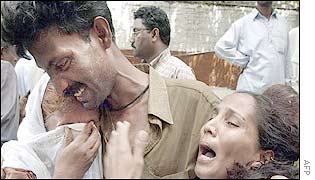 In 1995 I preached at a small church in the town of Bauta, Cuba. The Lord gave me Romans 12 as my last-second
theme. I read a verse and then I told
the congregation that they were going to illustrate it with their own
testimonies.
It was a gamble since no one ever did this sort of
thing.
"Bless those who persecute you,"
I read. Everyone looked around
awkwardly. At last a man named Pedro was
stood to his feet.
It was very hard for him to share. "I know what it means to hate what is
evil and to cling to what is good. I
lived and worked in an evil system, the Cuban army. For years I was not allowed to show any
emotion. I was hollow inside. I needed Jesus in my life. Only he could give back to me the part of me
that I'd lost. After becoming a
Christian, I was able to feel again."
I stopped the service and we prayed for Pedro. Then I returned to Romans and read, "Mourn
with those who mourn" and again we waited in silence for the illustration.
Finally Pedro's wife Esmari stood and spoke in a voice dripping with emotion.
"We wanted to have a baby.
We were so excited when I was first pregnant. But then I lost the baby. It was horrible. I got pregnant again and the same thing happened. Why me?
What had I done? Did God just
hate me? But the pain just continued. I had three more miscarriages. It made no
sense to me."
She was speaking in hushed tones, weeping as she spoke now, "Recently, a friend of mine lost her baby. She felt deeply wounded as I had felt. She came to me and together we wept the tears
that only a mother who has lost a child can weep."
I looked at Pedro as she shared. I could see as he buried his head in his hands
that God had indeed allowed him to feel a compassion and a hurt for his wife's
pain – perhaps more intensely because it had been hidden. And the church responded beautifully to the
broken hearts in their midst, sharing tears and prayers with one another.
When you obey the biblical injunction to "mourn with those
who mourn," you bring dignity to their grief; you move the grief-stricken
mourner out of their isolation.
As we turn mourning into dancing, we invite the mourner to
move in step with someone outside their dark and claustrophobic world. Their grief is put in the broader context of
human experience, and in so doing, it is placed within the broad narrative of
human beings on planet earth who since the dawn of time have suffered loss.
And what's truly mind-blowing is, it is placed in the
context of a Creator who identified with our suffering by allowing his son to
suffer. Doing so in part to give us an
example and a calling, as 1 Peter 2:21 says, "that you should follow in his
steps."
The point is, we will suffer and we will struggle to make
peace with pain. Whether we can do so
redemptively as he did will be one of the great pivot points of our life.
For some
practical thoughts on how to respond to the losses of others, check out Floyd
McClung's
blog.

To read the continuation of this "How to minister" series, see: Touching Jesus the leper

Comments (2)
I like this story. I like when people share in church.

Seth-I rec'd your email this a.m. For whatever reason, for the last several hours I've been able to receive emails but I can't send them out. Here is what I tried to email you:

"Praying for you and those around you again this morning, Seth. I also
linked this article to a homeschool board that I'm active on. That board is
more than an online forum, its become a family over the years and we've all
too often had to mourn with each other over the loss of babies, the
dissolution of marriages, the pain of a runaway child, or the onset of
horrific diseases. Your post was a good encouragement to continue to
minister to each other and I wanted them to benefit from it.

Thanks for sharing your heart…and the Father's heart,
Elysa Mac "

P.S. The link to that forum thread is:
http://www.fiarhq.com/~gbprnhrz/forum/showthread.php?p=312178#post312178