How to throw a pachanga
A pachanga is a party. But not just any party – it's a Spanish word that basically means "an awesome party." We need more pachangas in our lives. Jesus began his ministry with a wedding party where he kept the wine flowing and we see in Matthew 25 that God wraps things up with a heavenl…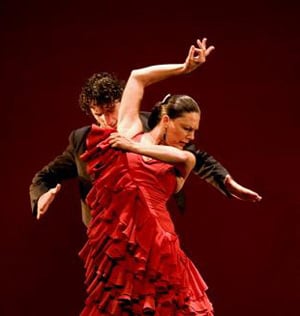 A
pachanga
is a party. But not just any party – it's a Spanish word that basically means "an awesome party." We need more pachangas in our lives.
Jesus began his ministry with a wedding party where he kept the wine flowing and we see in Matthew 25 that God wraps things up with a heavenly party. God is a partying God. When David gathered together his mighty men, he threw a pachanga for them that lasted three days.
Here in Mijas, Spain, they get the concept of a pachanga. Knowing that, I told Andrew Shearman that I'd like to help throw one on the eve of my departure. So last night, for seven hours, we had an amazing party. Because we're right on the Mediterranean Sea, Zach procured jumbo shrimp, calamari, and mussels to prepare a delectable paella.
After dinner, the Shearman grandchildren led us in a series of intergenerational dances. Carol showed up to teach us flamenco techniques. And then we dove into a rousing series of games – "Guess Who's Coming to Dinner" followed by "Like the Adverb" and then some card game that Matt Peters won. The highlight was Andrew acting as a hillbilly Sir Francis Drake to Tara's hillbilly Queen Elizabeth. It's been a long time since I laughed so hard.
Somewhere in there Nicholas went and got some more food. And it was after midnight when the students gathered around to pray for me and express their appreciation for my visit. I left the place blessed.
The Christmas season affords us a great opportunity to celebrate with family and friends. At AIM, Toya, Connie, Tara and Nancy have been working for almost a month decorating and preparing for what promises to be an amazing celebration this weekend. We serve the Lord of the dance. Our tribe works hard and plays hard. The young people invigorate us – they know how to help us older folks have fun.
What awesome parties with God's people have you been a part of? If you saw "My Big Fat Greek Wedding," you'll remember the difference between the prudish parents of the groom whose pursed lips and pinched manners collided with the bride's effusive and eccentric clan. Which family looks more like yours? Doesn't it stand to reason that we should experience serious joy with those we love most?
Comments (10)
**mArC** The Schifano Tribe

Seth, I am starting a pachanga ministry today.lol. Love ya. See ya.

Yeah!!!!!! This is totally God! We find reasons to celebrate over the seemingly smallest thing. Let the joy and fun flow!!

Could you say, "I am a Panchanga" like " I am the will of God" just wondering??

Let the pachanga's begin … I'm having one Tuesday for several women here in Sarasota – many of whom I met through this blog or facebook. Just love the way God makes connections!

We'll let you know how the flamenco dancing goes … that may need to happen AFTER prayer … 🙂

Hey Seth, thanks again for the party! It was a blast. It's been a week of Pachanga and we don't plan on stopping anytime soon!

Thanks for the honorable mention to the card game! It was fun to see people's emotions come out due to a hand of cards.

We're always blessed by you Seth!

His Kingdom come!!

– Matt

I think that if we all learned how to celebrate life, we would find we have a lot to celebrate, and a lot less to worry about.

I've been working on cultivating a heart of gratitude; perhaps I need to add celebration to that as well.

gotta say i'm pre-tty jealous of the flamenco lessons! where were the videocameras when you need 'em eh??? 🙂

i'm going to need us to have a massive pachanga starting tomorrow.

Katie – we actually do have it on video. Don't know if we've deep-sixed the footage or not. It probably should go in some secret vault somewhere.

Talia – the party is in fact starting tomorrow – the big AIM bash.
Subscribe to Radical Living:
Receive updates on the latest posts as Seth Barnes covers many topics like spiritual formation, what if means to be a christian, how to pray, and more. Radical Living blog is all about a call to excellence in ministry, church, and leadership -as the hands and feet of Jesus.