I'll disciple you
I believe in discipleship so much, I'm crazy about it. It's not just that Jesus in his valedictory address commanded it, it also just plain works and it's the key to the abundant living that Jesus promised. And it's actually a pretty simple thing – just a process of one-on-one spiritual enc…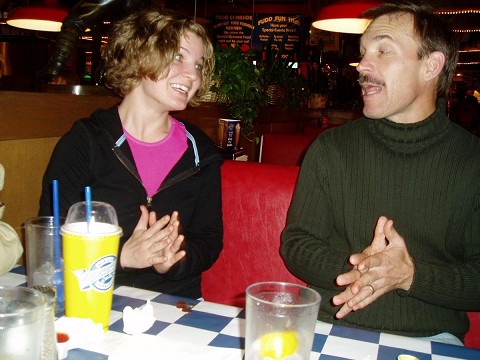 I believe in discipleship so much, I'm crazy about it. It's not just that Jesus in his valedictory address commanded it, it also just plain works and it's the key to the abundant living that Jesus promised. And it's actually a pretty simple thing – just a process of one-on-one spiritual encouragement or challenge. We miss out with our run-amok busyness, trading in time invested in trips to the soccer field or watching shows of "Lost" when we could be discipling others, especially those we love.
Once I went around a room of top youth pastors – professional disciplers – and asked, "How many of you have been discipled?" Few raised their hands. Then I asked, "How many of you are intentionally discipling your students one-on-one?" Again the response was underwhelming. It's a sad commentary on the state of the Church, but we can do something about it.
During my thinking/running time yesterday, it occurred to me that we should do an experiment together. Right now you and I at minimum have a cyber-relationship that I propose to upgrade. I'd like to investigate whether it's possible to use the web to disciple others. I know that you can do it using the phone – I did it yesterday with a pastor-buddy of mine whom I challenged. So, I'll throw it out to the first five of you who respond (or up to ten people if this strikes a chord with you). Maybe it will flop, but who knows, we risk little.
Here's my proposal, if you are interested in my discipling you over the net, we'll go thru the following trust-building steps month-by-month. At any point you can opt out with no hard feelings from me and I promise never to blog about you! Anonymity is essential in discipling. And if you're already a friend, we'll laugh about it together. Life is too short not to bungee jump a bit.
Month 1 You read my blog every day – I'll try and challenge you. You email me the area you want to grow in and I'll pray for you and hold you accountable with an email on Saturday morning. If the accountability helps, I'll encourage you.
The Art of Listening Prayer and hold you accountable to 45 minutes a day of prayer. Again emailing on Saturday morning.
Month 3 We'll ask the Lord what specifically He wants to do to help you grow. At the end of the month we'll assess together what else God wants for your life by way of discipling.
In the future, I'll blog more about what it means to disciple another and how to do it. But I'd rather actually
do it than blog about it.
Comments (17)
I'm intrigued. Let's give it a shot.

Are you still taking volunteers for discipleship?

Are you up to taking on an old guy?

I like this idea. Are you still taking volunteers?

I am curious about this idea of discipleship…I would like to take you up on it if there are still openings.

45 minutes: I'd like to work us up to an hour a day. Jesus says in Mark 14:37, "Could you not keep watch for one hour?" It's arbitrary, but the South Korean Christians pray for three hours a day and love it. It's not legalism, it's making room for a deeper relationship. Relationships need time to flourish.

To Becca (and others):

I've got 5 others, so you'll be #6. We'll see where it goes. It's an experiment. If I can help, I'm willing. Thanks for taking the step here.

Becca – email me tomorrow (use the "contact me" button above) and we'll be in touch.

Is it too late to sign up?

I'm interested in being discipled by you. Tawana Moore

Are you still interested in this discipleship?

Don't have a new session lined up. Sorry.

Am impressed and I want to learn more since I accepted Jesus as my personal savior a long time ago, kindly disciple me

It's been a while since I wrote this post. However, I can try and connect you to someone locally. Where do you live?

i know its march, but it sounds nice. i could always use a new friend. im in . . .
Subscribe to Radical Living:
Receive updates on the latest posts as Seth Barnes covers many topics like spiritual formation, what if means to be a christian, how to pray, and more. Radical Living blog is all about a call to excellence in ministry, church, and leadership -as the hands and feet of Jesus.