It takes a tragedy to birth compassion
The FYM program (First-Year Missionaries) gives college students a chance to spend a a year-abroad being discipled. We started it several years ago and have seen it change hundreds of lives. My daughter Estie was the first of our children to do this, and it was one of the best things she's ever…
The FYM program (First-Year Missionaries) gives college students a chance to spend a a year-abroad being discipled. We started it several years ago and have seen it change hundreds of lives. My daughter Estie was the first of our children to do this, and it was one of the best things she's ever done.
After spending almost a year immersed in a different culture, young Christ-followers have a new level of compassion for the the poor. In the process, they get a piece of God's heart. They learn to let go of cliches and programmed religious responses. Melissa Hintz, a First-Year Missionary in Africa tells how that happened in her life: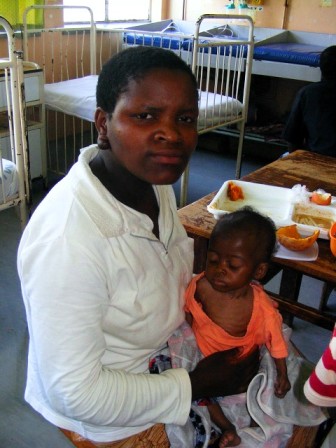 My heart is heavy with
the news I have to share with you. Sihle Shongwe died on Monday, April 7th,
2008. I went to the Hospital and as I walked past their room, I noticed
the blankets on Sihle's bed looked different.
My head knew there was no
way that Sihle had been discharged from the hospital over the weekend; she
hadn't hit her target weight yet, but my heart wanted to believe that somehow it
could be true. I forced myself to ask the question I didn't want the
answer to, "Where is Sihle?"

The Mothers dropped their heads
and mumbled to me that she died the day before. I stood there dumbfounded;
trying to make my head and my heart understand.
The Mothers nodded their heads and looked at with me with sympathy.
Death does not affect Swazis the way it does Americans, and they understand
that. They know me, though; the look in their eyes before they even told me
the news showed me that they felt sorry for me. These Mothers with dying
babies of their own felt sorrow for me…I can't even comprehend it.
I went on with my day and
sat there in a quiet fog. To those around me, I probably just looked tired, but
inside I was crying, screaming, and questioning, "Where is my God that I know
is big enough to do the impossible? Did He take a break from
listening to my prayers?"
Every day was just another
reason of why not to go back to the hospital. But I made myself go back because
I was afraid if I didn't, then I'd never work up the courage. I went to
visit Sicalo. He was only 3 months old and was abandoned at a bus stop
when he was 2 weeks old. He was the smallest baby and since I love the
little bitty ones, he was the one I spent the most time with. He wasn't
really sick, so in my mind he was the "safe" baby to love.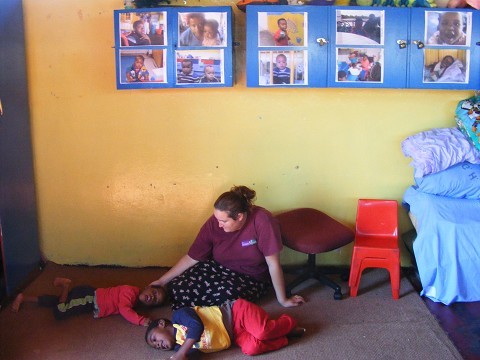 Then it happened again – Sicalo died during the night. I don't even know how or why he
died.
I ran home.
Hurting and upset with the Lord, I began asking all the questions
again.
I tried to find some kind
of answer in talking with my leaders and teammates but they had none.

It was then I realized how focused on myself I'd become and how
it didn't have anything to do with me. Even though I didn't deserve it,
God came to comfort me when I asked. He reminded me that now He is
holding these babies.
They don't have to grow up as orphans in a dying country;
they don't have to worry about if they are going to be abused; they don't have
to worry if the will eat tomorrow; they are no longer in pain, but instead they
are His babies in Heaven.
He made me remember that He has called me to Swaziland, He
has called me to the Hospital, and He will give me the strength I need to make
it through. I want to run sometimes, I want to say that I am not qualified for
this, but then I remember that He has sent me. That makes me qualified because
it's not me that has to do the work, but it is Him in me and that qualifies me
for anything.
We've seen a lot of tragedy this year with babies and young children dying from causes that little ones shouldn't have to deal with. We all get scared some times and want to run away, but those that walk into the pain with trust are the ones who experience the fullness of God's glory. If this breaks your heart, maybe God is calling you to do something about it.
If you're interested in the Africa FYM program, let me encourage you to check it out.
Comment
great story! very touching…
Subscribe to Radical Living:
Receive updates on the latest posts as Seth Barnes covers many topics like spiritual formation, what if means to be a christian, how to pray, and more. Radical Living blog is all about a call to excellence in ministry, church, and leadership -as the hands and feet of Jesus.