It takes pain to produce greatness
Does God trust you? Do you handle his flawed servants with grace or are you judgmental? Are you trustworthy? Unless you've experienced great pain, I honestly don't know if the Lord can trust you. When you've gone through a time of pain, it humbles you. You recognize how much you need God…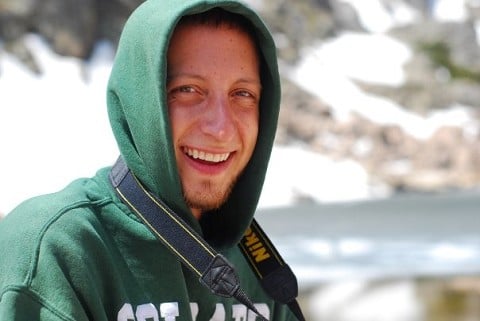 Does God trust you? Do you handle his flawed servants with grace or are you judgmental? Are you trustworthy?
Unless you've experienced great pain, I honestly don't know if the Lord can trust you. When you've gone through a time of pain, it humbles you. You recognize how much you need God and how precarious life can be.
It's tempting to be impressed with people whose gifts are great, but the ones I really admire are humble, the ones who have struggled with pain and emerged grace-filled. They understand their own frailty. They have time for "little people." Their humanity is inviting.
Nathan Salley
is a racer who God has trusted with pain – this most precious and least prized of gifts. And you can see the humility of spirit it has produced in him. In contrast, so many young people, not knowing pain, struggle with a numbness of spirit. Hear him share his story:
I have been complaining for many years of my life that I don't hear from the Lord and I feel like its almost a joke right now for Him to pour out every possible way that I hear all at once in the last week to overwhelm my senses. I am not tired physically, but emotionally overwhelmed. I sat in on 7 different team debriefs, with 7 new teams. I swear I teared up in almost every single one because they could have not come together in any better way than how the Lord planned it.

I talked to my mom earlier in the day on Skype. I told her all the things the Lord had been revealing to our squad. The encounters and visions the team was having. She reminded me of the one and only vision I had when I was eleven.

This isn't a story I tell often.

It was my second night in the hospital after being diagnosed with AML leukemia. They needed to do a spinal tap on me to check my bone marrow to see how far I had progressed. In 1997, Children's Hospital was not accustomed to giving kids pain meds during spinal tap procedures. All that was used was some emla cream to numb the skin. The pain was pretty bad, but mostly scary being only eleven years old and not knowing fully what the next years of my life would look like. I remember crying out and yelling in pain. Then I remember my mom whispering in my ear to call out to Jesus and he will hear me.

This was the first time I really learned what suffering meant and where God was in pain. See sometimes we are so concentrated on our pain that we forget Jesus is in the room suffering along with us.

I remember closing my eyes and seeing what I believed to be an angel or a figure of Jesus. It could have been my imagination, and I could have rationalized it away. But I chose to see Jesus in that moment. I don't remember the pain subsiding, but I do remember feeling comforted that Jesus was in the room with me.
If you've had to go through pain that you thought would never end or couldn't make sense of, consider Nathan's example. Now, he's a leader on the World Race and a source of encouragement and joy for his teammates. Maybe your own story feels no less horrific. You may feel overwhelmed by its intensity and you may be waiting to understand it redemptive purpose. I hope you'll be encouraged by this principle and this verse:
"God is educating you; that's why you must never drop out. He's treating
you as dear children. This trouble you're in isn't punishment; it's
training, the normal experience of children."
(
Heb 12:7-8
)
Comments (7)
It takes truth and love to produce greatness.

Thanks Seth. I sure love and appreciate you. This was good and you are so gifted.

The bottom line is that I have a hard time trusting anyone who doesn't have a noticeable limp and are open about it.

Authentically broken people make the best vessels for the pure truth of the good news from a suffering savior.

You know them when you meet them.

And "pretenders" quickly fade away.

Nathan's testimony is so very touching. I too believe God can use our suffering and pain to be great teachers. I love what Nathan said about Jesus being in the room right with us when we are suffering. It sounds like God has shown Himself to be Nathan's great redeemer and comforter. Thanks for posting his Seth. Praying tonight for Nathan.

This speaks to me today very much, thank you

May I continue to learn, always be open and be filled with grace when the waves keep hitting…

Your words were a timely encouragement for me today. Dropping out isn't an option, but sometimes I feel like I might drown. I have already adopted the phrase, "Jesus is my porter" (carrying all my baggage) but He is also my swimming partner and lifeguard.

This is a word for me today while I am in pain and not liking the unknown. God seems to work often in long delays. My part is to trust His redemptive purpose for the benefit of many. (And to receive the comfort He gives that I may comfort others with that same comfort!) I pray!!

Oh, Seth…
This post brings tears.
I was up most of the night interceding. I awoke from a few hours sleep, feeling like a truck ran over me. The strongest intercessory pain remains (the knife pain in the middle of my back that seems to slice from my backbone to my chest). I've got a migraine. I'm teary.
Most mornings after an intercessory night are not like this. Most I bounce back from miraculously.
I slumped on the couch just now to check my email and found my bank account overdrawn with charges assessed…again.
And, I said, to no one in particular, "Why is my life such a wreck?"
I wanted out of my intercessory role.
And, then I pulled up your post.
The verse especially jumped out at me: "God is educating you; that's why you must never drop out. He's treating you as dear children. This trouble you're in isn't punishment; it's training, the normal experience of children." (Heb 12:7-8)
My intercessory calling seemed like a punishment this morning for something I've done wrong.
Oh, thank you, Seth.
Thank you.
I'm still crying over this message to "not give up" relayed by you, but clearly from a God who loves me and values me enough to call me to greater things.
Judith
Comments are closed.
Subscribe to Radical Living:
Receive updates on the latest posts as Seth Barnes covers many topics like spiritual formation, what if means to be a christian, how to pray, and more. Radical Living blog is all about a call to excellence in ministry, church, and leadership -as the hands and feet of Jesus.