Jesus' Discipleship pillar #2: Journey
The importance of application through journey – it creates learning. I woke up at 6:23 this morning and, within minutes (after making coffee of course), I was seated on the couch with a laptop retrieving the night's emails. And I thought, "What is wrong with me?! I can't help myself!" I moved…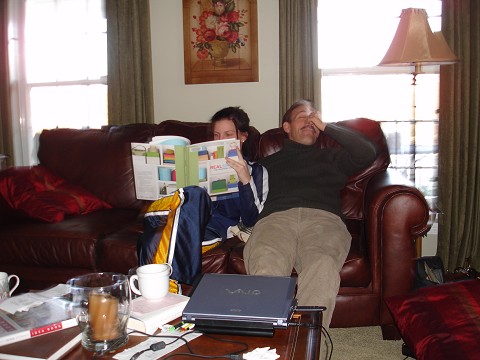 The importance of application through journey – it creates learning.
I woke up at 6:23 this morning and, within minutes (after making coffee of course), I was seated on the couch with a laptop retrieving the night's emails. And I thought, "What is wrong with me?! I can't help myself!"
I moved on to a few web sites and could see the time I'd reserved with the Lord just ticking away. And before I knew it, the whole day went by like that. That's how life-ruts are started; if I'm not careful, that could come to characterize the way I live my life.
The great enemy of our souls in this modern age is distraction. We have a hundred competitors for our time and focus lined up in our lives alongside God. You can't make true disciples on the cheap. You can't pencil one weekly appointment with your discipler in your calendar and expect to grow like God wants you to grow.
When Jesus called his disciples out to be a part of his training school, taking a "partial load" wasn't an option. His disciples needed a 24/7 experience in order to immerse them in ministry. So Jesus took them on a journey away from home, away from the familiar and into a place that redefined them. In so doing, Jesus had their focus, their full attention. Even so, it took a full three years to shatter their old paradigms and break down their faulty expectations.
In the modern day, given the constraints of our schedules, who can possibly expect to attain the level of discipleship that Jesus wants? If we really aspire to grow as Jesus' disciples grew, we need to go on a journey where we don't have to constantly fight a rearguard action against distraction.
We see this idea of complete immersion in ministry as we watch the kind of schedule Jesus kept:
"Jesus went throughout Galilee teaching in their synagogues, preaching the good news of the kingdom, and healing every disease and sickness among the people." (Matthew 4:23), "After this, Jesus traveled about from one town and village to another proclaiming the good news of the kingdom of God. The twelve were with him." (Luke 8:1), "So they set out and went from village to village, preaching…" (Luke 9:6)
With media at our fingertips, people in our modern day struggle to focus. Jesus forced his disciples to focus by immersing them in continual ministry on a journey. The distractions of the past receded in the light of crowds of poor and hungry who needed feeding, the sick who needed healing, and the hopeless who needed encouragement.
Disciples who had previously been self-absorbed, focused on issues of survival, began to center in on God's agenda, building the kingdom by ministering to the many who came looking for a touch from God.
Tomorrow, the third pillar, dependence.