Join me on this Haiti blog tour
In a week, Clint and I are taking a team of bloggers to Haiti's ground zero, Carrefour. We've been invited by the pastors there to partner with them in rebuilding their country. Everyday, we'll be sharing Haiti's stories with you and bringing dignity to the people who lived them in the process. …
In a week, Clint and I are taking a team of
bloggers to Haiti's ground zero, Carrefour. We've been invited by the pastors there to partner with them in rebuilding their country. Everyday, we'll be sharing Haiti's stories with you and bringing dignity to the people who lived them in the process.
We're thrilled by the quality of the team. They are key influencers in the world of youth ministry. Together we have the opportunity to share with the Church how we can make a difference in Haiti. Please follow their blogs as they chronicle their journey: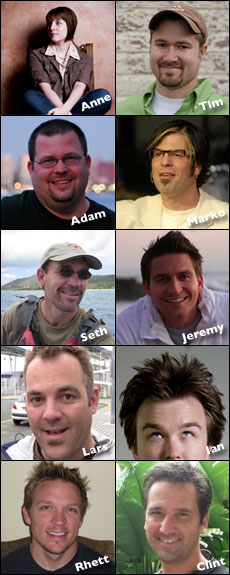 Anne Jackson
is a speaker and author of the books
Mad Church Disease
and
Permission to Speak Freely
.
Marko summarizes our purpose well
in his blog
yesterday:
there's plenty – really, plenty – to be stoked about:

– i got to be a part of organizing this awesome group of youth

ministry bloggers to go on this trip. i actually conceived the trip;

and, knowing my friends at

adventures in missions

,

was keenly aware that they would do what they do best: mobilize quickly

and responsibly to host groups in response to the worst disasters.

within a day or two of the earthquake, i was thinking to myself, "youth

groups, and other church groups, are going to want to go to haiti in

the next 6 months. that's great. but it could be really horribly; or it

could be a tangible blessing to haiti." and it dawned on me that it

might be a good idea to take a group of blogging youth workers as an

"advance team", to experience a trip to haiti right now, and report

back to the broader youth ministry community with stories and input.

and that's what we're doing!

i've been a fan of this organization for a long time now. i went with
aim on the 2nd missions trip i ever took kids on, back in about 1990. i
got to know their staff (particularly their founder and director, seth
barnes), and i grew to deeply appreciate their approach. i even served
on their board for 5 years, and brought my own dad onto the board also.
aim has the combination of deep and biblical theology (when it comes to
missions) as well as a practical expertise that's so essential for
trips like this.
So, please bookmark some of the links above – I hope you join us!
Comments (5)
I will be praying for you guys.

Yesss!!! Love it… will be praying for you guys

YEA!!!! I'm praying for you all … and praying my daughter gets to be part of a team that goes to help Haiti later on. I know God will lead as He wants… and show you exactly what needs to be done… blessings…

This is so wonderful! I will be praying for you all. I will look forward to reading about how God is using this blog team to make such a difference in Haiti.