Learning to cast out demons
My son Seth, having graduated from college, is in the Philippines on the World Race. We raised him to believe the Bible and try to do the things that Jesus did. Now he is getting the chance. I taught him, for example, that demons are real and that he has authority over them. But now he gets t…
My son Seth, having graduated from college, is in the Philippines on the World Race. We raised him to believe the Bible and try to do the things that Jesus did. Now he is getting the chance. I taught him, for example, that demons are real and that he has authority over them. But now he gets to apply it.
There really is no other way to become a mature follower of Jesus than to follow this process. Raising a child with no practical application of the principles you teach is a recipe for failure. His recent blog illustrates how hard it can be to make the jump from abstract principles to application:
I've been quite sheepish lately, I'm ashamed to say. Here is an email I
wrote to a couple of people last night about my recent experience on a
cruise vessel:
An interesting thing happened on the boat today (Aaron
said he'd blog about it). A lady was possessed by a demon and screamed
"In the name of Jesus Christ" incessantly. We were all very nervous,
unsure, and anxious to help.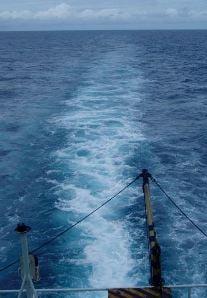 About eight of us gathered at one point
around the room she was in to pray. I prayed
for courage for myself to go in there and cast the demon out because I
knew that praying him out wouldn't change anything. I've seen that too
many times. She stopped and started twice.
The third time I was
the only one around and I tried entering the room to cast that damnable
creature back to hell. I entered and saw the possessed lady scream.
She
screamed louder and stood from her chair, knocking over another lady
that was trying to silence her. I stepped forward and a strange surge
ran thru my body that gave me strength.
I put my hand out to her, and a
man stepped in front of me as the lady looked at me and screamed. He
said nobody should be in the room and that she would soon be quiet.
I
became much more timid and made a feeble attempt at speaking the devil
out of her before exiting the room. I am very upset with myself after
each time I allow Satan to have control.
The same thing happened
with someone else I knew, I'll call her Rachel, just before I came on
the race. I knew what to do. I knew that Rachel didn't need more prayer
over her. She needed someone to speak to the demon taking control over
her with the power of Jesus.
But I didn't. I prayed because it was
something I'd done before. I'm familiar with praying. I'm comfortable
with it. But when it comes to casting out a demon, which is much more
exciting, I'd rather not. I do think I'm taking steps in the right
direction, but each foot shakes meagerly forward.
Comments (5)
Ive had similar experiences,too many to recount.What Ive found is usually the deciding factor to my response is where Im at with the LORD.If Im close I feel strong.If theres an obedience issue that ive neglected (all things are obedience issues) I usually feel weak until I make a concerted effort to get right with him.The goal would be and is to stay right so Christ himself can continue to use me to asvance his kingdom here on Earth.

I don't think it is where I am at with the Lord (though that can sometimes be). Principalities and powers of darkness can scare the …. out me.

I have had the boldness to cast out demons and saw the person start vomiting and contort into a normal human stance after years of crippled retardation (while on the WR), and I have also tucked my tail between my legs and ran.

Said that to say, GO SETH!

faith is never giving up. I think you taking baby steps for the path you are being led to in regards to casting out demons. Trust me, in these last days, these demons seem to be at work.
But so are the angels of the Lord. I had a spiritual attack a few months back. I felt spirits all over my room, and touching me. There was a huge wind that night, and I had my window open. It was 4 am, I couldn't sleep that night, I felt they were all around me. I picked up the bible and began reading and praying hard. I heard a spirit or two bounce off the wall in anger. I kept praying and at 4:05 am the wind stopped. Keep praying and fasting and what would Jesus do at that moment. Have him in you when you fight..

I just woke up from a very scary dream… it had to do with end time demonic attacks. I got on my computer and found this forum. Yes the dream was disturbing. I will explain it…but know at the end after I woke up the Holy Spirit told me how to respond which set my heart at rest.

In the dream their was a like a large sink whole in the earth… demonic spirits… which at first I thought were large human size bird with long pointed beeks started to ascend and swarm out of these cracks in the earth. I could see them in the distances flying up to the sky then flying down to attack. They had not reached were I was yet. I was in what looked like a coffee shop with a lot of glass on two of it's walls.

I spoke with a loud voice to everyone in the shop…"These large strange looking birdlike creatures want to kill everyone! They are coming our way! Get away from the glass windows. They will see you in here… crash through the class and kill you." I looked up again into the sky over us (before I found a place to hide inside) I noticed the creatures had now form anymore but were more like dark colored smoke… their were so many of them way up in the sky… and they were already overhead.

I found a good hiding place inside the office… inside a metal filing cabinet desk. I went back to the people still just standing there looking out the window frozen. I fervantly yelled again to warn them to hide… but I noticed my voice was going out… but somehow they did hear me.

The people came into the more protected office where I was. They started to build little places to hide. Some strong… some not so strong places. Some using cardboard… some using metal. As I was trying to help them… I turned around then to get in my own hiding place… but it was gone. I assumed someone took it. I yelled out "someone took my hiding place. I will take it back if I find it."

I never found it. I then considered going up higher up into the roof…though flimsy as shop ceilings usually are.

(I must back track here…. somewhere in the beginning of the dream I was shown how these creatures attacked… It was very grusome and deadly for the victums. They went for the hearts and the stomachs of people who died very quickly. So I knew how strong and determined these oncoming killers were. )

After the shop doors were all locked… and everyone in the office area in their little hiding places… I was trying to figure out where I would hide. I looked up to the ceiliing and it was at that point I woke up.

After waking up the Holy Spirit gave me scripture to remember and to comfort me… "I have not given you a spirit of fear but of power, love and a sound mind."

I then realized that these were not birds… but demons. God reminded me of the power BELIEVERS have to cast out demons…"And these signs shall follow them that believe; In my name shall they cast out devils;…" Mark 16:17

And also… "For the kingdom of God is not in word, but in power."… 1 Corinthians 4:20

And also… "And whatever you ask in My name, that I will do, that the Father may be glorified in the Son."… John 14:13

And also… "Neither is there salvation in any other: for there is none other name under heaven given among men, whereby we must be saved. Now when they saw the boldness of Peter and John, and perceived that they were unlearned and ignorant men, they marvelled; and they took knowledge of them, that they had been with Jesus."… Acts 4:12-13

We are to pray TO our Heavenly Father in the name of His Son Jesus Christ or in Yeshua HaMessiah (in Hebrew) or however you say Jesus in your language… God knows who you are talking about.

You are also to cast out the demons…tell them to go!… by the authority and power every BELIEVER has been given. It will NOT work if you are truly not a believer.

Folks… make sure you are a believer in God (not Ala or Krisna or any other false god) but only the God of Abraham, Issac and Jacob, the God of Israel! Make sure you believe in His Son as John 3:16 speaks of so you can inherit eternal life. Confess with your mouth that Jesus Christ is Lord and believe in your heart that He was RAISED from the dead and you will be saved.

FAITH IN GOD THE ALMIGHTY… BELIEVE IN HIS SON JESUS CHRIST… READ THE BIBLE ESPECIALLY THE NEW TESTAMENT… PRAY… FAST WHEN LEAD TO… WALK BY FAITH NOT BY SITE. WALK IN THE CONFIDENCE OF CHRIST IN YOU THE HOPE OF GLORY. AS A BELIEVER IN CHRIST YOU HAVE THE POWER TO CAST OUT DEMONS… EVEN THOSE CREATURES THAT WERE IN MY DREAM! GOD DID NOT GIVE US A SPIRIT OF FEAR… BUT OF POWER… LOVE AND A SOUND MIND.

IF YOU HAVE CHRIST IN YOU… AND YOU ARE FAITHFUL TO FOLLOW HIM IN CONTINUAL RIGHTEOUSNESS LISTENING TO HIM AND FOLLOWING HIS COMMANDS OF HOLINESS… YOU HAVE NO NEED TO FEAR… FOR…"IF GOD BE FOR US, WHO CAN BE AGAINST US? ROMANS 8:31

And also… "Finally, my brethren, be strong in the Lord, and in the power of his might. Put on the whole armour of God, that ye may be able to stand against the wiles of the devil. For we wrestle not against flesh and blood, but against principalities, against powers, against the rulers of the darkness of this world, against spiritual wickedness in high places. Wherefore take unto you the whole armour of God, that ye may be able to withstand in the evil day, and having done all, to stand. Stand therefore, having your loins girt about with truth, and having on the breastplate of righteousness; And your feet shod with the preparation of the gospel of peace; Above all, taking the shield of faith, wherewith ye shall be able to quench all the fiery darts of the wicked. And take the helmet of salvation, and the sword of the Spirit, which is the word of God:

Praying always with all prayer and supplication in the Spirit, and watching thereunto with all perseverance and supplication for all saints;"… Ephesians 6:10-18.

DRAWER NEARER TO GOD THAN YOU EVER HAVE!!! RECEIVE CHRIST IN YOU THE HOPE OF GLORY… READ THE WORD… RECEIVE FAITH IN GOD & JESUS CHRIST… PRAY FOR ALL THE SAINTS (or Believers)… WALK BY FAITH AND NOT BY SITE!!!

IN CHRIST OUR SAVIOR!!!,
Carol
Subscribe to Radical Living:
Receive updates on the latest posts as Seth Barnes covers many topics like spiritual formation, what if means to be a christian, how to pray, and more. Radical Living blog is all about a call to excellence in ministry, church, and leadership -as the hands and feet of Jesus.