Loaves & Fishes Miracle Just Happened Again
Our team of volunteers on Lesvos, Greece just witnessed a miracle this past weekend. They are responsible for feeding and clothing the thousands of refugees still coming across from Turkey in the cold Mediterranean waters. You are probably aware of the story of Jesus multiplying food to f…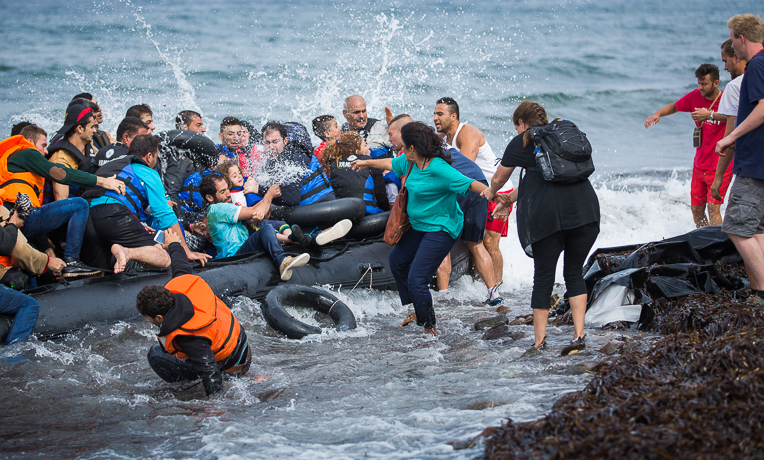 Our team of volunteers on Lesvos, Greece just witnessed a miracle this past weekend. They are responsible for feeding and clothing the thousands of refugees still coming across from Turkey in the cold Mediterranean waters.
You are probably aware of the story of Jesus multiplying food to feed 5000+ people. They were hungry, but all they had was a few fish a some bread. Team member, Dayna Bickham reports:
We saw a genuine multiplication miracle last night. We had almost 400 people in our block at Moria last night and enough food to give every other person food.
We prayed for Jesus to provide and thanked him for loving these people extraordinarily well. We had 7 of these black trays of food.
These are the three we had left over when we were done handing out food. People were bringing us the left over unopened meals. When we took up all the trays to stack outside there were ten of them. I know my God is able, He is true and He is good.
To summarize: 400 hungry refugees just off the boat from Turkey. We served them individual meals for about 250 in 7 trays. When they were finished eating, instead of 150 people who didn't get food complaining, there were multiple trays left over!
Tell that to your cynical friends. I can hear them already, sounding like Thomas, "Unless I see the nail holes in his hands, put my finger in the nail holes, and stick my hand in his side, I won't believe it."
We are a nation of cynics. Those of us who follow Jesus may feel like salmon swimming upstream against this negative current. But God is alive and performing miracles like this around the world! We who follow Jesus and trust him get to see them all the time. For another 83 stories like this one, go here.
Next time you talk to a cynic about Jesus being the son of God, tell them this story and show them this picture of three of the food trays that came back. If they need more evidence than that, I can put them in touch with Dayna or her team.
Comments (10)
This is wonderful! We can trust Him to "give us this day our daily bread."

I love this story.

Okay, that just gave me a major boost today in the faith department. I stand in awe of a Good Good Father! Thanks for sharing that.

Love it, love it, LOVE IT!!! God is so good!

Our God is amazing!!!!!!!!!!!!!!!!!!!!!!!!!!!!!!!!!

Beautiful! We would love to go over and serve these young ones…

Such an encouraging story. God is so good! So good!

Jesus looked at them and said, "With man this is impossible, but with God all things are possible." Matthew 19:26

I'm praising God for this amazing miracle!!!

Beautiful story! Thank you!

Is there a video record of the "miracle"?

Why are we surprised at HIS Greatness, HE is GOD! What a MIGHTY GOD we serve!!!! This certainly plows any of our doubts and fears away. God forgive us. YOU delight in showing YOURSELF. Thank you for YOUR FAITHFULNESS!!!! towards us, and your patience. PRAISE YOUR HOLY NAME
How encouraging this awesome story is. Thank you for sharing. Great blessings to you all my friends.
Yours in HIM
Wendy
Subscribe to Radical Living:
Receive updates on the latest posts as Seth Barnes covers many topics like spiritual formation, what if means to be a christian, how to pray, and more. Radical Living blog is all about a call to excellence in ministry, church, and leadership -as the hands and feet of Jesus.