Ministering to the poor
Today's theme from The Irresistible Revolution is particularly relevant given an experience we had with a homeless guy last night here in Colorado Springs. Tom Davis describes it here. Ministering to the poor …
Today's theme from
The Irresistible Revolution
is particularly relevant given an experience we had with a homeless guy last night here in Colorado Springs. Tom Davis describes it here.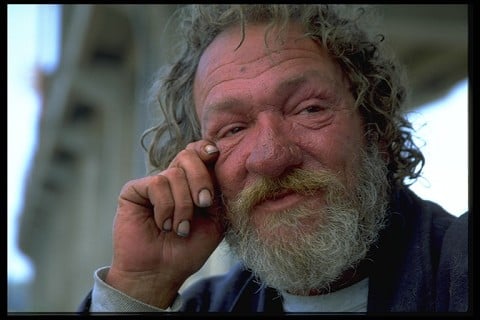 Ministering
to the poor
The great tragedy in the church is not that rich
Christians do not care about the poor but that rich Christians do not know the
poor (less than 2% spend time with them).
It is a beautiful thing when folks in poverty are no
longer just a missions project but become genuine friends and family with whom
we laugh, cry, dream, and struggle.
Charity wins awards and applause, but joining the poor
gets you killed. People are crucified
for living out a love that disrupts the social order, that calls forth a new
world.
Jesus was not simply a missionary to the poor. He
was
poor.
Jesus said, "The poor will always be with you." Jesus is pointing the church to her true
identity – she is to live close to those who suffer.
Ghandi said, "Ask the poor. They will tell you who the Christians are."
True generosity is measured not by how much we give
away but by how much we have left. The
best thing to do with the best things in life is to give them away.
Simplicity
While
ministering alongside Mother Teresa, he noticed her deformed feet and was told, "Her feet are deformed because we get just enough donated shoes for
everyone, and Mother does not want anyone to get stuck with the worst pair, so
she digs through and finds them."
On why the kingdom
of God is hard for rich
people to understand: It is nearly
impossible for them to catch the vision of interdependent community, dependent
on God and one another. Rich folks,
while they may be spiritually starving for God and community, still believe the
illusion that they are self-sufficient autonomous individuals.
Comments (19)
The owner of the universe was poor?

Well, having been homeless, I tell you RISE UP CHURCH! I was homeless for eight years and can count on my hands the number of times being prayed for. As a Christian today (5yrs now), I pray most everyday with strangers. It doesn't matter where at. If someone is not poor in pocket, chances are they are poor in spirit and need prayer. I can honestly say in 5 years, I have prayed with hundreds and hundreds of people/strangers, and look forward to now praying with even more from all around the world! ALL TO THE GLORY OF GOD!!!!

So many people are more in love with church (and church activities) than with God…they can see an old lady or man walking on the street in the hottest day or coldest winter…and the people drive past them to get to church on time. They lift their hands in prayer and don't extend those same hands to people outside their church and sometimes to the people they sit next to. To Tim, don't let your left hand know what your right hand is doing. Give how the Lord leads and don't question their motives. Get to know them, hear their story if you will, and most of all show them the love of Christ.

The Scriptures say, "I was hungry and you gave me something to eat" not "you gave me money." I do give $$$ sometimes, but I feel no condemnation or conviction if I don't. The Lord is very specific of whom to give $$$ to with me.

yep…from that picture of you standing on a porch with miles of open country behind you, I can see you're living on the edge of starvation & poverty. Funny how those who preach this stuff, with rare exception, don't practice what they preach. The world is FULL of hypocrites, isn't it? Sadly, the church has just as many as the rest of the world, if not more.
When pastors are living in shelters, under bridges (where the "poor" are) woods and trailer parks, this message will be credible. When you're living in spendor, your message gets just a bit garbled.
I have done advocacy for the poor and live in a virtual shack. I have missionaries in my family who have sold all to hit the missionary trial. NONE lived in luxury, EVER.

Hello dear hearts concerned about the suffering,

I am a missionary to Mexico. We have been serving the poor for 3 years. I found this website, through tears, seeking how God would want us to best serve the poor with the riches that He has blessed us with.
The world is filled with poverty and suffering. We were called to Juarez, Mexico.
The needs there are tremendous. People promise to support the efforts (the feeding, the education, the home repairs, the building of a school) and do not. Some, though, have been faithful.
We are often overwhelmed with the basic needs that our eyes see. Children are hungry. We surely want them to know Jesus.
We are Jesus when we reach out to the poor.
Jesus would be with the poor as he himself had nothing.
I will continue to pray and find encouragement in a monumental effort that is set before us daily.

serving Jesus is serving others.

Matthews Mooketsane Bantsijang

The great tragedy in the church is not that rich Christians do not care about the poor but that rich Christians do not know the poor. I AGREE!!!!!!!!!!!

"for where there are envy, strife, and divisions, are you not carnal and behaving like mere men?" 1 COR 3:3

why are some of you being so slanderous to your fellow brothers and sisters in CHRIST?

"rich christians do not care about the poor…" or calling someone on here a hypocrite… and so on.

i'm not rich, but i do know that those statements aren't true. what you're doing by saying judgmental comments like that can and will cause divisions among the body. we are ALL one body.

and just because you aren't poor, doesn't mean that you can't help them or exhort others to help them. and you definitely don't deserve to be called a HYPOCRITE! praise GOD that you even have a heart for the poor. all of us have different callings. some of us are called to sell everything and become foreign missionaries, some are called to live on the streets and minister to the homeless, some are called to make money and support those who are being sent off…whatever calling you have and financial state you're in, we are all members of one body…and its important the body parts don't attack or slander each other.

thanks, Lynette. I agree. Better not to join the "accuser of the brethren."

To be honest, I've always struggled with how much I should do to help the homeless. Should I give them money so they could possibly buy drugs or alcohol? Should I give them food instead?

A homeless guy actually gave some honest advice on this. His answer wasn't at all what I expected. I blogged about it here:

http://www.timschmoyer.com/2006/09/21/to-what-
extent-should-i-help-the-homeless/

Beloved brethren in Christ,
It is the responsibility of the Church of Jesus Christ; which is His body, to be Hands of love to the poor and the homeless.
We should never judge poor people. Our responsibility is to help them with what can.
Please take aminute and read the following scriptures:

Prov.19:17,Prov.22:6, James 1:27.

God bless you all.

Elijah Sebuchu
Kampala Uganda- East Africa.

The American Holocaust. Thousands of Homeless Disappear!

Some make it sound as if it's a sin or a shame to be rich. Must I be an addict to serve addicts or must I be a sinner to serve sinners? Of course not. Neither must I be poor to serve the poor. Have you not read the scriptures that Abraham, Lot, David, Moses, Job … were rich men? Jesus was not poor as Lazarus was. Jesus never begged. Further, God did not lead his children into an impoverished land but "a land flowing with milk and honey."
Having the poor with us always implies that the rich will always be with us too. They need us more than the poor in some ways. When I read of Lazarus and the rich man, it is the rich man my heart weeps for. After all, Lazarus' troubles ended but the rich man's suffering continues even as I type!
The whole of the world needs the Church to rise-the varying degrees of the poverty stricken, the middle classes, and the rich alike need us to be obedient. For me, poverty is a soul devoid of the spiritual truth of Christ's finished work on Calvary-whether they have little or much in their pockets.

I agree, Lisa.

Ironic that God would call me to the poor and use me to minister to the rich.

Ironic that I'd start off intent on becoming like the poor and he'd make me comparatively rich.

I'll probably always feel most drawn to the poor, but most identify with and minister to the rich.

"Yes you have told me about Jesus Christ and that I have accepted Him as Lord, but am still hungry and that I am going to be without a bite" The old wearly, hungry widowed old lady in her 70s said to me. Yes, we need to do all wahat we can to alleviate the suffereing of the many poor people. It is a tool to reach out to them in His hands!!

I learned from a pastor recently everything stated above. He gave away all his stuff and lived homeless for 2 years. Even then he felt god tell him to help the needy more than just sitting along side them. So he would go dumpster diving and make about 30 meals to give away. He now runs cantignore.org. This man is the reason I question humans as a whole.

Be a plow, not a sword. Be a fruitful tree, not a thorn bush. Love your enemy, and pray for those who use you up; whether they are the poor or the rich. Stay wet with the dew of the spirit, and do not become dry. Every branch that doesn't bear fruit will be broken off and cast into the fire. Don't let your blessing become your curse, but also don't let your good be evil spoken of.

May He help us all to overcome evil with good, and not to be overcome of evil. In the name of Jesus Christ, may His love be upon those who trust in Him.

open our hearts, enter deep into them. Open eyes to see ordinary experiences with extra ordinary eyes. Put on their shoes. with these we will discover that ministering to the poor is not just providing maize flour but sharing in their condition. A born thrown to a dog is not charity but sharing a born with a dog that is charity.
Subscribe to Radical Living:
Receive updates on the latest posts as Seth Barnes covers many topics like spiritual formation, what if means to be a christian, how to pray, and more. Radical Living blog is all about a call to excellence in ministry, church, and leadership -as the hands and feet of Jesus.