More of us need to live in community
I was made to start things – it's what I do. So I've been asking God, "How do we help young people live in community and find mentorship?" Something profound happens when a Jesus-follower gives his life to ministry for a year in the context of communal living. I've seen that element combined wit…
I was made to start things – it's what I do. So I've been asking God, "How do we help young people live in community and find mentorship?" Something profound happens when a Jesus-follower gives his life to ministry for a year in the context of communal living. I've seen that element combined with great coaching to be a powerful combination. So that's why we're starting this new program called Community Life. Came up with the concept this past month and immediately threw it out there on the web. Maybe you or someone you know will want to join us. Here's what I said – let me know what you think:

Give the next year of your life to community, spiritual growth, and ministry.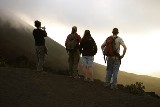 We're
excited to introduce a new opportunity that many of you will love.
We're taking our best coaches and disciplers and matching them up for a
year in community with our most passionate young people.
At Adventures In Missions
(AIM), we want to see people launched into a whole new way of doing
life. In a culture that esteems independence, we want to restore the
value of interdependence that was so prevalent in the Early Church. By
living in an authentic faith community, disciples of Jesus learn how to
be "salt" and "light" in a way that transforms the world around them.
It's a year of learning to live like Christ with the support of mentors
and peers.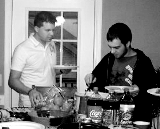 Community Life
is a place where you can continue to grow in your identity and role in
the kingdom of God. Our leaders will train and hang out with you,
helping you sharpen your life focus and call to ministry. We provide
housing in Gainesville, GA, where a select group of 30 young people
will live together in several houses in a neighborhood with easy access
to the surrounding community. There are five major aspects involved in
Community Life:
Mentoring: You will be
paired up with a leader at AIM that will regularly meet one-on-one with
you to provide coaching, encouragement, and discipleship.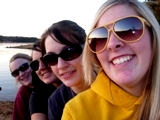 Skill development: You will expand your life skills. Many of you will have an internship with AIM that fits your passions.
Ministry: You will partner with a local outreach to 60,000 marginalized Hispanics, as well as with camping and sports ministries.
Travel:
You will have a chance to put into action what you are learning,
including opportunities to lead various discipleship programs for high
school and college students around the world.
Click here for more information on Community Life


There are scholarships available! Apply by April 30th.
To apply, click here to fill out a Quick App.
Comments (6)
sounds awesome Seth! if i wasn't going on the world race i would definitely look into this.

Wow. This is an incredible opportunity. People are really longing for authentic community and someone to mentor and coach them. I am going to share this opportunity with some people that I know who want to live in a community environment.

I think most people yearn for this communtiy and have no idea of how to obatain it or even attempt it! I am going to share this! THis is a phenomenal idea!

Seth, I so appreciate how making disciples is constantly on your heart! You truly do have a great reward coming… God bless you!

Thanks, Jen. The reward is NOW as Karen and I begin to figure out how we personally will be living in community by taking in two WRer alumni into our house today. In the future, I want to see a thousand of these communities scattered around – all small, personal, and connected.

Two WR alumni? Wow… thanks for posting this and sharing it. I pray that thru word of mouth those that are yearning for true community would find it here.