Multi-generational living
God is a multi-generational God. He says things like, "I am the God of your father Abraham and the God of Isaac. I will give you and your descendants the land." (Gen. 28:13) The Bible shows his patience. If one generation fails to follow him, he's willing to wait to see if the next will be …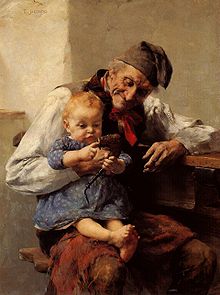 God is a multi-generational God. He says things like, "I am the God of your father Abraham and the God of Isaac. I will give you and your descendants the land." (Gen. 28:13) The Bible shows his patience. If one generation fails to follow him, he's willing to wait to see if the next will be different.
The books of the Kings and the Judges in the Old Testament chronicle the ups and downs of one generation after another. The book of Matthew begins with a list of generations from Adam to Jesus Christ.
God has always been interested in a multi-generational church. Everyone has a role to play. The book of Joel begins with God speaking to the elders, asking them about the generations that preceded them. "Tell it to your children," he says. "And let your children tell it to their children and their children to the next generation."
Frankly, this approach seems strange to our modern sensibilities. Our families live scattered. When people get old enough, they think about moving away to Florida and Arizona. When babies become toddlers, they're sent off to daycare. And when the family goes to church, everyone goes to their respective demographic group. Instead of one generation imparting wisdom to another, peers lead one another.
Wisdom and context come with age. Inheritance comes with the passing of one generation to the next. Stories and memory are the gifts that grandparents bring. We need multi-generational living to make sense of life. We need our elders to make sense of the tangle of problems life presents us. We need the perspective of time.
Do you have grandparents in your life or others their age? We need elders to live alongside. We need to rediscover God's plan for his people to live in multi-generational community.
Comments (6)
good stuff… our preacher was just talking about this a couple of weeks ago…

Throughout the various stages in my life I have seen this played out in different ways. I remember as a young child sitting on my grandpa's lap, drinking well water out of the ladle and listening to whatever story he had that day. I realize that my childhood wasn't really one of normalcy, but this is one thing I would never want to give up. There came a time when my peers were my only major influence and those were the years I struggled through the most. Currently I live in a house with 3 generations in it. It has been interesting, difficult, rewarding, challenging and everything in between. Ultimately it has been a time of learning the importance of living with a family and how the Lord meant for us to learn from our elders and share our wisdom with those younger. My most cherished friendships are with those not my age. Thanks for sharing!

My father passed away on February 8th, he was 94 and wound have been 95 on March 4th.

He is deeply missed, his laughter, his smile, his wisdom. His Love.

LIKE LIKE LIKE! Totally agree!

Love this… thank you for putting into words the deepest reasons why I moved to be near my parents while my kids were still kids.

this resonates with me. especially in church when everyone goes off to their respective age group based classes.
Subscribe to Radical Living:
Receive updates on the latest posts as Seth Barnes covers many topics like spiritual formation, what if means to be a christian, how to pray, and more. Radical Living blog is all about a call to excellence in ministry, church, and leadership -as the hands and feet of Jesus.