My poem about my relationship with my father
One of the hardest things I ever had to do was to help my father to die. We were not close for much of my life. Though he loved me, our relationship often felt awkward. Yet, it was up to me to show up at his bedside daily as his health declined and to try to be for him what I hoped …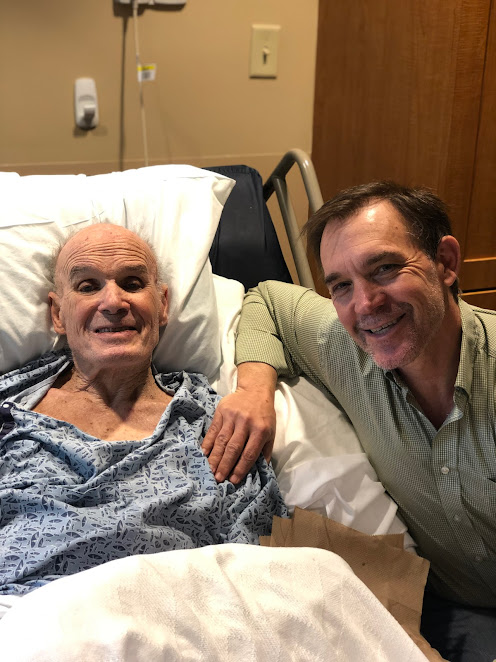 One of the hardest things I ever had to do was to help my father to die. We were not close for much of my life. Though he loved me, our relationship often felt awkward. Yet, it was up to me to show up at his bedside daily as his health declined and to try to be for him what I hoped all my life he'd be for me – a friend.
My father gave me a lot of gifts over the course of his life. And one of the most precious gifts was perhaps unintentional. I needed an outlet to process all the pain and I turned to poetry. For three years now, poetry has been helping me bring what was on the inside to the outside, where I could try to make sense of it.
One early morning three years ago, scenes from my life with my dad filled my spirit – leading me to write a poem about it. It's so important that we get God's perspective on our relationship with our fathers.
I hope my poem sparks some thoughts in you about the arc of your relationship with your father.
The Arc of You and Me
9 years old
Your chair at the table
Was empty for a year.
Vietnam was a wound
Blood flowed from.
We all got lost trying to track
Ho Chi Minh's trail.
We drew the line with your life.
America the beautiful had PTSD,
Reeling from the Tet Offensive.
A generation removed from
WW2, like your father
From the Mediterranean theater,
You returned home,
Blood scrubbed from your hands.
But Walter Reed's secrets didn't end
With the maimed.
The arterial pressure of suburban life
Was another kind of death
Begging for an emotional stent.
Here's a good experiment:
Take a man
Whose father left him at 10
For an officer's commission.
Take him to war and see
The ironies and mysteries abound
For generations.
Urgency and discipline –
Triage strategies that
Worked in SE Asia –
Frustrate colonels
Assigned the care of
Adolescents who are
Looking for the exits.
18 years old
My assignment was to be like you.
Saluting,
Diagnosing,
Marching,
Seated and squinting
Finding the sick cells,
Pronouncing pathogens.
But who could diagnose me?
Living in the toxic ruins
Of a war that had me
Thrashing as though under water –
What did oxygen taste like?
I had forgotten.
My world had narrowed;
My spirit silently convulsed.
Our family's med school erudition
Seemed to taunt:
"Medicate that!"
But how?
Maybe by trying harder?
I was too compliant for
The usual prescription:
Drugs and alcohol.
I self-medicated by leaving.
Behind me, the Missouri air had evaporated.
In my mind it shimmered,
Like a haunted place.
Crossing state lines, I must have
Gulped air deeply.
Must have realized, "I'm alive."
Exhilarated; ready to celebrate survival.
31 years old
Singing "Cats in the Cradle,"
Whistling Dixie,
I didn't want to go
Digging in old graveyards.
When you sent me an invite
To do just that,
Wrapped in a sea kayak adventure.
Floating by anteaters,
Howler monkeys and iguanas,
Flipped my script.
And you had another
Unspoken invitation:
To set aside conversations
That neither of us
Knew how to have
Or how to debrief
Their absence.
I didn't have the stomach
For grudges and this
Felt like something I'd been
Missing all my life.
Could I really afford
To summon up the mute past
When our daily adventure
And the tropical river spoke
So eloquently of
The adequacy of good intentions?
Dali painted persistence, but
Maybe the evanescence of memory
Is a greater, embraceable reality.
59 years old
Back in a small room. 
I am the father. 
The military officer, 
The medical authority – 
You are me, vulnerable, hiding
In a place where
Horror movies could be made.
Needles, tubes and catheters –
Protruding and mocking.
Nails and stubble growing long,
Mutinous – laughing derisively.
You're withering,
Thrashing, despairing,
Lashing out with blame.
Your eyes hungry for help.
My spirit is dying with you;
My choice was the same. 
Your path or a new one?
A path away from 
A room bleeding life.
My journey away from home 
Led me daily back to your bedside. 
Trying to offer the family
I was looking for 
All those years.
"Tuesdays with Morrie"
Showed us how it could be.
The relationship we sought
Made shy appearances 
Only to revert to the median
When your indelicate way 
Would return like a squatter.
Yet, in a year of caretaking,
You often smiled at me when
I brought parcels of hope: 
Scrapbooks, ice cream, music,
A football game, always a prayer. 
My presence and my
Often impoverished attempt at courage.
It's presence that is
God's gift to us both, 
A daily opportunity to keep
Flipping the script for
Two little boys,
Refugees from wars 
Neither of us asked for 
Or were prepared to fight. 
Sometimes barely alive, 
Scrambling to build bridges 
Over the devastation 
Back to a past 
Still in the process of healing. 
60 years old
Our nursing home purgatory
Kept time to the rhythms of winter,
Ran roughshod over spring,
Remaking it a season of decay,
Numbing the shout
Of phantom limbs;
Pulling curtains shut on
The promise of life
Vouchsafed outside by
Impertinent yellow tulips
And the noisy fuchsia azalea
Still rioting beyond your window.
Your room is a
Chiaroscuro contrast –
We throb with your pain and
Wipe tears from our angst.
"Does he want another drink?
I was six,
Sledding on your back
Down the hills of Forest Glen,
I was nine,
Spitting into my snorkel mask
In the blue waters off
Cinnamon Bay, and
Laughing at charades.
Knowing you can hear,
I give you instructions –
"Find us a good hike, Dad,
You won't need a map,
(Not that you ever wanted one),
Hug Granddad for me.
You've lived a good life.
You're free to go now,
I love you, Dad."
But never good at goodbyes,
You hang on a few days,
Giving me time to
Breathe in the spring air,
See the white dogwood,
And hug my children tight.
It wasn't the seasons
Of our lives
That defined them,
But the arc of all
That was us that
Encompassed them.
You and I arrived at
This place where,
Now I'm a steward of
All that is still you,
Moving with you into
A future together that
Before I would have faced alone.
Comments (11)
That was an beautiful poem.

Thanks for sharing this journey with your father with me. I look forward to discussing this at our next dinner. Beautifully captured. love charlie

"Often impoverished attempt at courage. .. But never good at goodbyes.."
Seth, I can so relate.

I am also from a military family, but my relationship with my dad was good. It was not so with my mother. I led her to the Lord when she was 63 and for 3 years she was sweet, but then bitterness against God took her over again after a tragedy in which her best friend was shot in a murder-suicide situation. She stayed angry at God until her death-bed at 83 where my dad brought her back to God just in time. God is faithful.

Heavenly Father, You alone are the perfect Father.
Seth still has You, and You are enough. Please heal the lifelong-wounds and the sorrow-wound. The time will come that all these things will be gone forever and they will be together with You forever in peace and joy.
Thank You Heavenly Father, in the Name of Your Son, Redeemer and Rescuer, Jesus Christ, amen.

Thank God for his faithfulness. And thank you, Mary, for your prayer.

We shared the same itinerary Seth. Bunkmates on a common journey. Jesus did the triage. God is healing. Still.

Thanks John. If we are ever to merit empathy from our own kids, it pays to have empathy for our dads.

Wow!
So much to digest in this. It moved my spirit and invited me to a better future.
Thank you for being vulnerable and sharing it.

Wow. I really liked this poem. I am also part of a military family, and many of the images you use in this poem are real to me.
I think these lines struck me most powerfully:
Refugees from wars
Neither of us asked for
Or were prepared to fight.
Making this realization of my own dad and his dad allowed me to enter into a place of empathy as I strove to connect.
There is a very real struggle in this poem, yet you also communicate love and a desire for connection.

This was great. Thank you for that piece, Seth.