Opening blind eyes in Kenya
Just got a letter from Amanda Dums on the heels of her mission trip to Kenya. She's been taught to expect the God who did miracles like healing the blind in the Bible to still do miracles today. So that's how she prays. We went to the Bungoma Hospital at 7am to pray for the sick. We…
Just got a letter from Amanda Dums on the heels of her mission trip to Kenya. She's been taught to expect the God who did miracles like healing the blind in the Bible to still do miracles today. So that's how she prays.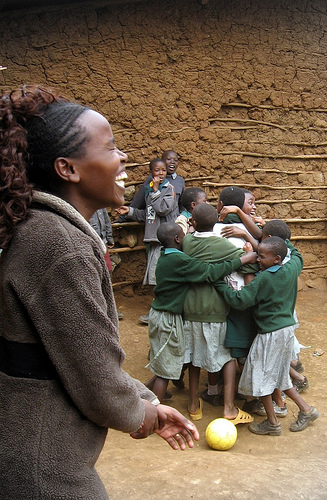 We went to the Bungoma Hospital at 7am to pray for the sick. We only had about 15 min. in the women's ward before the nurses shooed us away because they were mopping the floor. We had only prayed with a few people without translators so it was hard to really know if anything was happening to people.
Honestly, I left a little disappointed, I wanted to pray longer, but we had to go wait outside the gate for the other teams. While we were waiting, a lady hopped off a motorcycle with her husband. As soon as I saw her cane and realized that she was blind, I wanted to pray for her. So we went over and asked if we could. She agreed.
I put my hands over her eyes and asked Jesus to come and give her sight. I asked that the Kingdom of Heaven would invade the Kingdom of Earth over her body. As she started to pray and thank God we asked her if she could see anything. She said she felt a heaviness on her eyes and something like energy in her eyes.
We said, "Good. That's the Holy Spirit. Let's pray again." Two minutes later after we had prayed again, we asked, "Now what do you see?"
She responded, "I see black and white swirling around." We thought, 'Good. That's progress.' and we prayed again.
This time she was bawling and began pointing at us exclaiming, "You're a man! You're a woman! You're white! Praise Jesus!"
There was nothing like jumping up and down with a woman who could look me in the eyes and focus on my face. Her joy was infectious. Seeing her timid husband with tears in his eyes made the truth of the moment all the more clear-Jesus had just touched them. They walked away changed and they'll never return the same way again.
Comments (10)
Praise God and all glory to our heavenly father.May God bless you and all your mission work.
Emmanuel Seth

Our faith is enhanced when people testify to God's miraculous work. And the greatest miracle of all may be when spiritual blindness disappears and a weary heart is illuminated by grace.

I love the stories you share Seth because they are real.

The Bible isn't a novel and the supernatural isn't a novella.

May His Kingdom continue to come.

My His will unfold and be done.

And may we all pray for the earth to experience the majesty of His timeless miracles.

Shalom.

Glory to God… now that's faith..

Lord, help my unbelief. May I pray with the fervor to believe without doubting. Mountains are still moving.

Wow! That is an awesome story! Praise God!!!

He still moves stones…and He still opens blind eyes. The faith of many will be likewise moved on reading this experience! Mine has.

Wow!! I didn't know my newsletter would wind up on your blog! Thanks for the repost here Seth, it means a lot!

And thanks everyone else for your comments. I'm glad this experience encouraged you! I pray you all abound in more of the supernatural power of Jesus!

We were just on an outreach today for our school at Bethel and prayed for a lady who could hardly walk b/c of knee problems. All of her pain left and she walked with no problems after we prayed (twice)! whooo hoo!

I've learned that God really loves meeting us at our place of risk. In both scenarios I had a choice to pray for these ladies or not. I know they were blessed in both circumstance…but so was I! 🙂

Thank you Seth for sharing another awesome testimony with us.
Here is an excerpt from a message I gave a few days ago at the Upper Room in Roswell as I believe it applies here.
In His love
Caspar

There are many accounts in the Holy Bible, where people were healed in both the Old and New Testaments, people who were miraculously healed that we understood only the Lord could have done that. However, so often people want to understand how that could happen because the Bible does not seem to really explain the mechanism by which these things happened at first glance. Except to say that all things are possible with God. When we examine the Scriptures we read that sometimes Jesus healed people using mud and spit, other times just spit, and sometimes Jesus healed from a distance. So if we are searching out answers, what should we conclude from that? The logical conclusion is that mud and spit had nothing to do with it. So why would Jesus use them?
In John 9:6 when he had thus spoken, he spat on the ground, and made clay of the spittle, and he anointed the eyes of the blind man with the clay,
7And said unto him, Go, wash in the pool of Siloam, (which is by interpretation, Sent.) He went his way therefore, and washed, and came seeing.
8The neighbours therefore, and they which before had seen him that he was blind, said, Is not this he that sat and begged?
9Some said, This is he: others said, He is like him: but he said, I am he.
10Therefore said they unto him, How were thine eyes opened?
11He answered and said, A man that is called Jesus made clay, and anointed mine eyes, and said unto me, Go to the pool of Siloam, and wash: and I went and washed, and I received sight.
In the Mishnah ( a Jewish book of laws they made up) it is stated to heal a blind man on the Sabbath it is prohibited to inject wine in his eyes. It is also prohibited to make mud with spittle and smear it on his eyes. Shabbat 108:20 Our Lord the revolutionist intentionally caused the Pharisees into panic over their made up rules and conventions.
Many times Jesus healed people on the Sabbath. Breaking their cherished traditions. He could have waited until after the weekend, but he deliberately healed people on the Sabbath.
Healing the blind man with mud and spittle was direct defiance to the Jewish ordinances. Just as he would eat food without washing his hands first.
Jeremiah 6:16 Thus saith the LORD, Stand ye in the ways, and see, and ask for the old paths, where is the good way, and walk therein, and ye shall find rest for your souls. But they said, We will not walk therein.
Jesus healed everyone who came to him, and He is still doing that today.
Consider something else. Physicians for the most part do not really heal sickness; they merely help improve the conditions for the body to heal itself. What should we conclude from that?
The logical conclusion seems simply that Papa God created our bodies to heal themselves. So the big question here is what about faith healing then, how does that play a part in all this?
What part of the healing process is connected with the mind? Proverbs 23:7 As a man thinketh so he is. Obviously your thought life has a major role or the Lord would not have given us such instructions in 2 Corinthians 10:5 Casting down imaginations, and every high thing that exalteth itself against the knowledge of God, and bringing into captivity every thought to the obedience of Christ;
When I was working on my new book, "What was I Thinking ?" with Linda Lange that is to be released this October. I saw some research about how the brain functions and operates with several scientific studies which showed that placebos (which are just empty pills or have sugar in them ) were still effective in healing because those people who took the placebos, believed the pills were actually real medicine, no one told them it was a fake sugar pill. How sweet it is!
Anyway that seems to indicate that Papa God when He created us He seems to have wired our brains to boost healing when we believe in healing? Imagine that, if you believe it you can receive it. And all things are possible with God.
Proverbs 17:22 A merry heart doeth good like a medicine: but a broken spirit drieth the bones..
So here is Godly counsel from the Holy Bible about our health.
The word "medicine" can also be transliterated " a cure", and "dried up bones', has to do with blood flow. The marrow in the bones. So as we have taught before a broken spirit would be equal to a broken heart. We know that Jesus came to mend the broken hearted. Unfortunately in this fallen world we live in it does not take much to break your heart. Unless you understand the truth that makes you free by continuing to obey the Lord. John 8:31-32 Amen
Seems so many people are walking about in churches with varies degrees of a broken heart. So they keep going through all the motions. But it is like a car with rust coming through. If you do not deal with that rust it will keep eating away at the paint and it will surface at some point. That rust is like our sin issues we do not deal with. Which is like going to church week after week and the real issues are not being dealt with. So it's like you have a rusty bucket that leaks and you keep trying to fill up with the Holy water, the washing of the word, and it just keeps leaking out again.
That sort of reminds me of the story where Three friends decided to go hunting together. One was a lawyer, one a doctor, and the other a preacher. As they were walking, along came a big buck. The three of them shot at the same time and the buck dropped dead immediately. The hunting party rushed to see how big it actually was. Upon reaching the fallen deer, they found out that it was dead but had only one bullet hole.

A debate followed concerning whose buck it was. When a game warden came by, he offered to help. A few moments later, he had the answer.

He said with much confidence, "The pastor shot the buck!" The friends were amazed that he could determine that so quickly and with so little examination. The game warden just smiled. "It was easy to figure out. The bullet went in one ear and out the other."
If you were just observing a miracle like this, what would you say were the elements of the miracle? All things are possible with God. Was there a an absolute conviction of believing in the person that Jesus could cure their blindness? Seems like we need to really believe to receive.
Read Mark 9:17-19. the disciple could not perform a miracle they were not able to heal the man's son? Jesus intervenes here, and He only does the will of the Father.
23Jesus said unto him, If thou canst believe, all things are possible to him that believeth.
24And straightway the father of the child cried out, and said with tears, Lord, I believe; help thou mine unbelief.
Jesus must have been speaking to His disciples when he said Mark 9:19 He answereth him, and saith, O faithless generation, how long shall I be with you? how long shall I suffer you? bring him unto me. Somehow even spending all that time with Jesus of Nazareth the disciples did not have sufficient mental conviction here. Did they just not have enough faith? Or did they just not appropriate the faith they did have?
In Mark 9:23. What does Jesus say is the key to healing here, everything is possible to him who believes who maintains absolute conviction and trusts in the Lord, no matter what it looks like.
The boys father here even understood That Jesus could help him overcome the spirit of unbelief. What a powerful statement this is.

After Jesus healed this man's son it obviously must have strengthened his belief system. I reckon that father went away with understanding and believing yes indeed all things are possible with God.

In Mark 9:28-29.The disciples want to know more about the mechanism for healing – why could they not heal this boy.
28And when he was come into the house, his disciples asked him privately, Why could not we cast him out?
29And he said unto them, This kind can come forth by nothing, but by prayer and fasting.
When you fast you draw closer to the Lord, when you pray you draw closer to the Lord. When you forgive you enter into holiness.
Spending time with the Lord is the answer and the only logical conclusion.

If Papa God created our minds to help heal our bodies through faith, how does having absolute conviction of the Great Physician have anything to do with the healing? Unless we have an intimate and personal relationship with Him?
To me this also suggest there is a supernatural element here that goes way beyond any logical/scientific connection between our mind and bodies.
In Mark 8:22. And he cometh to Bethsaida; and they bring a blind man unto him, and besought him to touch him.
What did the people asked Jesus to "touch" this man unless of course they wanted Jesus to heal him by means of putting His hands on him.
The blind man's friends believed that if Jesus would touch the blind man he who no longer be blind and would then see.

Mark 8:23 And he took the blind man by the hand, and led him out of the town; and when he had spit on his eyes, and put his hands upon him, he asked him if he saw ought.
24And he looked up, and said, I see men as trees, walking.
25After that he put his hands again upon his eyes, and made him look up: and he was restored, and saw every man clearly. (so we are to repeat the prayer if necessary until we receive)
26And he sent him away to his house, saying, Neither go into the town, nor tell it to any in the town.
Jesus both touched the blind man and put spit in his eyes. In the Matthew 9 healing of two blind men, Jesus just touched them without any spit involved. The friends in the Mark 8 miracle just expected a touch from Jesus was all that was needed for their friend to no longer be blind.

Some people in churches are very troubled by this faith healing business. The question why does Jesus have to use spit once, touching twice and why didn't Jesus get it right the first time? Why does Jesus ask the man what he sees" – as if the outcome were in question? Doesn't Jesus of Nazareth have all power and authority over all creation as the living Word of Papa God, the only begotten son?

Assumptions can get people into trouble, however we know Jesus Christ of Nazareth had the power to simply speak sight to this blind man, and that Papa God also works through our mind with the washing of His Word to heal us.
It was really the faith of others who brought the blind man to Jesus. When Jesus applied His touch and spit, maybe His purpose was to help instill faith in the blind man?
When the blind man first saw imperfectly, he must have been strengthened in his faith that something supernatural was happening that Jesus could really do something for him. The spit, touch and the two-step miracle here seems to have had nothing much to do with Jesus, and everything to do with building up the blind man's faith.
What do can we learn from this in our own lives about faith and healing?
Maybe when it seems that Papa God has not perfectly solved our problems, perhaps it is just a measure of time to help cultivate our faith so He can.
Also healing techniques like laying on of hands can create a faith partnership with Papa God to heal our bodies.

1 Corinthians 12:7-10. tells us we have been given all these gifts to use.
The power of Papa God and Jesus Christ of Nazareth who come now in the form of the Holy Spirit is present to perform healing and miracles.
Hebrews 13:8 tells us the Lord is the same yesterday, today and tomorrow

Papa God has created your body to help heal itself. Papa God has created your mind to work in partnership with Him in the power of God to heal through faith.
Why have we so often neglected such a great weapon against illness and disease?
I encourage you to trust in the Lord with all your mind, body, spirit and soul and mediate of His Holy Word day and night so it can be healing to all your flesh. Proverb 4:21 Let them not depart from thine eyes; keep them in the midst of thine heart.
22For they are life unto those that find them, and health to all their flesh.

We come to Papa God on the basis of Christ's sacrifice for us, that we are covered in His precious blood.
Let us be sensitive to the leading of the Holy Spirit for our lives.

We cannot tell the Lord how it should be, it's His decision as He decides what is best for us, we are His adopted children we are also to do our family chores and help serve the Lord. He is preparing us for eternal life with Him.

For example a person seeking financial prosperity, and not fully seeking His Kingdom and righteousness first may stay stuck in their stuff. Because Papa God's first priority for them is righteousness. If they stubbornly insists on claiming prosperity before righteousness, they may not receive either!

Just as a person may who is seeking physical healing, not knowing that the root cause of the physical sickness is an inner emotional problem-, some wrong toxic thinking like entertaining spirits of rejection or bitterness and insecurity. Because they can't trust the Lord to deliver them out of all their afflictions as He promises to do.

Papa God will then orchestrate to bring the emotional healing that is needed. If the person does not open themselves up to all this, but continues to beg the Lord merely for physical healing, they may in the end not receive healing at all, either physical or emotional. Because ignorantly blocked the hand of God from helping them.

Like bowing down to a spirit of fear instead of staying in faith.
You get to choose this day whom you will serve. Bowing down to a spirit of fear is saying that fear is greater then the Lord ability to help you, to heal you, to provide for you.
Then it seem the Lord removes Himself and allows the enemy access to torment you until you finally had enough and turn to the God.

Walking out of this worlds mess is truly a battle for your soul and Papa God will be victorious for us in Jesus name. I am praying for you today for healing, relief and peace. So Papa God healing and restoration take place and that you keep the joy of the Lord which is your strength. In Jesus Christ of Nazareth name.

From ancient times in Judaism, there was a tradition that the saliva of the first-born son of a father had healing properties. Writes A. Cohen, "For eye-trouble spittle was commonly used, but we are told there is a tradition that the spittle of the first-born son of a father has healing powers…" (Everyman's Talmud, p. 253). The Talmudic reference is B.B. 126b, for those who wish to check it for themselves.

Dear Brother Seth,
The wonderful news here was that Amanda Dums was taught to expect our Lord Jesus Christ of Nazareth who did miracles like healing the blind in the Bible will still do miracles like that today. John 14:12
Let us all take away from this just to keep believing and keep expecting as we walk in Christ love.
In His love
Caspar
Subscribe to Radical Living:
Receive updates on the latest posts as Seth Barnes covers many topics like spiritual formation, what if means to be a christian, how to pray, and more. Radical Living blog is all about a call to excellence in ministry, church, and leadership -as the hands and feet of Jesus.