Pilgrimage is About What You Leave Behind
In the months ahead, coming out of a season laced with virus and death, we so desperately need a pilgrimage. We need a chance to really reset our lives, to leave a life of claustrophobia and find ourselves again. My first conversation with a fellow pilgrim on the Camino to Santiago in 2013…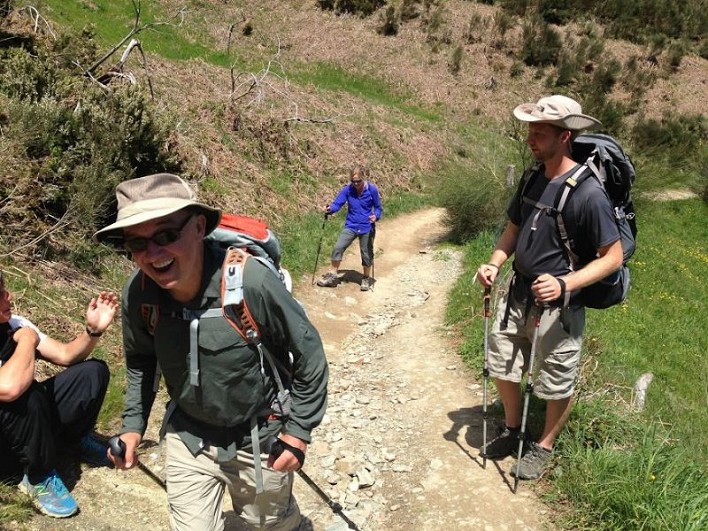 In the months ahead, coming out of a season laced with virus and death, we so desperately need a pilgrimage. We need a chance to really reset our lives, to leave a life of claustrophobia and find ourselves again.
My first conversation with a fellow pilgrim on the Camino to Santiago in 2013 was with a Russian. He has was having problems at home.
"What problems?" I asked.
"Problems with my wife, problems with drinking," he said.
"So you drink too much and that impacts your home life?"
"Yes, it does."
We talked for a while about it. Like many pilgrims, he was open about his struggles. It was about 7:00am, the sun was coming up. And soon he quickened his pace and raced ahead.
A couple of hours later it was time to stop for a morning coffee. And there was our Russian friend sitting outside at a cafe ahead. On his table was a bottle of wine.
Yes, he was on a pilgrimage. But in a fundamental way, our new friend had yet to begin. He hadn't made up his mind about leaving behind his addiction.
We think about pilgrimage being about getting to a destination. But it begins by first being about what you leave behind. Our backpacks may be heavy enough as we set out on a journey. But imagine if we could see all that we are carrying that still weighs us down:
worries
criticisms of friends
social media
cares
unresolved issues
attachments
addictions
The list is much longer. We go on pilgrimage to experience renewal. In our regular life we may struggle with things that seem too heavy to carry. But a pilgrimage can show you a new and lighter way of walking.
In my book Kingdom Journeys, I describe six phases to our journey toward life purpose. The very first is abandon. We have to detach from the parts of our lives that aren't working before we can attach to what we were made for. We have to exchange priorities.
"Seek first his kingdom and his righteousness and all these things will be given to you as well," is how the Bible puts it. (Matt. 6:33)
Let me encourage you to consider giving yourself the gift of a multi-day pilgrimage – a time to walk away from all that was toxic and into a life of health. If you find yourself able to travel, you owe it to yourself to consider what that might look like. Find a trail and commit to walking it.
There is a better you waiting out there on a pilgrimage trail. But to find him or her, you have to leave behind the things that weigh you down and take up space in your life. Your pack will feel lighter. I predict you may even find a spring in your step. You'll begin making room for the part of you that has been waiting all along.
Comments (8)
Yes. Good words. I need this journey. Paz.

Needed this today, Seth. Thank you! God bless you.

Good reminder Seth. We're headed to debrief #1 with our amazing I squad of 30 in Antigua Guatemala. Even loved ones felt it was unsafe and wise. Had a good and loving response for them and their fears diminished and their faith was challenged! God meets us, uses us and transforms us on Obedient Journey with Him.

I pray that it goes well, Matt. be sure to take some ivermectin.

I love the Camino! The process in the moment was so difficult for me. Yet what it produced in me radically changed the trajectory of my life. I often find myself thinking about it and long to do it again. I appreciate this reflection, thank you!

When you do it again, maybe I'll join you!
Subscribe to Radical Living:
Receive updates on the latest posts as Seth Barnes covers many topics like spiritual formation, what if means to be a christian, how to pray, and more. Radical Living blog is all about a call to excellence in ministry, church, and leadership -as the hands and feet of Jesus.