Please pray for a church in Haiti
Pastor Miracus Destine has 70 people in his church and 7000 in his community. They've been devastated by the earthquake. Some need to grieve. Many have lost loved ones. Some are homeless. They're praying that their children can go back to school. I'd love to give you more details about their si…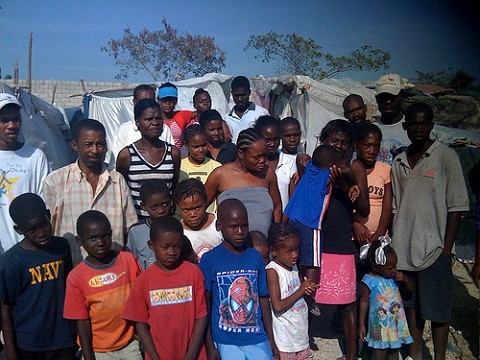 Pastor Miracus Destine has 70 people in his church and 7000 in his community. They've been devastated by the earthquake. Some need to grieve. Many have lost loved ones. Some are homeless. They're praying that their children can go back to school. I'd love to give you more details about their situation. Some need tents or food, but we're starting with prayer – everyone needs your prayers.
We've got a database with hundreds of pastors and their communities in them like pastor Destine. We've told them that American Christians want to help. We want to connect you and your church in America with a pastor and his church in Haiti. I'm asking God for at least 20 of you to begin personally and then to try to further involve your church. Because God's Spirit is being poured out in Haiti, your connection to it has the potential to change your life. Eventually, we'll need hundreds of you.
Please look at this video below and consider joining with us. It's not complicated and doesn't require much. We want to make it easy for you to try it out. Here's what you do:
Put your name and relevant info in the comment section below or email me at this link to sign up.
We'll send you the name of a pastor and some info about his church and community. They may write back.
You don't have to do anything more than pray initially. Ask God, "How shall I respond over the next 3 weeks?"
Let us know what he says and how you're responding and we'll communicate that to the pastor in Haiti.
An AIM rep will call or email you after a month. If you'd like to continue the relationship, we'll talk about where it can go after that.
Comments (8)
I think this is what we already signed up for, but if not, put us on the list.

we are definetly interested here , just waiting on the info and what and where we can begin. blessings..

Seth……

This is a great strategy and will help revitalize many churches longing for renewal.

I am working on an inventory of target churches.

Shalom.

Please sign me up, I am going to Haiti for the June 2010 trip and would like to be in prayer for a church (and hopefully get my church involved in prayer too) in advance of this.

Seth, we're working on getting this info/vision to the Church in Hendersonville thru our relationships with several pastors here. Very excited about all this!

Hey Seth, our church Stonebridge is onboard, rolling out sign ups this morning, pray for open hearts to what God would do.
Targeting and meeting with 4 other churches in The Woodlands.

Hi Seth,

Is there any opportunity for churches in the UK to get involved?

Saz

HI seth.like the comment above.I am in the uk and would like to be involved with praying for a church in haiti.I know the womens group I lead would and if I could have info for my church I expect they would also.