Rest of the story: St. Francis lives down the street from me
Robert Wetherford is 78 years old and works harder chopping wood than most men half his age. This morning I was jogging by his wood-splitting operation for the thousandth time and I felt the …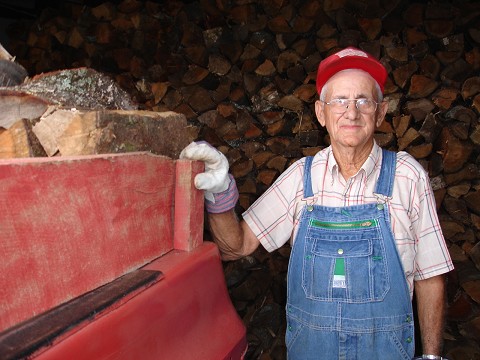 Robert Wetherford is 78 years old and works harder chopping wood than most men half his age. This morning I was jogging by his wood-splitting operation for the thousandth time and I felt the Lord wanted me to go back and get his picture and listen to his story. Robert was loading wood in his old truck. When he stopped and turned around, I could see he was chewing tobacco and periodically throughout our conversation, he would pause to spit.
Although we wave "hello" to one another all the time, I needed to introduce myself. He's a simple man, who doesn't read or write. He loves his children and grandchildren, who call him "Pop Pop." He began sharing with me what God wanted me to hear without any prompting.
"I used to work for $1.25 an hour for 18 years. Then I got a job working for $4/hour. The only problem was that I only saw my family on the weekends. I was driving along towards Athens one morning when I heard a voice say, 'Robert.'
'There ain't nobody riding with me,' he replied.
'I ride with you all the time," said the voice, and Robert knew it was the Lord.
'You need to quit your job and come home with your boy,' the Lord said, 'If you make a million dollars and it takes a million to get him out of prison, what have you made?'
'Nothin',' Robert answered.
'If you quit, you'll having nothing, but you'll have Troy.'
All week long, Robert was awed and frightened by his conversation with the Almighty. But that night, he went home, and his seven year-old son Troy was saved. That weekend, Robert quit his job. He knew that he'd be poor, but he'd be happy, and he knew he needed to live for God.
Later, he and Troy were sitting together and a truck drove up pulling a boat. A man got out and gave them some fish. Troy said, "Why can't we get a boat like that?" Robert had committed to living simply and they didn't have any money. But God showed him how he could get a boat and provided the money. He says, "Lots of preachers say, 'the Lord don't talk,' but I know he does! I can prove it!"
"I've been healed three times. Once I fell and crushed some vertebrae in my back. The doctors told me, 'you'll never work again.' All I could do was lie in bed. One Saturday night I was laying there and the Lord woke me up, 'Robert,' he said.
"I knew that he was healing me. When I woke up the next day, I was healed. I went to church and the people asked me, 'Where did you go to get healed?'
I told them, 'I was saved at home and I was healed at home.'
My parents were so proud. They shouted and said, 'we knew you wouldn't give up!'
"Later, while working as a mechanic, my hand turned black and they told me I needed to quit. The Lord said, 'try wood.'
I said, 'thank you, Lord, I know what to do.' I been makin' a livin' on it ever since.
Lotsa people say the Lord don't talk, but he absolutely does. I've enjoyed life a lot more. If you have faith, he'll do it. I hope to live into my 80's to keep tellin' others about what the Lord has done."
* * * * * * * *
Robert likes to keep his wood prices low. Some people didn't have the money to heat their house and Robert would give them a load or two of lumber. He also loves to be with his grandchildren. He loves to do the things that only granddads can do, like give them candy. "Maybe when I'm gone they'll remember that about me," he says.
Postscript 3 years later: June 16, 2009 Robert passes away. His family, though mourning, remembers all his many kindnesses like giving the grandchildren candy.
Comments (7)
That was reading a devotional this morning… great!

What an inspiring story about love – God's love for St. Francis, and St. Francis's love for his family. We truly imitate what we see the Father doing if we are connected to him.

I especially like the fact that his personal relationship with God allows him to hear God's voice and receive God's healing touch without the need for smoke and mirrors or third party involvement. He seems to have the simple faith of a child like Christ teaches us.

this story is beautiful. i met a lady named Dot yesterday. She runs one of the oldest po-boy stands in New Orleans and even "got an award for it" as she said. She's probably in her late 70s and lives right behind that po-boy stand. I just watched her in wonder and admiration as she fried up my shrimp and cut that french bread with her swollen-knuckled hands. When i asked her how long she'd been there, she just laughed and shook her head saying,"oh, years…years". When i got back to my car i wished i had taken a picture of her….she was just beautiful.

This story truly touched me,When I read this article the first thing I thougth was, "Good thing the Lord speaks, too." My mom told me a long time ago about an experience she had and I have never forgotten it. She was driving on one of those huge freeways with the curving ramps and all that jazz. As she went drove on a curving upgrade she heard a voice say to her "Change lanes." She got kinda spooked and ignored it. It said it agian:louder. Then again:Urgently. And finally it yelled at her. She finally obeyed just in time to avoid crashing into a huge car pile-up just out of view from oncomers because of the curve and hill. God saved her life and since that was before I was born it helped me out a lot too, if you know what I mean. It is an inpiring story to me and I am so thankful to Him for all he has done for me and my family. This isn't the only miracle I have heard of or even seen. Praise God!

ahhh, simplicity! tears…
Why do we make life/Christianity so complicated?

An awesome story.Sometimes we think of givng up on life but some people just give us a reason to know that we are powerful beyond measure.Thank you and keep up.

This is my PopPaw! I have heard this story before also about Troy and chopping wood. He also use to be a race car driver in his younger days. Right now he is in North East Georgia Medical Center. If anybody reads this please pray for him to get better. We all Love him so much!
Subscribe to Radical Living:
Receive updates on the latest posts as Seth Barnes covers many topics like spiritual formation, what if means to be a christian, how to pray, and more. Radical Living blog is all about a call to excellence in ministry, church, and leadership -as the hands and feet of Jesus.