Revival, Miracles & Baptism Where Floyd Died in Minneapolis
From The Christian Post FRIDAY, JUNE 12, 2020 Christian groups have been holding revival services at the site where George Floyd died in Minneapolis. They're seeing many people turn to God in baptisms and miracles are happening. "So tonight God's moving. There's a lot of people that …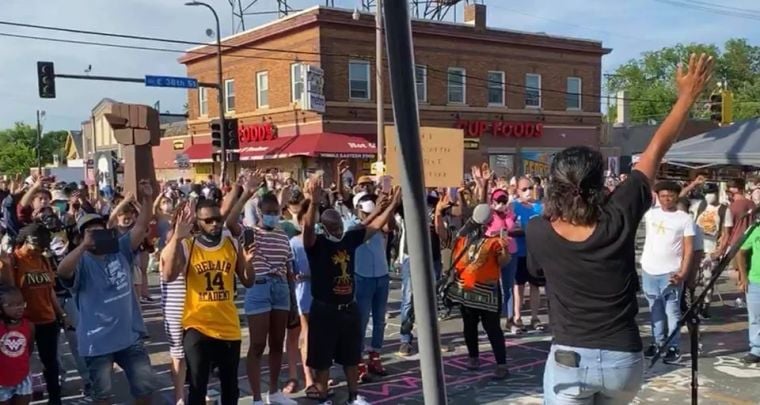 From The Christian Post
FRIDAY, JUNE 12, 2020
Christian groups have been holding revival services at the site where George Floyd died in Minneapolis. They're seeing many people turn to God in baptisms and miracles are happening.
"So tonight God's moving. There's a lot of people that gave their lives to the Lord again. We were baptizing people right here at the memorial. God's on the move. It's wonderful," said Joshua Lindquist, a young Christian leader with Global Revival Harvest, who has been broadcasting the Unity Revival on his Facebook page since it started on Wednesday.
"I have a friend of mine, his name is J.T. Thomas, he said, 'revival is the new form of protest.' Meaning, when injustice happens and the pain is there, the best way to heal hearts and to bring what's right and to bring what's truly real, is to petition Heaven. When revival breaks out it's the kingdom of Heaven breaking in," he said in a broadcast from Thursday night.
In a broadcast from Wednesday night, Lindquist explained that they were invited into the community by a local church and noted the presence of Pastor Charles Karuku of International Outreach Church, a growing multi-racial congregation in Burnsville, Minnesota, who he said was asked by Floyd's family to spread the message of healing and forgiveness in the community.
"This pastor who is preaching right now, his name is Charles Karuku and George Floyd's family asked him to come here and share his message of forgiveness and healing through Jesus every day he can. They endorsed him. They said, 'please, this is the message the community needs,'" he said.
He also confirmed that along with a number of baptisms he had witnessed, he also saw miracles.
"I don't know if you believe in miracles but I do, and there was a deaf ear that popped open. God did a miracle. God's using this tragic situation for his glory. God is shifting the narrative. Out of his (Floyd's) life, many will come to the Lord. Many will come to Jesus," he said.
Other ministries that have been at the site include Youth With a Mission and Circuit Riders, a California-based missions movement, Fox News reported.
Christophe Ulysse, 37, a YWAM leader based in Kona, Hawaii, told the news network they were witnessing real change in the community.
"We're going from pain and hatred to healing and hope," Ulysse, who's a black Canadian Christian leader, said.
Comments (8)
This gives me hope! This eases the strain on my heart!

Suffering is the crucible for spiritual growth. Love you Seth.

Awesome! Praise God. Biblical justice is the ministry of reconciliation. 2 Cor 5:11-21 Revival is its flower. Transformation is its fruit.

That article is hopeful, but also brings a bit of conviction- seems like we should be seeing more of that where I live

My hope is that it sparks something elsewhere.

Awesome, Stacy!

Amen – let revival come!

Me too. It's time for the people of God to rise up!
Subscribe to Radical Living:
Receive updates on the latest posts as Seth Barnes covers many topics like spiritual formation, what if means to be a christian, how to pray, and more. Radical Living blog is all about a call to excellence in ministry, church, and leadership -as the hands and feet of Jesus.