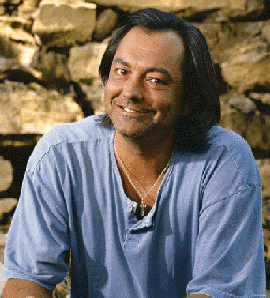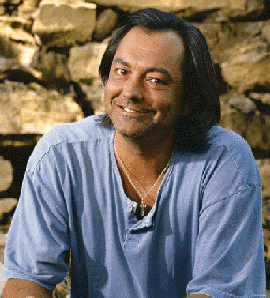 Yesterday's blog explored the subject of heroes. Rich Mullins was one. He was remarkable in that, although he achieved both fame and fortune through his music, he didn't allow himself to be corrupted by it. I look around the modern musical landscape and wonder who will take up the torch he …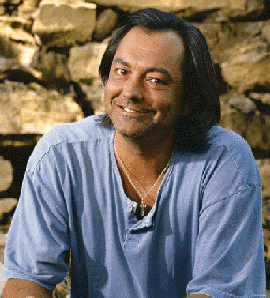 Yesterday's blog
explored the subject of heroes.
Rich Mullins
was one. He was remarkable in that, although he achieved both fame and fortune through his music, he didn't allow himself to be corrupted by it. I look around the modern musical landscape and wonder who will take up the torch he carried for a life of pure devotion to Jesus.
Mullins penned and performed such popular songs as "Our God is an Awesome God," and won all kinds of awards. But he put the money he made into a trust and lived on very little.
As detailed in the wonderful biography Rich Mullins: An Arrow Pointed Toward Heaven, Mullins lived a militantly simple life. His heroes were men like St. Francis of Acissi. He understood that one of the great dangers we Christians face is capitulation to our culture. He derided a church that "preaches a message of comfort to the comfortable."
He couldn't abide a church that preferred to focus on throwing doctrinal stones at each other rather than caring for the poor and sharing hope. He noted that "one of the main reasons we've lost our witness to the world is that we fight with one another." He saw the way churches are more interested in getting people to come to them instead of going where the people are. Mullins said, "It's a wounded world that needs a healing touch."
Mullins looked a lot like Jesus when he said: "Our real doctrine is that doctrine that is born out in our character. You can profess the Apostles' Creed until Jesus returns, but if you don't love somebody, you never were a Christian."
He had a wonderfully provocative way of upsetting apple carts. He said: "Instead of growing bigger churches, we need to grow bigger Christians."
If you struggle with the grip our culture has on you, I suggest thinking deeply about the challenge he left us: "Sometimes what we know about God needs to be purged to allow the real God to emerge."
Thanks to blog reader Rich Niccols, who had the chance to hang out with Mullins some and reminded me of how inspiring Mullins has been to me in the past by writing about it in this blog.
Comments (7)
humility makes a heroe in my book, and it sounds like rich mullins had just that.

Wow. I've used his songs, but never read the book. Now I definitely want to read it. I love to be challenged.

My introduction to Rich Mullins was his death. Since then, my life has been richer for his songs and testimony. I wonder how many others came upon him due to his death.

I have always loved what Rich brought to the family of faith and have often wondered who would stand in his place as the new "apple cart upsetter"…

I guess that is all of our jobs. To favor God's way over the culture in which we live. As Andrew Peterson has said:

I'm weary of the spoils of my ambition
And I'm shackled by the comfort of my couch
Oh, I wish I had the courage to deny these of my self
And start to store my treasure in the clouds

Rich was always one of my favorite Christian singers, but I didn't know about the biography. Just requested it from our library. I am learning a lot from the Christian biographies I have been reading lately so I can't wait to read this one! When I was a teenager, I helped at a wedding reception where Rich was the best man. I don't remember his exact toast but I do remember thinking he had a quirky kind of humor:) Was good to see that side as well as the deeper side of him revealed in his music.

There so much to chew on in this single blog… what a guy??!!

so it was he who said "Instead of growing bigger churches, we need to grow bigger Christians." what a man of faith and wisdom. thanks for this blog brother, i enjoyed it.