Shields hung up on the wall
If life is largely sedentary for us in modern society, it may often feel like a battle. We may have never tasted the violence of war, but we can feel the everyday attack on our spirit and the sense of needing something to defend ourselves. Ephesians 6 tells us that faith will prote…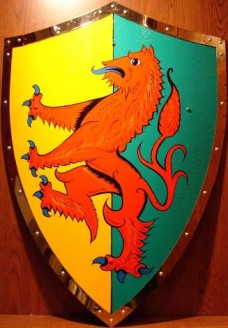 If life is largely sedentary for us in modern society, it
may often feel like a battle. We may have never tasted the violence of war, but
we can feel the everyday attack on our spirit and the sense of needing
something to defend ourselves. Ephesians 6 tells us that faith will protect us.
We have a spiritual enemy and we contend with him using spiritual armor. God himself
will defend us; we just need faith to believe that he will.
Faith helps us not to go self-protective under attack, but
allows God to show up. The symbol the Bible uses to communicate this principle
is that of a shield, the shield of faith.
Shields have many purposes, but they were never intended to
be decorative. Shields were made for battle. Faith should be used, not just
talked about.
Solomon made 600 ornately decorated shields of gold and
hung them on the wall of his palace (1 Kings 10:16-17). They were a symbol of
his riches and power.
But faith is nothing if not active. It manifests itself in
risky situations where pain is a distinct possibility. Being vulnerable with
someone who has hurt you exposes you to the possibility of their sarcastic remark,
for example. Only faith enables you to take the chance. There is nothing
decorative and inert about faith. Yet how many of our churches look, in a metaphorical
way, like Solomon's temple, shields up on the wall?
Life and love are messy. We suffer wounding every week. We need
the faith and encouragement of our brothers and sisters. That's one of the
primary reasons God established the church. Too often our churches resemble temples with shields hanging on walls for sentimental reasons or out of habit. They were never intended to look like that.
If you're feeling wounded, it's likely that you're not using your shield. My advice: Please find a discipler and a church where they teach you how to use your faith in practical, active ways. We need to take the shields down off the walls and begin expecting God to protect us.
Comments (5)
Yep…perfect way to start the day. I needed that, as you know. Thanks Seth.

Thanks Seth. One of the daily disciplines for me is to pray out loud the "whole armor of God".

It is an "aligning prayer" designed to remind we are in a war and we do have weapons.

**mArC** The Schifano Tribe

Right on man. Love Butch's discipline in the a.m.. Gonna do that one starting today. Right on Butch. Encouraging to see all these Kingdom Warriors.

Praying out loud, on my knees, is a daily discipline. Yet I can't even recall the last time I prayed the armour out loud, "dressing myself" as I do. Thank you, all.