Starting the Warrior's Journal study
It's 2:00 a.m. as I write this – just back from Seattle and I wanted to kick off the discipling experiment we're starting. I'll be excerpting 9 weeks of curriculum on a daily basis and emailing it to a group of disciplers who in turn will use it to disciple others. It's an experiment in intenti…
It's 2:00 a.m. as I write this – just back from Seattle and I wanted to kick off the discipling experiment we're starting. I'll be excerpting 9 weeks of curriculum on a daily basis and emailing it to a group of disciplers who in turn will use it to disciple others. It's an experiment in intentionality – a key principle in disciple making. Here is what the first day looks like: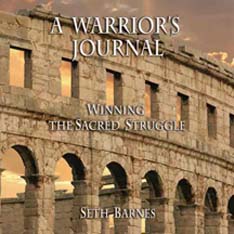 Dear
readers,
I've
written this spiritual guidebook to help you take on an enemy who has you
squarely in his sights. I hope you find it helpful.
Early
church history shows us that in a little more than 300 years, Christianity went
from a small band of desperate men and women to the official religion of the Roman
world.
How
did this happen? It happened because of the absolute conviction of Jesus'
disciples. They were warriors for the faith, and they passed on this
conviction to their disciples. They moved out boldly against enemies who
thought nothing of stoning them to death because they were absolutely convinced
God was on their side.
That
warrior spirit that Jesus gave his disciples is our inheritance. How in
the world did we ever get on the defensive? Hey folks, I've got news for
you: our side wins! We have been given spiritual armor. We have
been given all authority. And we have been given the task of bringing
hope to a world that is numb with pain.
A Warrior's Journal
Meditations for the fight of your life
Introduction: You're in the fight of your life!
Ephesians 6:12 "Our
fight is not against flesh and blood…"
With
Adam's fall, God gave the devil permission to move in and claim this world as
his own. Call it squatter's rights. Jesus' arrival signaled something new. The
battle turned and Satan was bound by the power of the Son of God. Jesus proclaimed that it was time for Satan
to pack his bags, "Now is the time for judgment on this world; now the prince
of this world will be driven out" (John 12:31). He enforced this proclamation by driving out demons
and binding the prince of darkness, the "strong man" of this world. Jesus said,
"But if it is by the Spirit of God that
I cast out demons, then the kingdom
of God has come upon you.
Or how can someone enter a strong man's house and plunder his goods, unless he
first binds the strong man?" (Matt 12:28-29).
Jesus stretched out to
reclaim the heart of every sinner from the clutches of the strong man most
decisively in His death and resurrection.
He said, "But I, when I am lifted up from the earth, will draw all men
to myself" (John 12:32). And today His voice still thunders across the
globe: "I am not willing that any should perish!" (2 Peter 3:9).
He
has blessed us with the privilege to continue this expansion of His
Kingdom. As His disciples we are called
to destroy strongholds of evil and reclaim the world for Him. The history of the Lord's people is an
account of a steady push deeper into enemy territory, reclaiming what is
rightfully his, one life at a time.
Around
the world today the battle is raging. It
is a spiritual battle not observable to the human eye. A story is unfolding and God is the
protagonist of it – He will show Himself strong and drive all squatters from
His lands. Those of us who have given
our lives to Jesus as Lord are His warriors – the very instruments through
which He wages warfare. If God used a
pagan Assyrian king as His battle-axe, how much more will he use us, His
servants, to fight the enemy? As Paul
says, God has blessed us with divine power to destroy the strongholds of the
enemy! (2 Cor 10:4-5)
God
gave the pioneer missionary, Amy Carmichael, a vision of great masses of
humanity, walking zombie-like toward a cliff.
Terrified, she ran from person to person, trying to get them to see what
lay ahead. When she awoke from this
vision, she realized that she had seen the world from God's perspective.
With
each passing minute, thousands more stumble over eternity's cliff. Do we have Carmichael's
sense of urgency when we hear Christ's call to seek and save the lost? (Luke
19:10)
This battle of ours
looks unlike any other. Jesus tells us
to despise godlessness and sin, but to love our enemies, rather like the
hippies did to the national guard troops during the 60s, putting flowers in the
muzzles of their guns. It's a paradox
that we are called to fight, but not against flesh-and-blood non-believers, only
against the spiritual forces that oppress them: "Our struggle is not against flesh and blood, but against the
rulers, against the authorities, against the powers of this dark world and
against the spiritual forces of evil in the heavenly realms" (Eph. 6:12). Christians often wrongly treat non-believers as if
they are our enemy instead of having mercy on them. But rather than struggle with them we, are
called to the sacred task of rescuing them from the power of darkness by which
they're enslaved.

(continued here – if you're interested in signing up, please email me and I'll add you to my list)
Comments (4)
Sign me up, Seth. Thanks.

Brings back amazing memories from Peru 2002. Amazing study!

Thanks a lot for the well written and so accurate piece. We are at war! and we win with the armor of God

I am interested in this. I am beginning the travel of Listening prayer and came across your blog. Long ago, I knew of your ministry with AIM but had lost touch with that. It is truly a blessing to read your words and to see where God has led.
Subscribe to Radical Living:
Receive updates on the latest posts as Seth Barnes covers many topics like spiritual formation, what if means to be a christian, how to pray, and more. Radical Living blog is all about a call to excellence in ministry, church, and leadership -as the hands and feet of Jesus.